Staying relaxed key to winning 100m in London: Powell
Last updated on: May 19, 2012 08:37 IST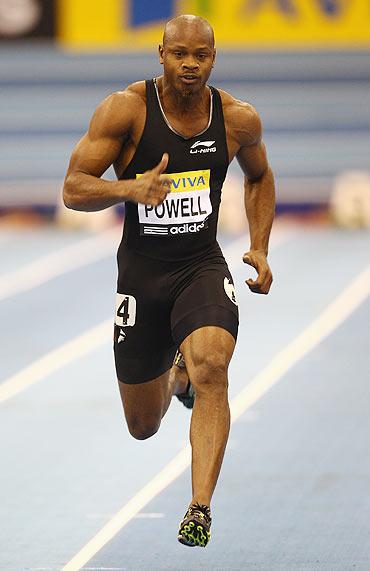 Asafa Powell thinks he has pinpointed why he has so often failed to produce on the big occasion and believes that if he is at his best he will win the 100 metres at the London Olympics.
The Jamaican former world record holder has run under 10 seconds more times than anyone else in the history of sprinting but has struggled at major championships and been eclipsed by compatriot Usain Bolt.
The 29-year-old runs in the Shanghai Diamond League meeting on Saturday as he continues his preparations for the Games and is convinced if he stays relaxed he can finally snare gold in the blue riband sprint after finishing fifth in 2004 and 2008.
"I know for sure, if I go out there, and I do what I'm supposed to do, it will be very hard for anyone to catch me to the finish line because there's no doubt that I'm the best starter out there," he said on Friday.
"Many track and field people know that if I stay relaxed and run my race like I'm supposed to, I will be the winner at the Olympic Games.
"That is what I'm trying to do, and I know what I have to do."

'Not focusing on anyone else'
Last updated on: May 19, 2012 08:37 IST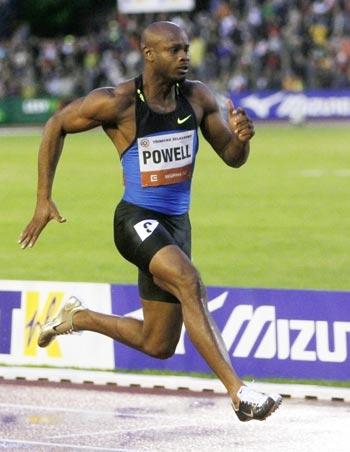 Powell said that, unlike most sprinters, he raced best when he was "relaxed and smiling all the way" and admitted that the mere presence of Olympic champion Bolt or American Tyson Gay in a race affected his performance.
"When you are out there with Usain or Tyson Gay, or any of those other guys who are running sub 9.90, you know that it's going to be close and you know it's not going to be an easy race and you have to pull out all your stops to win," he said.
"It takes a lot more focus, you have to remain a lot more relaxed and calm to win that race. It's pretty much the names, when you are out there with the bigger names, you feel a lot more pressure."
In order to neutralise the pressure, Powell has been working hard this year on maintaining his composure and putting on the mental blinkers when he is on the track.
"I just want to give my best in London, I want to cross that line and see a personal best on the clock then I will see what position I am in," he said.
"Not focusing on anyone else, just concentrating on what I'm doing in my lane."
Versatility is his characteristic
Last updated on: May 19, 2012 08:37 IST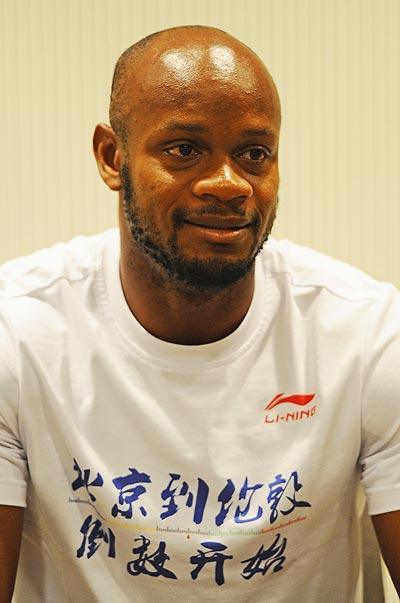 Powell said his versatility led to problems when he raced the other top sprinters.
"I am a bit different from the other sprinters because, I would say, I can run many different ways while the other guys they just came on and they can only run one way," he said.
"While I'm out there, I can maybe change my technique three times in one race, while they're just running all out so they can be a lot more consistent in their races while I'm always trying something new.
"I should just stay composed and run to the finish line."
Powell dismissed defeat to American Justin Gatlin in his first outing of the year in Doha last week as "getting rid of the cobwebs" and was excited to see how he would race in Shanghai after working on a few "flaws".
'I wouldn't say this is my last Olympic Games'
Last updated on: May 19, 2012 08:37 IST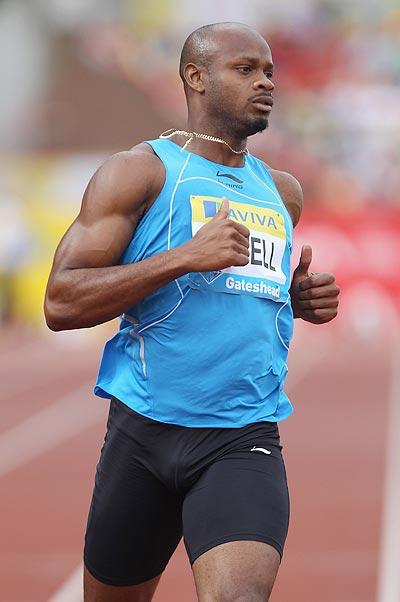 "It's a process, it takes time, it takes competition to correct things," said Powell, who won easing down in 9.95 seconds in Shanghai last year.
"You know you really want to make sure everything is right going into London. You don't want any doubts in your head. Just want to crack everything, set a good time, going to London with a 9.7 seconds in my legs is even better."
Despite turning 30 later this year, Powell said he had no plans to retire and had not ruled out racing on until the 2016 Olympics in Brazil.
"I wouldn't say this is my last Olympic Games although that is the approach I'm taking, I'm going all out as if it's my last Olympics," he said.
"I think I have another one in me after this Games, and if the next Games comes and I'm still running 9.7s or even 9.6s then I'll still be out there.
Source:
© Copyright 2021 Reuters Limited. All rights reserved. Republication or redistribution of Reuters content, including by framing or similar means, is expressly prohibited without the prior written consent of Reuters. Reuters shall not be liable for any errors or delays in the content, or for any actions taken in reliance thereon.