Ricardo Blas Junior, Judo's heaviest weight
Last updated on: August 8, 2012 17:22 IST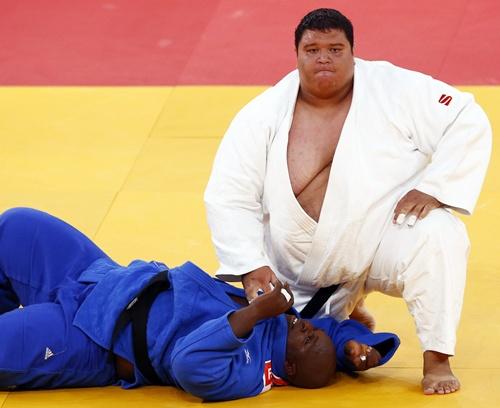 There are heavyweights and then there are heavyweights.
-London Olympics 2012 - Complete coverage
And then there's Ricardo Blas.
The judo fighter from Guam weighs in at 480 pounds (218 kilos), nearly double most other competitors in the 220-pound and over division. And in a sport that requires competitors to push, throw and grapple with each other, all that bulk can be a distinct advantage.
On the day of the judo heavyweight Olympic competition, the fighting wasn't exactly ground-shaking.
Guam's Little Mountain
Last updated on: August 8, 2012 17:22 IST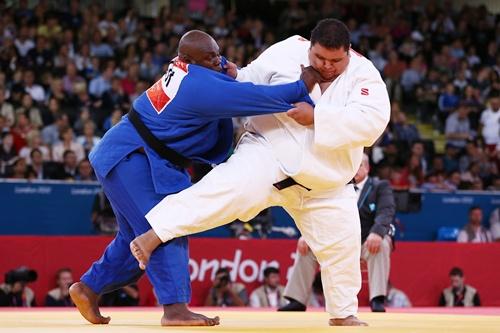 Blas Jr, who stands at 1.85 metres tall, is known as 'The Little Mountain' on the tiny island in Micronesia that is his homeland, and on first impression he looks like one who would find it impossible to move.
Blas Jr has put on eight kg since his first appearance at Beijing, when he carried the flag at the opening ceremony for Guam.
Brayson ends Blas's Olympic run
Last updated on: August 8, 2012 17:22 IST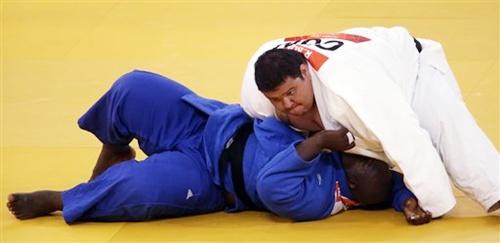 Murmurs of wonder and a few "Who's that?" rippled through the crowd as Blas bounded onto the mat.
Blas's opponent, Guinea's Facinet Keita was a big man himself at 297 pounds (135 kilos), but he seemed out of ideas on how to take down the behemoth in their opening round match. The men slowly grappled and pulled at each other like giant tortoises until Blas ended the battle with a throw.
But the good times didn't last long. In the next round, Cuba's Oscar Brayson, a veritable stick figure at just 238 pounds (108 kilos) ended Blas's Olympic run with an impressive take down.
Despite being less than half of Blas' weight, Brayson emerged the victor.
Copyright © 2021 The Associated Press. All rights reserved. The information contained in the AP News report may not be published, broadcast, rewritten or redistributed without the prior written authority of The Associated Press.