Federer-Wawrinka made to work in opener, Williams sisters sail
Last updated on: July 31, 2012 09:46 IST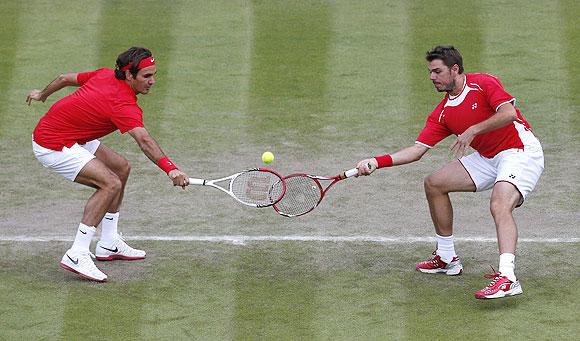 Defending doubles gold medallists Roger Federer and Stanislas Wawrinka were stretched by Japanese pairing Kei Nishikoir and Go Saeda on Monday, with the Swiss only winning the thrilling match 6-7, 6-4, 6-4 as darkness fell.
In contrast, fellow Beijing golden duo Venus and Serena Williams, who both powered through singles matches earlier in the day, eased into the second round of the doubles with their 6-3, 6-2 defeat of Romania's Sorana Cirstea and Simona Halep.
Having lost their first set on a tie break, number six seeds Federer and Wawrinka, confusingly dressed identically to their opponents in red tops and white shorts, had a better start in the second, immediately breaking Nishikori's serve.
'They hung tough and it was exciting at the end'
Last updated on: July 31, 2012 09:46 IST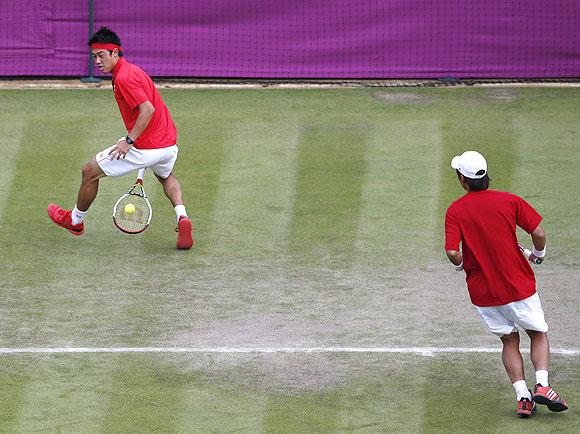 The Japanese fought on with a flurry of lightening-quick action at the net, but threw away an opportunity to break back and the Swiss pair held their ground to force a decider.
Breaking Nishikori again to take the lead in the third, Federer and Wawrinka seemed to be heading for victory before the light faded completely.
Federer, who earlier made light work of his second round singles clash against France's Julien Benneteau, was serving for the match at 5-4 and twice the shivering crowd, one of whom shouted "Come on, I'm freezing" to a ripple of laughter, erupted in cheers thinking he had wrapped up the win with an ace, only to discover the serve had been called out.
The Swiss, however, moved to match point when Nishikori ploughed the ball into the net, prompting a mighty roar from the crowd and a fist pump from Federer before Nishikori blasted a shot long as a purpley pink hue spread across the sky to give ther Swiss the win.
"They hung tough and it was exciting at the end -- a shot here, a serve there, makes all the difference," said Federer.
Serena-Venus romp into round 2
Last updated on: July 31, 2012 09:46 IST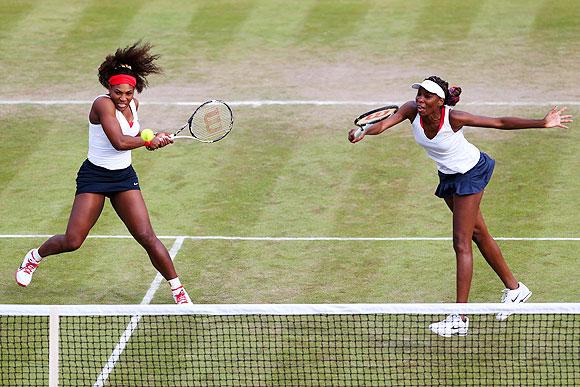 The crowd were just as animated on a packed Court Two, where spectators were queuing outside for a spot to catch the Williams sisters in action.
Noisy American supporters chanting U-S-A were met with equally heartfelt, if less loud, cries of Ro-man-ia.
With people shouting out encouragement during play, the umpire reminded spectators not to speak until the end of the point.
Seconds later, Serena cried out "nah ah" as she powered a return she knew would sail over the baseline.
"Not until the end of the point please," shouted one man in the crowd.
Source:
© Copyright 2022 Reuters Limited. All rights reserved. Republication or redistribution of Reuters content, including by framing or similar means, is expressly prohibited without the prior written consent of Reuters. Reuters shall not be liable for any errors or delays in the content, or for any actions taken in reliance thereon.