'I have enjoyed my career immensely and I am a very satisfied man'
Last updated on: July 10, 2012 15:28 IST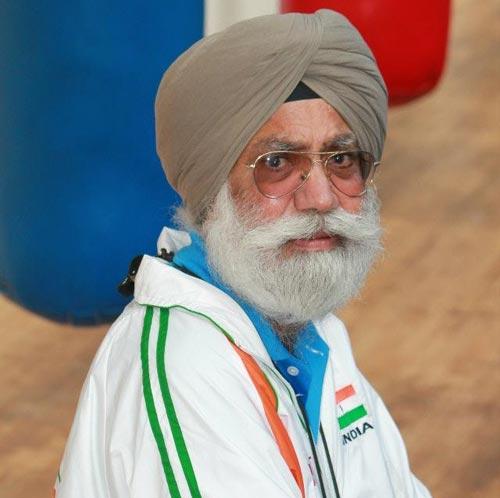 Having served as national coach for close to two decades during which India produced its first Olympic medallist in boxing, Gurbaksh Singh Sandhu is retiring after London Games and the only farewell gift he wants from his wards is to bring home better than the bronze medal Vijender Singh notched up in Beijing four years ago.
The 59-year-old, who was first appointed senior national coach in 1993, said he would leave a satisfied man if the unprecedented seven-strong contingent training under his tutelage goes on to improve upon the one bronze performance in 2008 Olympics that changed the face of Indian boxing.
- I want to be the Sachin Tendulkar of boxing: Vijender Singh
"I am anyways retiring next year as an [National Institute of Sports] NIS coach because I would have touched 60. But even otherwise I don't wish to continue beyond London. Hopefully I will do it with a better coloured medal. I have enjoyed my career immensely and I am a very satisfied man," Sandhu said.
"The Indian Boxing Federation elections are due later this year and whether I continue as national coach would be their call but I would personally want to step down after London," he said.
'The sport will only go forward from here'
Last updated on: July 10, 2012 15:28 IST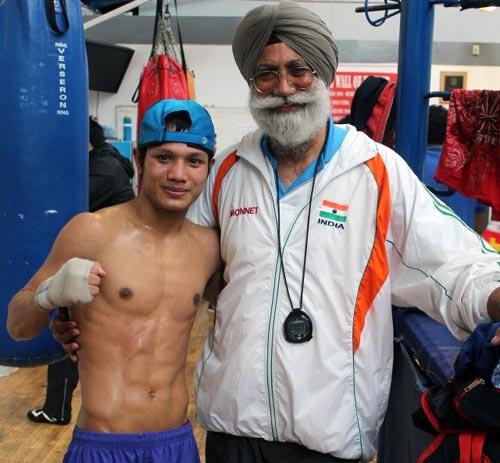 The effervescent Punjabi, who first became a coach in 1978, has seen the worst and the best of Indian boxing and looking back at the rollercoaster ride, Sandhu said he sometimes feels amazed at the way the sport has grown.
"There used to be a time when these boys would not even have cycles but today they flash the best of imported cars. I feel so happy to see this change. The fact that these boys are not just winning medals but are also securing their future financially means that the sport will only go forward from here," said Sandhu.
'I can only say that my boys will give a good account of themselves'
Last updated on: July 10, 2012 15:28 IST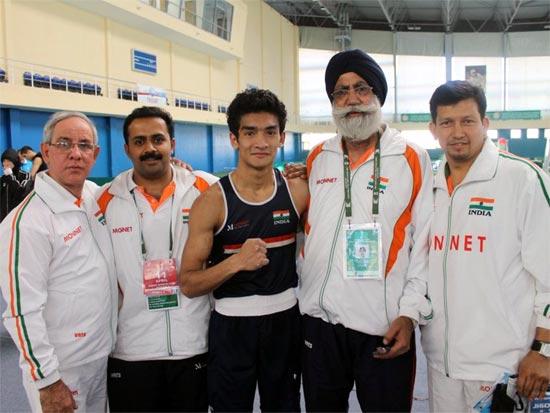 He said the recent success in boxing was a combined effort of all his associate coaches -- Jaidev Bisht, C Kuttappa and Ramanand, Cuban coach Blas Fernandez and the support staff.
Ask him about medal prospects in London, Sandhu stays shy of making predictions but is confident enough to state that the seven boxers -- L Devendro Singh (49kg), Shiva Thapa (56kg), Jai Bhagwan (60kg), Manoj Kumar (64kg), Vikas Krishan (69kg), Vijender (75kg) and Sumit Sangwan (81kg) -- would put up lion-hearted performances.
"It's a contact sport and at the end of the day, one can never be sure. I can only say that my boys will give a good account of themselves. But let's leave the medal count to until after the Olympics because there is no point making tall claims," he said.
'I get a lot of joy from this emotional attachment'
Last updated on: July 10, 2012 15:28 IST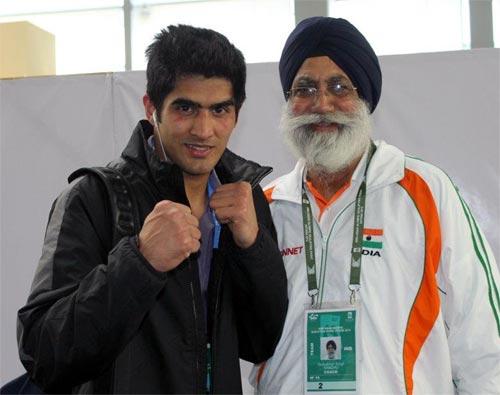 He might have been around for a long time but it has not been entirely smooth-sailing for Sandhu, who had thought of quitting for good at least twice -- after the 1986 Asian Games in Seoul and the 2004 Olympics in Athens .
"Yes, there have been instances when I have had problems but in those times I have quietly told the authorities that I will quit. But the powers that be in Sports Authority of India and Sports Ministry have been cooperative enough to listen to the problems and work towards solutions," he said, refusing to detail just why he had thought of stepping down in the past.
With Sandhu at the helm, India had also won its maiden medal at the World Championships, again a bronze through Vijender, besides doing well at continental events such as the Asian Championships. But more than the medals, Sandhu said it was the adulation of his wards that has kept him motivated over the years.
"Not just the boys, even their parents are extremely kind to me and that is what matters in the end. That respect means the most to me. That is my morale-booster. Boys call me even after they are done with their careers, they seek me out in times of need and I get a lot of joy from this emotional attachment," he signed off.
© Copyright 2022 PTI. All rights reserved. Republication or redistribution of PTI content, including by framing or similar means, is expressly prohibited without the prior written consent.