'I am very delighted to have made it to the Olympic Games'
Last updated on: July 19, 2012 17:09 IST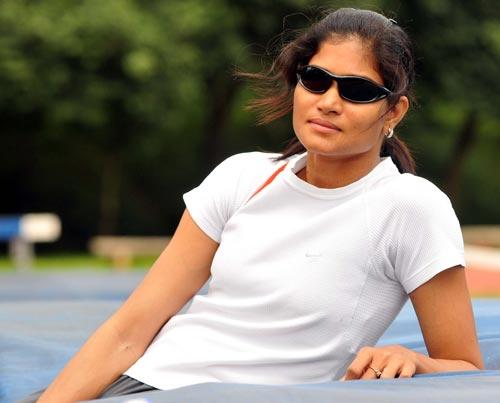 India is leaving no stone unturned to get its athletes shipshape for the London Olympics. As the country hopes for its best ever showing at the quadrennial extravaganza, all the high-profile sport stars who qualified for the Games, including shooters, boxers, wrestlers and tennis players were granted their wishes, including funds to train abroad, and hire world class coaches, along with the best equipment to aid their preparations.
However, little-known woman high jumper Sahana Kumari is having a tough time sourcing funds for her preparation for the mega-event.
"Since 2008 I have been trying to get into the Olympics. That year, I missed the qualification mark by a whisker, but after that I challenged myself to qualify for the Olympics and have put everything into it. I am very delighted to have made it to the Olympic Games," she told Rediff.com.
Photographs courtesy: EkAurPrayaas
Kumari wants coach Nikitin to travel with her to London
Last updated on: July 19, 2012 17:09 IST
Kumari qualified for the London Games with a 1.92 metre jump in June at the 52nd National Inter-State athletics event in Hyderabad that also saw her setting a new National record.
The high jumper, however, was not as fortunate as some other athletes in getting sponsors and is finding it hard to arrange funds to get her Ukranian coach Nikitin Evgen to travel with her to London.
Nikitin is a specialized high jump coach who has competed at the world level. He was employed by the Athletics Federation of India (AFI) to train the selected top men's and women's jumpers at the national camp.
Kumari is keen on having Nikitin at the Games, but her request was turned down by the Indian Olympic Association, which has named four coaches to assist the 14-qualified Indian athletes in various disciplines.
She believes it is imperative that her coach is with her for better last-minute training, which should enhance her performance during the Olympics.
'We have got a donor who will be taking care of all the expenses'
Last updated on: July 19, 2012 17:09 IST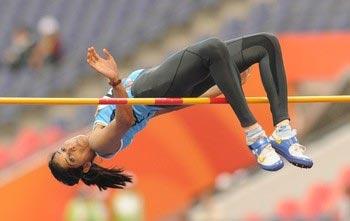 Some assistance has come her way in the form of EkAurPrayaas, a socio-political organisation based in Mumbai. It has taken the initiative to financially assist Kumari in her quest for a medal at the Olympics.
"We have got a donor who will be taking care of all the expenses of her coach. Professor N D Agarwal contacted us after watching her story on a television news channel and has come up with a substantial amount," said Jaymin Panchal, founder of EkAurPrayaas.
""However, Kumari still needs more money to purchase equipment necessary for last-minute training prior to the Olympics, that is why we are searching for more sponsors."
"She had a tough time as her request for funds were not approved. Even her employers, Railways, were not able to provide her with any kind of help as their policy is that they provide financial help only for national competitions," he added.
Kumari said the Railways has been a big help, though, by allocating her special casual leaves to undergo training.
"The Railways policy is clear that they give monetary rewards if we do well at international events and they also grant us special casual leaves when we are out taking part in big events; so, in many ways, they have done a lot for me," she added.
'We are still looking out for donors to purchase equipment'
Last updated on: July 19, 2012 17:09 IST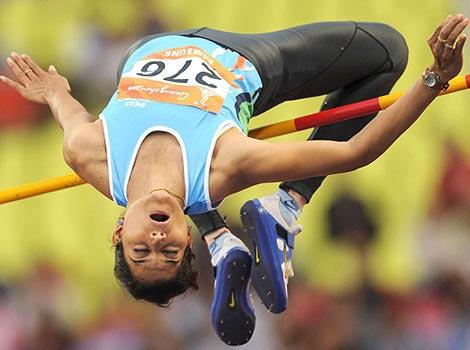 Sahana hails from Ullal, a small town on the outskirts of Mangalore. She did early education at Anandashrama school in Someshwar after which she joined the Mysore Sports Hostel, where she graduated in 2001.
Her potential was evident from an early age as she created new records at the Mangalore University and All India Inter-University level sports meets.
Her husband Nagaraj is a sprinter and has participated at several national and international competitions, including the 2010 Commonwealth Games in Delhi.
"We are still looking out for donors to purchase equipment which is necessary for her training at London. Mahesh Bondal, who is the managing director of Anandashrama school, has also helped her to get funds locally," her husband said.
"The trustees of Anandashrama school and Gokarna Kishore college in Mangalore have also helped a lot to get the funds," he added.
Panchal pointed out that Sahana, who is currently training in (Sports Authority of India) in Bangalore, needs more funds to buy equipment and instruments which will help her train. He said the funds are directly deposited into Kumari's account and his organisation just plays the role of creating awareness among the public.
"She would be leaving for London on 28th July and hence we need to act collectively and quickly. Also, kindly note, EkAurPrayaas in its unique of assisting and keeping transaction safe and quick, the amount will directly be deposited in account of Sahana kumari and none is collected in our accounts," Panchal said.
'I just don't want to make big promises'
Last updated on: July 19, 2012 17:09 IST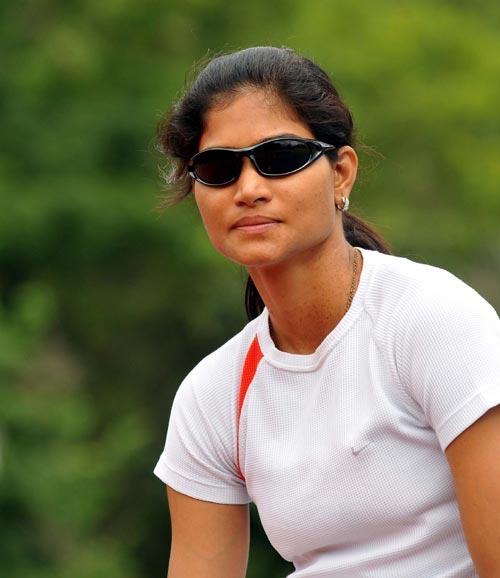 For her part, Sahana is unfazed and only focusing on getting better.
"The practice is going on and I am happy with my performance. Right now I am not looking at any medal as such and my only aim at the moment is to better my best mark of 1.92.
"I just don't want to make big promises by saying I am aiming for a medal because I have to be realistic. The field is very tough and we have got some very good high jumpers from around the world, but I will definitely try to put up a good performance," Kumari said.
 "We all know that athletics is not recognised in India and we don't get sponsors. But I have never stopped trying and always continued to give my best whenever I practiced or gone out in the middle. I am a fighter and will fight till the end and hopefully someday my efforts will pay off," she added.
- Click on the link to make a contribution towards Kumari's Olympic dreams
(Note: Request to all donors, to kindly intimate their donation at info@ekaurprayaas.org)