A potential mouth-watering final
Last updated on: January 3, 2011 13:16 IST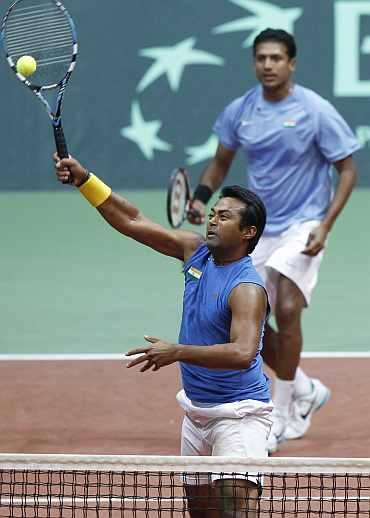 As the Indian Express join forces after nine long years in Chennai, Leander Paes and Mahesh Bhupathi will be hoping this reunion would help them prepare well and win the Australian Open, says our correspondent Bikash Mohapatra.
The one regarding the match-up in the men's doubles final at the Chennai Open that is.
With Leander Paes and Mahesh Bhupathi (rejoining forces yet again) being handed the top billing and Rohan Bopanna and Aisam-Ul-haq Qureshi being the second seeds, it is palpable for an Indian fan to look up to a seemingly mouth-watering final.
A title decider between the famed Indian Express duo and the fast rising Indo-Pak Express is a potential blockbuster and, going by not-so-impressive field, an obvious match-up, one would argue.
However, if Paes is to be believed, it is wishful thinking. Nothing more than a premature thought. And the doubles ace has a very pertinent justification for the same.
"We must remember that we are returning from a few weeks lay-off," warned Paes, on the eve of the tournament adding, "In the past there have been a lot of upsets in the tournament." The man with 12 major titles to his credit was, however, appreciative of the recent success of the Bopanna-Qureshi combine.
"They have been shaping up well in the last year or so," said Paes, after a rigorous practice session. "However, we have two-three matches to play before that final can materialise," he added.
'This has always been a special place for me and Mahesh'
Last updated on: January 3, 2011 13:16 IST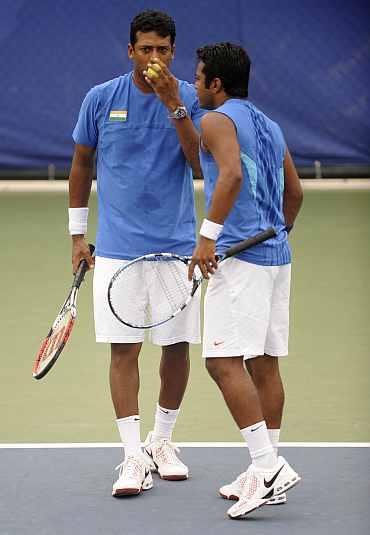 Paes and Bhupathi, who have won four doubles titles together at the event, last joined forces in Chennai back in 2002, winning their final title in the process.
However, having decided to team up again for the Australian Open later this month, the Indian Express will be using Chennai as a dress rehearsal for Melbourne.
"This has always been a special place for me and Mahesh," admitted Paes.
"We have won four doubles titles here. "Besides, I have also reached the semi-final in singles (1998)," he added.
The Indian Express begin their campaign on Monday against the Canadian-Swiss combine of Frank Dancevic and Stanislas Wawrinka and are favourites to make it to the final in the least.
'We need to find some rhythm first'
Last updated on: January 3, 2011 13:16 IST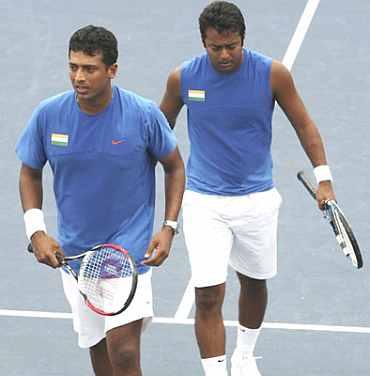 The 37-year-old though preferred to downplay the duo's chances. And that seemed a reasonable assessment considering the fact that the last occasion Lee-Hesh came together on the tour at Bangkok last year they suffered the ignomimy of early exit.
"We need to find some rhythm first," reasoned Paes, adding, "The first tournament is always important. We are taking it match by match, and haven't set any targets as such.
"However, once we find some rhythm there shouldn't be much of a problem," he added.
Besides downplaying his chances, Paes also had a few words of caution as regards compatriot Somdev Devvarman's chances in the singles.
'I expect Somdev to play well'
Last updated on: January 3, 2011 13:16 IST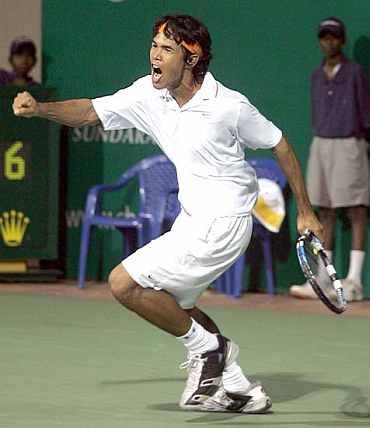 The 25-year-old Somdev, a finalist at Chennai in 2009 and coming to this year's tournament on the back of successive gold medal wins at the Commonwealth Games and the Asian Games, is carrying the burden of the home fans expectations yet again.
And Paes was pragmatic as regards his young compatriot's chances.
"Taking into account the last few years' performances, I expect him to play well," he said, before adding, "I don't know whether he can replicate his 2009 performance, for there has been enormous pressure on him ever since he reached that final.
"And it is never easy coming back and repeating a good run every year. I also underwent the same pressure when I came back the year after I had reached the singles semi-finals," he added.