Below par Federer stops Hewitt
Last updated on: September 6, 2009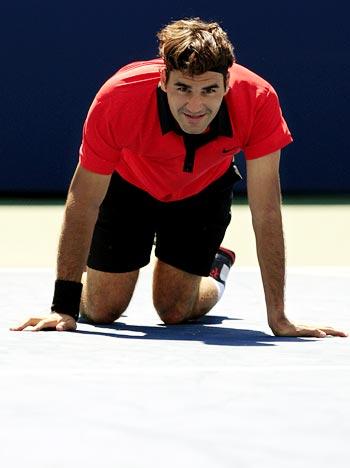 Five-times champion Roger Federer lost his first set of the 2009 US Open but rallied to defeat former winner Lleyton Hewitt 4-6, 6-3, 7-5, 6-4 on Saturday to reach the fourth round at Flushing Meadows.
In the 11th game of the third set, Federer assumed control when he broke Hewitt's serve after the Australian punched a backhand long.
The Swiss top seed served out the set and Hewitt, a former world number one and 2001 Open champion, was on his way to losing to Federer for a 14th successive time.
The 28-year-old Federer was not at his best during the two-hour, 33-minute match, committing an uncharacteristic 59 unforced errors
Hewitt squanders his chances
Last updated on: September 6, 2009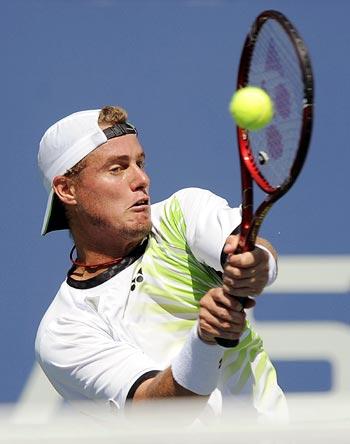 Lleyton Hewitt paid the price for failing to seize his small window of opportunity during his third-round match against Roger Federer.
The scrappy 28-year-old Australian has now lost to Federer 14 straight times, trails their head-to-head 16-8 and has not beaten the world number one since 2003.
Many of Federer's victories over Hewitt have been blowouts but Saturday the chances were there for the 2001 Open winner. He won the first set, looking very much like the player who first climbed to the top of the world rankings in 2001.
"Today at one set all, I had break points to go 3-1 up and breakpoints to go 2-love up in the third set, and he came up with big serves at the right time," he said with a shrug.
"That's why he's number one."
Sharapova serves up a victory for Oudin
Last updated on: September 6, 2009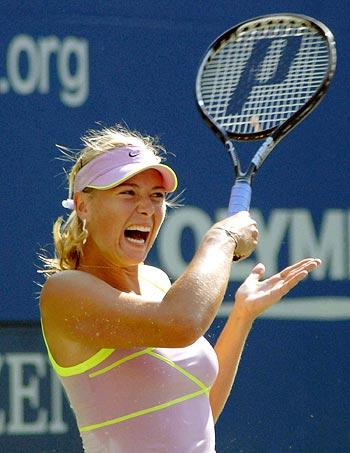 Maria Sharapova spoke softy while trying to explain her astonishing loss to teenager Melanie Oudin in the third round.
"With the amount of errors I made from both my groundstrokes and my serve, to be able to get it to three sets is not bad," she said after Oudin's 3-6, 6-4, 7-5 victory.
"So if I didn't make those errors, those double faults, I certainly would have won the match."
Sharapova gift-wrapped the match for Oudin by serving up a mind-boggling 21 double faults and committing 63 unforced errors amid perfect conditions on Arthur Ashe Stadium.
Oudin continues giant-killing run
Last updated on: September 6, 2009
American teenager Melanie Oudin's giant-killing run showed no sign of slowing down as she followed up her win over fourth seed Elena Dementieva by shunting aside 2006 champion Maria Sharapova
"I just kept fighting as hard as I could. I tried as hard as I could. I can't believe it," the 70th-ranked Oudin said.
The 1.68-meter-tall (5-foot-6) world number 70 became the youngest American to reach the Open fourth round since Serena Williams's stunning title run in 1999.
Giant turns giant-killer as Isner topples Roddick
Last updated on: September 6, 2009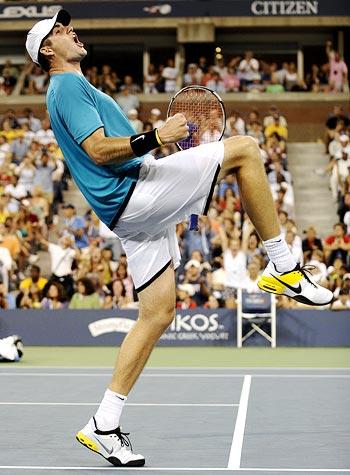 Giant John Isner turned giant-killer on Saturday by cutting down his friend Andy Roddick in the third round.
The 2.06-meter-tall (6-foot-9) American used a devastating serve, airliner wing span at the net and improved fitness to post a 7-6, 6-3, 3-6, 5-7, 7-6 win over the 2003 champion and Wimbledon runner-up.
"It's obviously, hands down, the biggest win of my career," the 55th-ranked Isner said after the match. "Nothing even compares. To do it at the stage I did it on is pretty spectacular.
"The hair was kind of standing up on the back of my neck at some points in the match," he said about the electricity of playing at Arthur Ashe Stadium in front of 23,000 fans.
Isner rocketed 38 aces past Roddick, winning 80 percent of his first serves, and claimed 42 points at the net as he pressed forward at every opportunity.

I'm happy for Isner: Roddick
Last updated on: September 6, 2009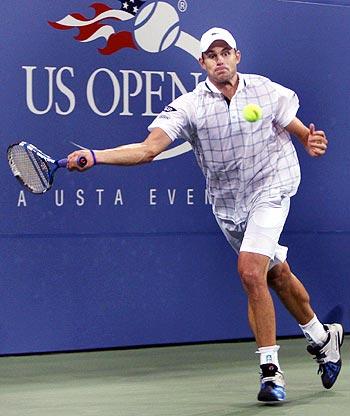 Roddick said he threw everything he could at his imposing target, yet the 27-year-old American often looked like he was playing uphill as he sent futile passing shots at the huge serve-and-volleyer.
"You can't really teach 6-foot-9, especially coming down on a serve," said fifth-seeded Roddick. "You try to fight it off as much as you can. Sometimes you can, and sometimes it's completely out of your hands." 
Roddick, who inspired Isner to get more serious about his conditioning, had mixed feelings.
"I'm happy for him," he said. "I'm mad that obviously it came at my expense."
Still, Roddick complimented Isner on his progress.
"There's no comparison to him now compared to last year. I think he's being a lot more professional now. I think he's doing the things he needs to be doing."
Czech teenager Kvitova upsets Safina
Last updated on: September 6, 2009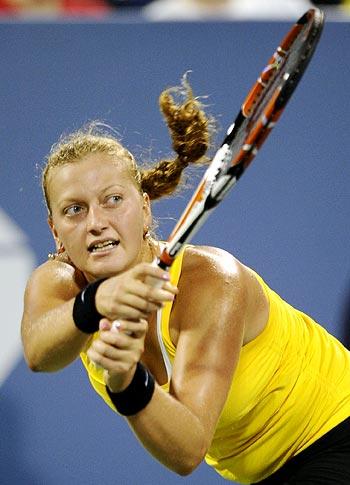 Little-known Czech teenager Petra Kvitova shocked world number one Dinara Safina 6-4, 2-6, 7-6 in a dramatic third-round upset.
Kvitova, 19, won the final-set tiebreaker 7-5 when top seed Safina floated a backhand long to end the two-hour, 34-minute affair on Louis Armstrong Stadium.
Kvitova bagged three straight points in the tiebreaker to take a 5-2 lead. Although Safina trimmed the lead to 6-5, Kvitova won the final point on the Russian's serve to seal the biggest win of her young career.
When the match ended, Kvitova shrieked with delight before walking to the net to face Safina. The match ended at 12:47 a.m. local time inside a half-filled stadium.
"It's amazing here," she told the crowd. "I love New York."
Safina slams US Open organisers
Last updated on: September 6, 2009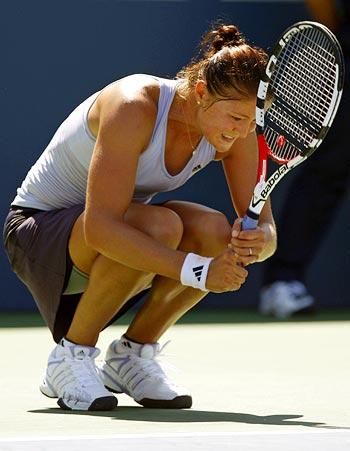 The loss marked the first time this year that the 23-year-old Safina had failed to reach at least the semi-finals of a Grand Slam tournament.
An irritated Safina accused US Open organisers of not showing her enough respect after she slumped out of the hardcourt major in the third round on Saturday.
World number one Safina and Petra Kvitova had been scheduled to kick off the night's programme on day six of the championships but after the daytime schedule overran by almost three hours, the duo were bumped off the Arthur Ashe Stadium.
"I'm number one player in the world, why did they move me?" asked Safina following her defeat by Kvitova.
"This is not an excuse but I don't think it's a fair decision they made.
"They came to us at 9.10 (p.m.) and they just told us, 'We're switching you to Armstrong'. I think it's very unfair to choose (the men's match over us). Their answer was, 'We prefer a five set match than a three set, women's match.'"
Source:
© Copyright 2021 Reuters Limited. All rights reserved. Republication or redistribution of Reuters content, including by framing or similar means, is expressly prohibited without the prior written consent of Reuters. Reuters shall not be liable for any errors or delays in the content, or for any actions taken in reliance thereon.