Hope to qualify for Olympics at World C'ship: Sushil Kumar
Last updated on: August 5, 2011 12:44 IST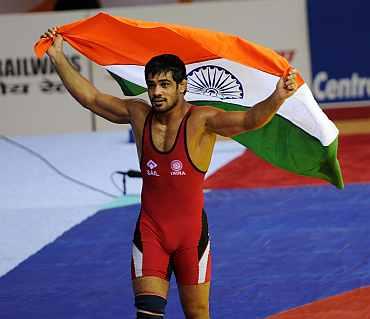 He is desperate to grab the first available berth for next year's London Olympics at the World
Championships but ace Indian grappler Sushil Kumar concedes it would be no stroll in the park to clinch a second successive gold at the event starting September 12 in Turkey.
The Beijing Olympics bronze-medallist in the 66kg men's freestyle category is eager to book his London ticket in the World Championships as it will give him ample time to prepare for the quadrennial extravaganza.
The affable wrestler, in fact, gave the Commonwealth Wrestling Championship in Melbourne a miss keeping in mind the world tourney.
"I hope to qualify for the Olympics in the World Championships. I don't want to wait for other qualifying events because the sooner I qualify it will give me more time to prepare for the Olympics," Sushil said.
'My present focus is only on the World Championship'
Last updated on: August 5, 2011 12:44 IST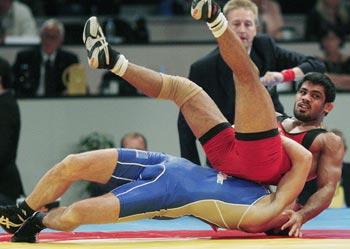 "I skipped the Commonwealth Championships because I would have needed to lose weight twice for the tournament which was not wise before a big tournament like the World Championships.
"My present focus is only on the World Championship. I have been training hard for the World Championships and I hope to give my 100 per cent there," he added.
The first eight male and female wrestlers in each category in the World Championships will qualify for the London Games.
From there, continental championships in early 2012 will allow the top wrestler in each weight category from the European, Asian, African and Pan-American tournaments to qualify for the Games.
If a wrestler finishing top in a continental championship has already qualified at the Worlds, the place is offered to the next highest-ranked wrestler.
'I am pretty confident of defending my title but it won't be easy'
Last updated on: August 5, 2011 12:44 IST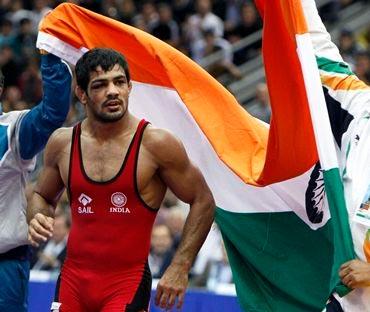 In April 2012, a qualification tournament will be held for wrestlers yet to book their place at the Games. The top four male and two female wrestlers per weight category here will qualify.
For the remaining, there will be a second qualification tournament in May 2012, where another three males and two females per weight category will go through.
Even though Sushil created history last year by becoming the first Indian to win a gold medal at the World Championship in Moscow, he said repeating the feat in Turkey won't be a easy.
"I am pretty confident of defending my title but it won't be easy. There will be tough competition from top wrestlers of Russia, Iran, Turkey, Kazakhstan etc, whom I will have to beat to become world champion again," said the grappler, whose last international outing was his gold medal-winning run in last year's Delhi Commonwealth Games.
'My wife is cooperative and understands my job'
Last updated on: August 5, 2011 12:44 IST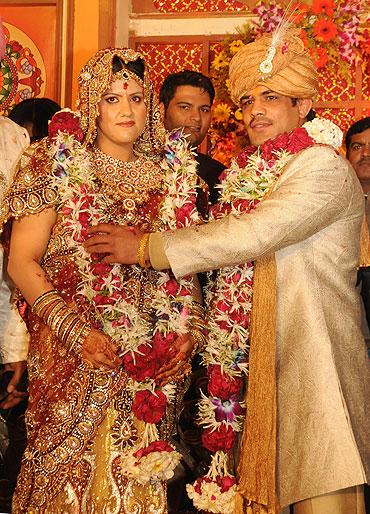 "We are leaving for Belarus on August 9 for a month's training to prepare for the World Championships and from there we will head straight to Turkey."
But unlike last year, Sushil will head to this year's World Championships with added inspiration from his newly-married wife Savi, who is also the daughter of his mentor Satpal.
"Because of my training schedule I very rarely get to meet her, say just once or twice in a month," the 28-year-old wrestler said.
"But she is very cooperative. She understands my job, my responsibility towards wrestling and the country. She always backs me and inspires me to perform well," Sushil concluded.
© Copyright 2019 PTI. All rights reserved. Republication or redistribution of PTI content, including by framing or similar means, is expressly prohibited without the prior written consent.