'Rory has set himself apart now in potential'
Last updated on: June 20, 2011 10:14 IST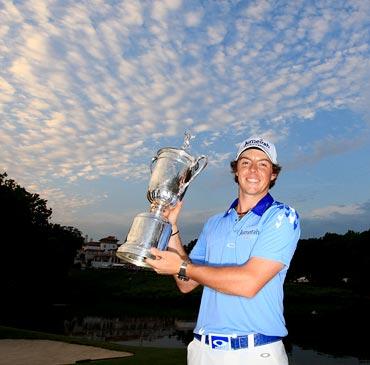 Rory McIlroy was showered in praise by his peers all week at Congressional Country Club but the accolades flew especially thick and fast on Sunday after his runaway victory at the US Open.
At the age of 22, the mop-haired Northern Irishman clinched his first major title by an astonishing eight shots, raising comparisons with the record 15-shot margin achieved by Tiger Woods at the 2000 US Open.
"Rory has set himself apart now in potential," triple major champion Padraig Harrington of Ireland told reporters after tying for 46th place, a staggering 21 shots behind McIlroy. "Rory has been lapping the field.
"Sometimes you see a guy run away with a tournament and they're draining putts from all angles. From what I've seen, he's been very comfortable and it's been well within him. It's really been a very easygoing lapping of the field.
"There might be people capable of winning a major, but there are not too many people capable of dominating and running away from the field in a major."
Photographs: Getty Images
'He's got the world in front of him'
Last updated on: June 20, 2011 10:14 IST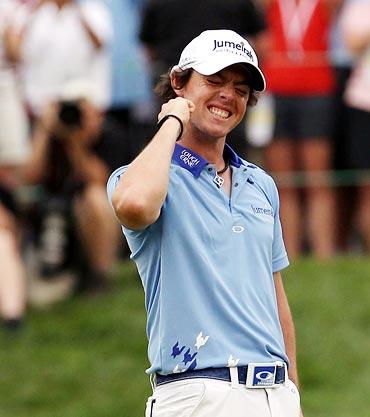 American Phil Mickelson had a front row seat at Congressional after playing the first two rounds in the company of McIlroy.
"He's playing some terrific golf," the left-hander said. "It's pretty cool. You can tell that Rory has had this type of talent in him for some time now, and to see him putting it together is pretty neat."
Fellow American Steve Stricker agreed.
"He's got the world in front of him," Stricker said after carding a one-under-par 70 on Sunday to share 19th place. "Fundamentally he's as good as we've seen ever in my era, take Tiger Woods out of it.
"When Tiger was going well, that's as good as I've ever seen. I think Rory is in that same boat. His swing is mechanically sound, he's got a great short game, he putts it well and he's long. He's got all the tools."
'Perhaps we're ready for golf's next superstar'
Last updated on: June 20, 2011 10:14 IST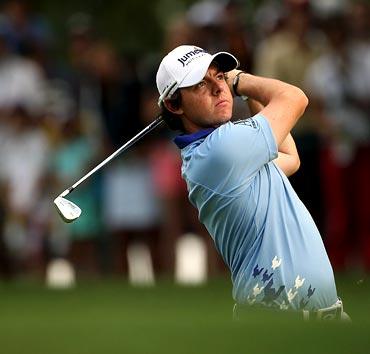 McIlroy's good friend Graeme McDowell, who won last year's US Open at Pebble Beach, described his fellow Northern Irishman as the best player he has ever seen.
"Nothing this kid does ever surprises me," McDowell said after signing off with a 69 at Congressional. "I didn't have a chance to play with Tiger when he was in his real pomp, and this guy is the best I've ever seen, simple as that.
"He's great for golf. He's a breath of fresh air for the game and perhaps we're ready for golf's next superstar. Maybe Rory is it. He's the best driver of the golf ball I've ever seen."
'He's already got the game to beat anyone'
Last updated on: June 20, 2011 10:14 IST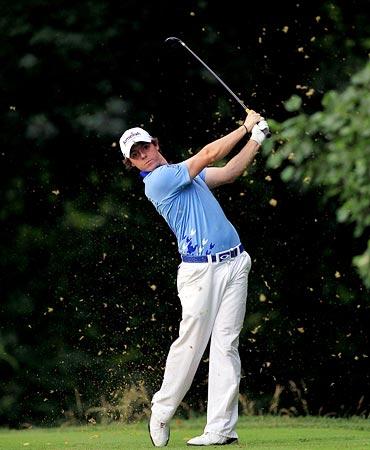 British world number one Luke Donald, who played with McIlroy on last year's triumphant European Ryder Cup team, was also lavish with his praise.
"He has probably the most talent I've ever seen from a golfer," Donald said. "Lovely to watch him play, such a fluid motion, and he hits it far.
"He's not quite dominating the game yet ... But he'll be a tough force to reckon with. He's going to be high on confidence, and he's already got the game to beat anyone."
'This kid's going to have a great career'
Last updated on: June 20, 2011 10:14 IST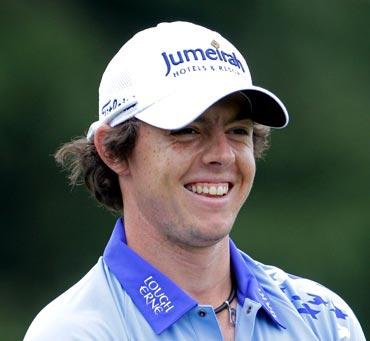 Perhaps most significantly, McIlroy has already made a huge impact on 18-times major champion Jack Nicklaus, widely regarded as the best player of all time.
"I think this kid's going to have a great career," Nicklaus told NBC television during Sunday's final round. "I don't think there's any question about it. He's got all the components.
"I like his moxie. I like the way he carries himself. You've got to have confidence in what you're doing. He's got a lot of people rooting for him. He's humble when he needs to be humble and he's confident when he needs to be confident."
Source:
© Copyright 2022 Reuters Limited. All rights reserved. Republication or redistribution of Reuters content, including by framing or similar means, is expressly prohibited without the prior written consent of Reuters. Reuters shall not be liable for any errors or delays in the content, or for any actions taken in reliance thereon.