'Once I started dribbling the ball, I simply loved the game'
Last updated on: April 27, 2011 08:41 IST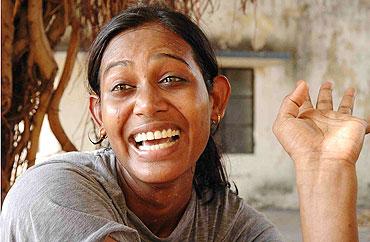 Geethu Anna Jose is the first Indian to attend try-outs for the American professional basketball league. Shobha Warrier traces the rise of the25-year-old captain of the Indian women's team.
Geethu Anna Jose endures the sultry weather -- even at eight in the morning -- at the Nehru stadium in Chennai. She trains hard from 6 am with Troy Justice, Director, Operations, NBA, India.
The 25-year-old is 'trying-out' for the Women's National Basketball Association (WNBA). It is the first time that an Indian basketball player is invited for try-outs for the women's professional league in the United States. She is among those shortlisted for try-outs for Chicago Sky, Los Angeles Sparks and San Antonio Silver Stars.
Childhood
Geethu was born to a Catholic family in Kottayam on June 30, 1985. Like most sportspersons from Kerala, she too started with athletics. As she grew taller and taller, her interest shifted to the high jump, and then volleyball. But since there was no proper coach for volleyball at her school, basketball captured her attention.
"In our school, Mount Carmel, in Kottayam, there was some glamour attached to basketball. The school coach, impressed by my height, asked me to join basketball. I was always the tallest in the class. Once I started dribbling the ball, I simply loved it," said Geethu, remembering her school days.
She was only in the eighth standard, and since then it was only basketball for her. She started watching international matches on television, preferring the men's games to women's.
"Men's basketball is more aggressive and there is a lot of movement too. I wanted to play like those men! When I watched the NBA games, I was awestruck.I thought, is this really basketball? All of them seemed to be flying everywhere! From then on, it was my dream to be playing there."
'I had no plans of becoming a professional player'
Last updated on: April 27, 2011 08:41 IST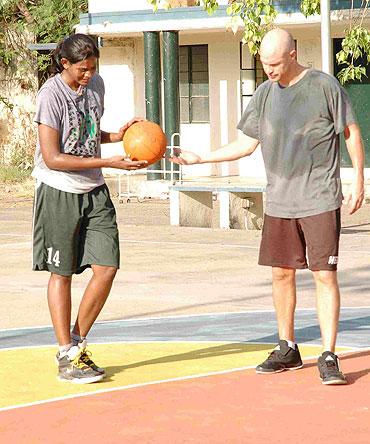 College life
By the time she joined college, she was 6' 2" (1.88 m) and the tallest in the class. (But in the Indian women's team, of which she is the captain now, she is only the second tallest. "There is a Punjabi girl who is 6' 4'", she informs"
What changed her life as a college student was going to Chennai for a trial for the Southern Railway team. She was not there to attend the trials, but had accompanied a friend who wanted to join the team. So impressed was Prasanna, the coach of the Southern Railway women's basketball team with her height, that she asked her to play a few shots. In no time, she was in the team!
"I had no plans to start working or becoming a professional basketball player at that time. I only wanted to complete my degree course and then start working. Here I was, at the age of 17, being offered a job with Southern Railway and a place in the team. I can only say it was God's gift to me," said Geethu.
She moved to Chennai, but became homesick, and thought of returning home. But within months of joining the Southern Railway team (by the end of 2003), she was selected for the senior National team.
"That was unexpected. I had played for the National junior team, and had the dream of playing for the senior team, but didn't know whether I would get selected. It was Prasanna ma'am who took me from a school-level girl to a professional player. There was a lot of difference between the junior level play and the senior level, but I was able to reach that level in no time. It was like an Indian player going to play at WNBA."
Geethu was a 'bench player' in her first game as a senior.
"I was waiting to be called. But that did not happen in the first game. Next was an invitation tournament in Malaysia. I stood there eagerly so that my coach would see me, remember me and call me. He saw me, my enthusiasm and eagerness to play and asked me to go in. I played a very good defensive play that day. My coach was so happy that he gave me a gift the moment the game was over. After that (2004), I have been playing all the time. Today, sometimes, I feel like sitting on the bench and watch others play!"
'I learnt to play a stronger game in Australia'
Last updated on: April 27, 2011 08:41 IST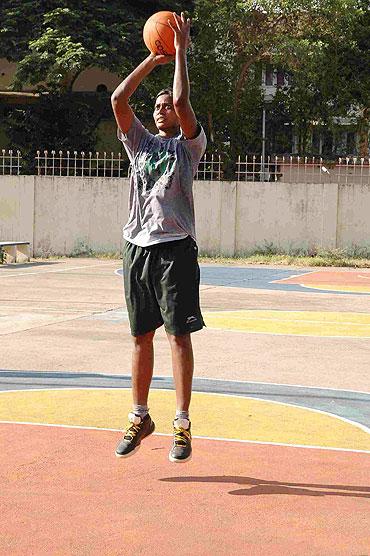 Playing in Australia as a professional
A major tournament that she remembers is the 2006 Commonwealth Games in Australia. She turned out to be the second top scorer and also the 'Most Valuable Player' in the tournament. By the time she was back in India, she got an offer from Ringwood Hawks, a lower division team in the Women's National Basketball League (WNBL), to play in Australia. "But I was too scared to go to a foreign country and stay there all alone. Then my cousin, who was studying MBA there, gave me confidence and I went to Australia to play as a professional."
Unlike what she expected, her first game was rather easy. "There, only one player guarded another player, but here you are surrounded. But the players were very tough and strong. That was how I learnt to be very strong. I used to score more than 20 points in each game."
In Australia, for the first time in her life, Geethu wished she was a little taller!
"All of them were taller and stronger than me!"
Having won the Best Player of the Month award, she was called again to play in 2007 and 2008. In 2008, she won the Most Valuable Player award. She had the offer in 2009 also but couldn't go as she had to practice as the captain of the Indian women's team for the Asian Games.
Geethu believes that the three years in Australia changed her game completely.
"When you play with good and strong players, you also improve automatically. Here, I don't have any competition. Other women players in India are scared to come near me as with just a nudge, I can push them away. I have become that strong, and my game is a real power game. That's why Troy tells me to play with the men players here and not women."
'I can't believe that my dreams are coming true'
Last updated on: April 27, 2011 08:41 IST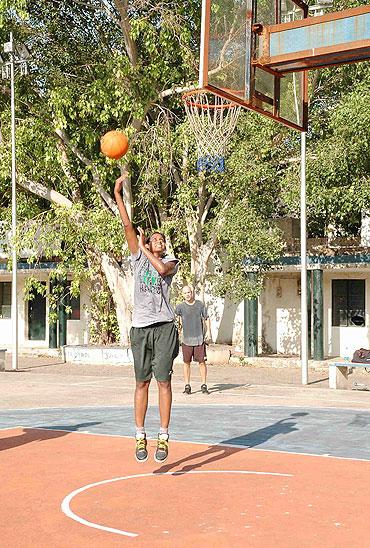 Playing for WNBA
From the time Geethu heard about the WNBA, it was her dream to play for there's dream she thought would never be fulfilled.
"So far, no Indian player has even gone for trials there. So, I never expected to go there. But there was a desire within me to go there at least for a trial. I used to pray to God, 'please let me go at least for one trial'. Here, I am, going for three trials!
"I have also had dreams of me basketing and the team winning the game! These were the kind of dreams I had. I can't believe that my dreams are coming true; just a step away. If I come out with flying colours in the trails, I will say my dreams have come true. I am nervous and excited."
'The WNBA trials will be a life time experience for her'
Last updated on: April 27, 2011 08:41 IST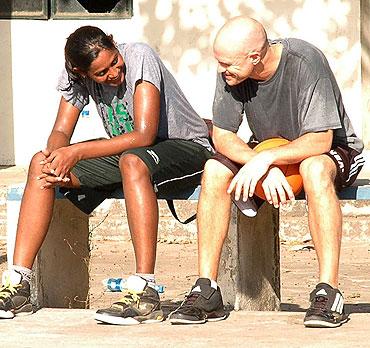 Coach's view
Troy Justice, who oversees Geethu's practice sessions, is all praise for the girl.
"Geethu is a top basketball player in India. She has lots of natural basketball skills and instincts. The reason why she has been called for the trials is because of her talent as a player."
What are the chances of her being selected?
"I can't talk about that, as it is up to the individual coach of each team. It all depends on the specific needs of each team. Maybe, they have a position to fill and she fills that need. These are the factors that determine her selection," said Justice.
"But I can say from my experience that Geethu is an international player and she can play in a variety of places. So this opportunity is a natural next step in her international career. I can say these teams are looking for her and see her play and spending time with her.
"Every player has strengths and weakness and Geethu has many, many strengths and there are areas she can improve upon. But, remember, she is one of the very few selected people around the world to have an opportunity to try-out in WNBA. You have to be capable to be selected for a trial, and she has proved that she is capable. The experience at the trail itself is going to be incredible; a life time experience for her," he added.
Justice reiterated that Geethu has the ability to play at that level.
"I am very hopeful. I am very excited for her and I am her biggest fan! Let us hope that there is a team there that would like to have her with them."