PHOTOS: Team by team analysis of Bahrain Grand Prix
Last updated on: April 22, 2013 09:43 IST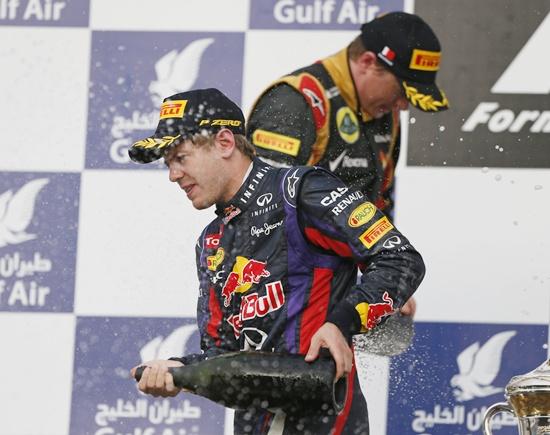 Team by team analysis of Sunday's Bahrain Formula One Grand Prix on Sunday.
Red Bull (Sebastian Vettel 1, Mark Webber 7)
Vettel's second win of the season, 28th of his career and second in a row in Bahrain to go 10 points clear of Raikkonen in the standings. He also set the fastest lap. Webber started with a three-place penalty but was up to second before his tyres wore out in his 200th F1 race.
-Red Bull put woman on podium in F1 first
-Photos: Vettel wins without drama in Bahrain
-Bahrain stages Formula One race amid protests
Lotus (Kimi Raikkonen 2, Romain Grosjean 3)
Raikkonen's 21st successive finish in the points, three short of Michael Schumacher's record. Grosjean's podium was his first since Hungary last July.
PHOTOS: Team by team analysis of Bahrain Grand Prix
Last updated on: April 22, 2013 09:43 IST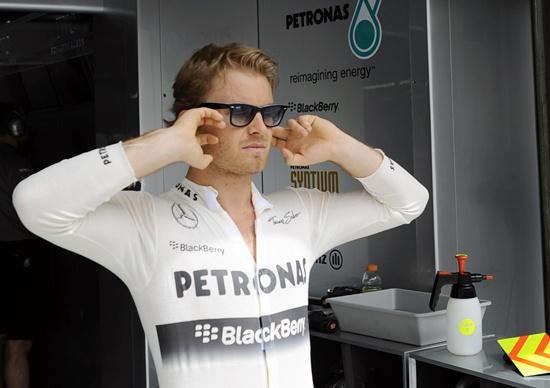 Ferrari (Fernando Alonso 8, Felipe Massa 15)
Alonso started third, with Massa fourth. The Spaniard was in second place when his rear wing DRS jammed open and he had to pit again to close it, sending him down to 18th. Massa clashed with Sutil at the start and then had punctures.
Mercedes (Lewis Hamilton 5, Nico Rosberg 9)
Rosberg started on pole for only the second time in his career, but was unable to prevent Vettel passing despite a tough initial battle. Hamilton had a five place penalty for a gearbox change but fought back strongly from ninth on the grid, with a thrilling battle with Webber.
PHOTOS: Team by team analysis of Bahrain Grand Prix
Last updated on: April 22, 2013 09:43 IST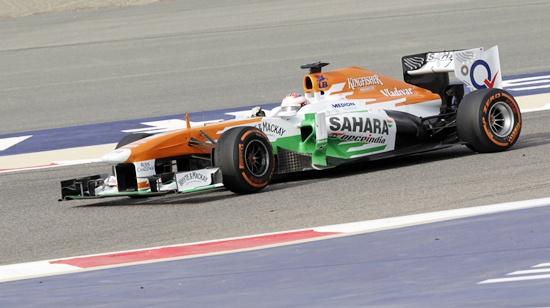 Force India (Paul Di Resta 4, Adrian Sutil 13)
Di Resta matched his career-best result, leading for three laps and holding third place until seven laps from the end when his tyres had gone. Sutil and Massa clashed on lap one.
McLaren (Sergio Perez 6, Jenson Button 10)
Perez and Button fought wheel to wheel, with the Mexican bumping into the rear of Button's car. The Briton accused his team mate of dirty and dangerous driving.
PHOTOS: Team by team analysis of Bahrain Grand Prix
Last updated on: April 22, 2013 09:43 IST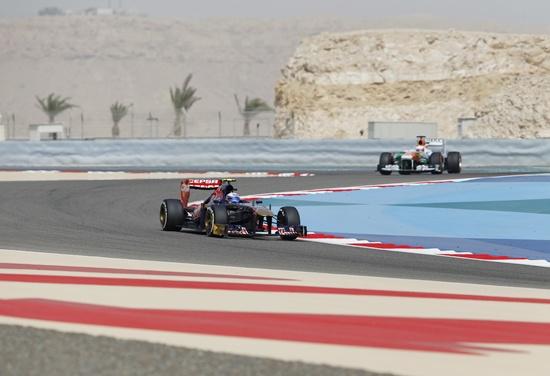 Toro Rosso (Daniel Ricciardo 16, Jean-Eric Vergne retired)
Vergne said he was clipped by Bottas at turn four and hit van der Garde. The car was badly damaged, missing a part of the floor but the Frenchman returned to the race before the team decided to retire him due to overheating. Ricciardo said his car lacked downforce.
Sauber (Nico Hulkenberg 12, Esteban Gutierrez 18)
Still no points for rookie Gutierrez, who started last after a five place penalty from China and had a broken front wing. Hulkenberg said he lacked pace and the car ate up the rear tyres too quickly.
Williams (Pastor Maldonado 11, Valtteri Bottas 14)
Still no points for Williams. Both drivers did three stops.
Marussia (Jules Bianchi 19, Max Chilton 20)
Chilton celebrated his 22nd birthday. Both suffered with tyre degradation and did four stops each.
Caterham (Charles Pic 17, Giedo van der Garde 21)
Caterham's best race so far this year. Pic passed both Marussias. Van der Garde was caught in the Vergne incident.
Source:
© Copyright 2019 Reuters Limited. All rights reserved. Republication or redistribution of Reuters content, including by framing or similar means, is expressly prohibited without the prior written consent of Reuters. Reuters shall not be liable for any errors or delays in the content, or for any actions taken in reliance thereon.