Forget the Hindi, Kaltenborn's Indian roots still strong
Last updated on: October 20, 2012 08:29 IST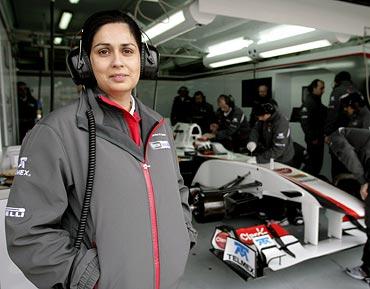 All of the sudden there is a boom of super moms in the media. Women with a penchant for different sporting fields. Where Indian men would have thought twice about venturing, these women are making a name for themselves as pioneers in their chosen fields.
If London Olympics bronze medallist M C Mary Kom provided a glimpse to mothers that fighting in the ring and bringing up children gel well, Monisha Kaltenborn, an Indian by birth, only confirms it.
The second name may not be as familiar as that of the Manipur boxing ace, but, in the coming days, much will be said, and written about, the 41-year-old Sauber Team Principal, popularly known as Formula One's first lady.
'I feel very attached to India'
Last updated on: October 20, 2012 08:29 IST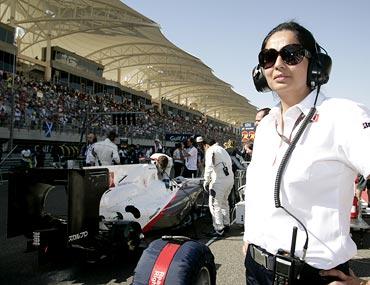 Born Monisha Narang in Dehradun, she attended Welham Girls' High School before her parents migrated to Austria in 1979, when she was eight. After graduating from the University of Vienna with a law degree, she completed her Masters in International Business Law at London School of Economics, and met her husband, Jens Kaltenborn, during her first job in Stuttgart.
They later relocated from Germany to Liechtenstein and began working for the Fritz Kaiser Group. It was there she met Peter Sauber, the 69-year-old owner of the Formula One team.
With the Indian Grand Prix just around the corner, Kaltenborn is generating quite a buzz in the sub-continent since becoming the first female Formula One Team Principal in Sauber, the Swiss-based team, last week.
Next week, when she heads into the Indian GP, the professional side to her would like to look at it as just another race, but, personally, she will try to make it special for her and the team.
"Indian Grand Prix is rather different. Obviously, I'm particularly looking forward to this race in my home country. As I travel to all the Grands Prix as part of my job, I don't have time for private trips to India. During my school and university days I would go there regularly. My husband Jens and I celebrated our marriage in India (Dehradun) with a fabulous and very happy Hindu ritual. I feel very attached to India," she says about her Indian connection.
'I grew into this role step by step'
Last updated on: October 20, 2012 08:29 IST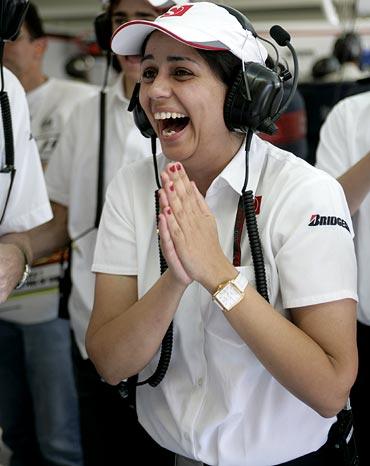 The most powerful woman in the sport maintains a diplomatic stance about her appointment, focusing on her job rather than talk of being the first lady in F1.
"I grew into this role step by step. I had been head of the company's legal department since 2000; in 2001 I joined the Board of Management, in 2010 I became CEO, and since the end of 2011 I've held a third of the company's stake holding," she informs.
She adds, "Peter Sauber's withdrawal from the day-to-day running of the business has been on the cards for a long time, so this latest step was well-prepared. I'm acutely aware of what it means to carry the responsibility for this company, which has been around for over 40 years and involved in Formula One for almost 20 years."
Journey from Dehradun to Sauber was long
Last updated on: October 20, 2012 08:29 IST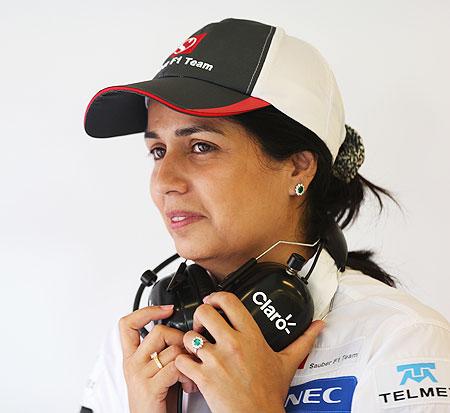 What Kaltenborn has achieved is certainly against the odds in Formula One. From an outsiders' point of view, she is a woman in a man's world of motorsport. But, unlike Mary Kom, who after winning five boxing World Championships, still had to prove that women could box, Kaltenborn maintains she never faced any discrimination in her work.
'You have to deliver the same (as men) and be as good as anyone else. It can show to women out there that they can also come out on top and believe in themselves,' she said at the Korean Grand Prix.
The journey from Dehradun to becoming the Team Principal of Sauber was rather long. Nevertheless, she insists she's remained firm to her roots.
"I don't think you ever lose your roots, and anyway you can tell where I'm from just by looking at me. I also think I have a certain serenity and openness you might describe as Indian. That includes shrugging off negative experiences and focusing positively on the future -- something that is very important in an environment as competitive as Formula One," she says.
'I do try to talk Hindi with the children occasionally'
Last updated on: October 20, 2012 08:29 IST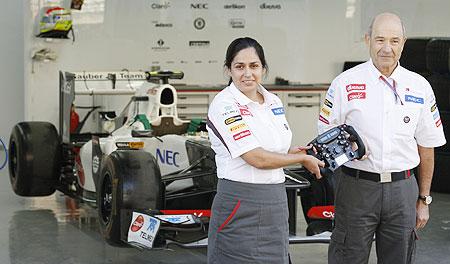 In time, she says a few things have changed. Like her Hindi, which, she says, is no longer as good as it was back then.
"But I do try to talk Hindi with the children occasionally. Our son is ten years old, our daughter seven, and I'd like them to learn the language. But my parents are better teachers than me," she says, adding the kids "are really proud of what their mother does".
Though Kaltenborn accepts that, because of cricket, it is difficult for any sport to find space in the Indian public consciousness, she firmly believes that Formula One has grown significantly since its debut in India last year.
"It seems right that India, as an upwardly mobile nation, a huge marketplace and a high- tech location, has found a place in the Formula One calendar with its excellently trained engineers. Both Formula One and the country can benefit from it," she declares.
Indian Grand Prix will be the defining moment for Kaltenborn
Last updated on: October 20, 2012 08:29 IST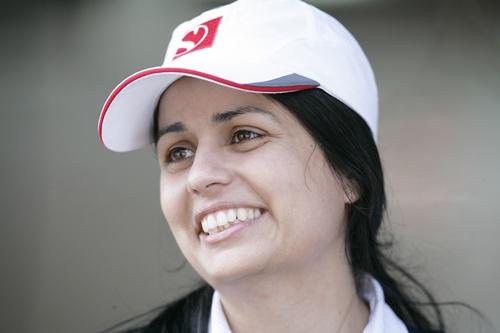 Kaltenborn is passionate about her job. She does not come from a motorsport background and runs the team as a business first. Her analytical approach helps the team. The way it has performed since last year is a mere reflection of her drive that has given the team members the courage to believe in themselves.
Sauber have never won a race in their own right -- the sole victory coming under the brief ownership of BMW in 2008. The team is sixth in the constructors' championship after scoring four podium finishes this season, the most recent coming via Kamui Kobayashi at the Japanese Grand Prix.
A fifth one, at the Buddh International Circuit, at next weekend's Indian Grand Prix, will be the defining moment for the 'Dame from Dehradun'.