Focus on safety in motor racing after Simoncelli's death
Last updated on: October 24, 2011 15:53 IST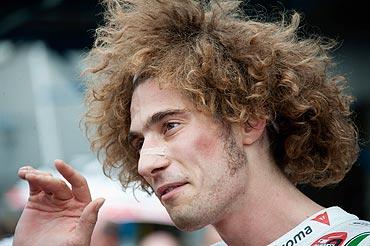 Introspection time for motorsports as it grips with Wheldon and Simoncelli's tragic crash deaths
Motorsport was plunged into more grief and introspection on Sunday by a second death in a week amid intensified concern for safety standards in all forms of racing around the world.
Just hours before a public memorial service for IndyCar driver Dan Wheldon was due to start in Indianapolis, where the Briton twice won the famous Indy 500 race, Italian MotoGP rider Marco Simoncelli died after an horrific crash at the Malaysian Grand Prix in Sepang.
The 24-year-old Italian was widely admired as a rising hope and his death, confirmed at the circuit medical centre, came as a deep shock to a sport still reeling from Wheldon's accident.
Motor racing, on two wheels and four, was left facing its greatest safety inquest for a generation.
- Simoncelli video link
'At times, we forget how dangerous the sport is'
Last updated on: October 24, 2011 15:53 IST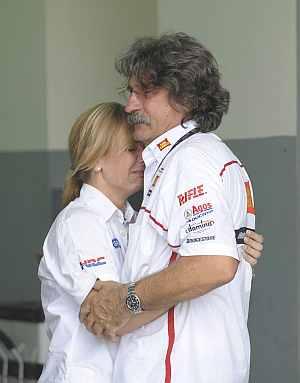 Simoncelli's fellow Honda rider Dani Pedrosa said: "At times, we forget how dangerous the sport is. These are things that should not happen, but this is sport."
Wheldon, 33, was killed last Sunday in a high-speed 15-car crash during the opening laps of the IndyCar season finale at Las Vegas.
His funeral took place on Saturday in St. Petersburg, Florida where family, friends and neighbours attended an emotional service.
Many gathering in Indianapolis were shocked by the news from Malaysia where Simoncelli lost control on the second lap and was hit by the bikes of Colin Edwards and Valentino Rossi as he slid on his Honda.
Loss of helmet, the focus of investigation
Last updated on: October 24, 2011 15:53 IST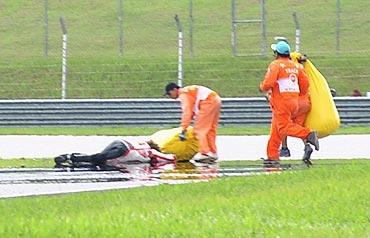 His helmet was knocked off in the incident and the season's penultimate race was stopped immediately with a red flag and then cancelled.
Casey Stoner, who won his second MotoGP title at his home Australian Grand Prix last week, said: "As soon as I saw the footage it just makes you sick inside. Whenever the helmet comes off that's not a good sign."
The loss of his helmet will be the first -- and most important -- area for immediate focus in the investigations that follow Simoncelli's death, the first in premier motorcycle racing since another Honda rider Daijiro Kato was killed at the 2003 Japanese Grand Prix.
Shoya Tomizawa also died in a similar crash to Simoncelli in Moto2, the class below MotoGP, at last year's San Marino Grand Prix since when motorcycling bosses and riders have been working hard to improve safety.
Participants continue to walk dangerously
Last updated on: October 24, 2011 15:53 IST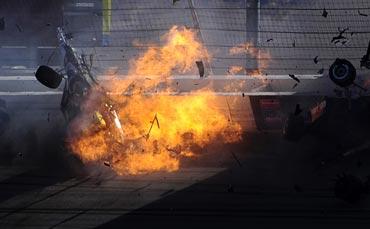 But even on an open, modern circuit like Sepang, a purpose-built facility designed by German specialist Hermann Tilke and opened in 1999, little can be done to reduce the dangers implicit in high-speed close-proximity racing -- especially when riders, or cars, collide and are hit by others.
Even if the circuit is built to the highest levels of contemporary safety standards, racing itself remains dangerous as participants and spectators are informed when they sign their waiver forms and buy tickets.
Following Wheldon's death, drivers questioned the wisdom of running the IndyCar finale on a very fast, high-banked oval, which had not staged an event in the series for 11 years, with a 34-strong field that included several part-time drivers.
Other observers suggested that overall safety standards in IndyCar racing were 20 years behind those practiced in Formula One, in which a major revision was instigated following the deaths of Ayrton Senna and Roland Ratzenberger in 1994.
Motorsports' ethics, safety standards questioned
Last updated on: October 24, 2011 15:53 IST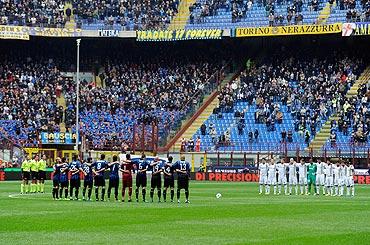 Simoncelli's death was the first at Sepang. Circuit chairman Mokhzani Mahathir said: "We had our standard operating procedure ... this is one-of-a-kind freak incident where the helmet came off and I am sure FIM (International Federation of Motorcycling) and MotoGP will be looking into this."
All Italian sports events on Sunday were set to observe a minute's silence in memory of Simoncelli, who was a big fan of soccer club AC Milan.
In their Serie A fixture against Lecce, Milan wore black armbands and recovered a three-goals deficit to win 4-3.
Now motorsport has to recover from a double blow that has asked questions of its ethics and safety standards.
Source:
© Copyright 2021 Reuters Limited. All rights reserved. Republication or redistribution of Reuters content, including by framing or similar means, is expressly prohibited without the prior written consent of Reuters. Reuters shall not be liable for any errors or delays in the content, or for any actions taken in reliance thereon.