Buddh track shines despite teething problems
Last updated on: October 28, 2011 11:59 IST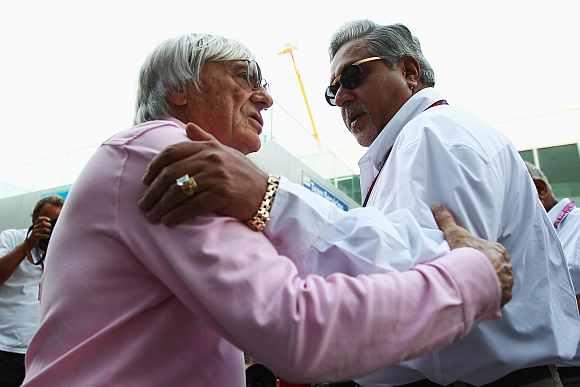 Teething problems were evident at India's new Buddh International circuit but Formula One's boss declared that he is satisfied.
"Super. The track is super," commercial supremo Bernie Ecclestone told Reuters in the paddock as teams set up their garages and workmen busied themselves painting markings in the pit lane.
"They did everything we wanted them to do within, what, two or three years of reaching the agreement," continued the Briton. "It took Silverstone 25 years, so I think they've done very well."
Overall a decent job
Last updated on: October 28, 2011 11:59 IST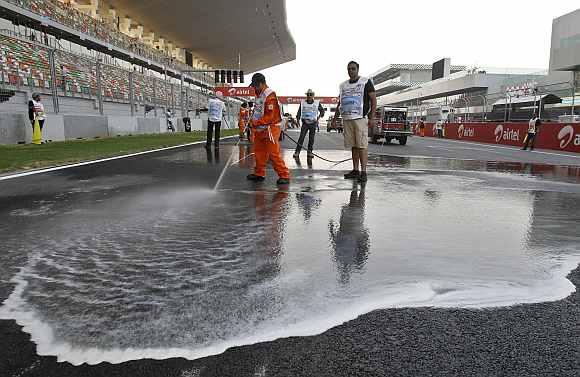 A lack of clear signage outside the circuit caused some confusion while media centre staff battled an immediate power cut. Television reporters said they had suffered three separate outages in their compound by lunchtime.
A small bat, disturbed from its slumbers, flitted around above reporters heads in the press room before finally finding an exit and disappearing into the sunshine.
Some buildings remained clearly unfinished, with what was immediately dubbed a 'stairway to heaven' leading vertiginously up to a flat roof and a sheer and unprotected drop.
The overall appearance of the $450 million facility, which will host India's first grand prix Sunday, was nonetheless impressive even if lacking a particularly Indian flavour.
'Hugely impressive'
Last updated on: October 28, 2011 11:59 IST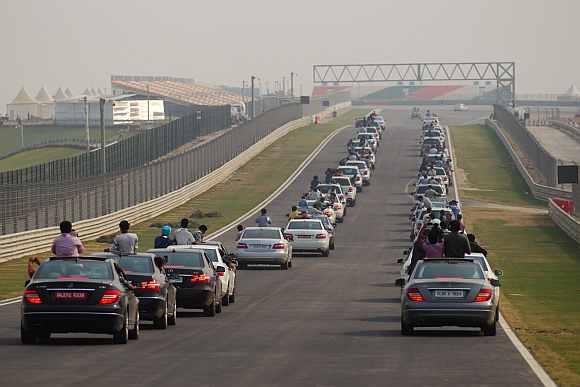 "I just walked in and it looks hugely impressive," retired triple world champion Jackie Stewart told Reuters as he arrived in the paddock.
"From just driving in, the scale of it, it's extraordinary. I think it's wonderful and this is the new world. And they've done that like that," added the Scot, clicking his fingers.
"When we think of the old world, we can't do that. But it will still take two years to get it right. Just like it will take two years to get the new Silverstone complex right.
"It's not anything to do with India or England, it's to do with just the realities of making everything synchronised and working without any glitches," he added.
'It's like a new-born child'
Last updated on: October 28, 2011 11:59 IST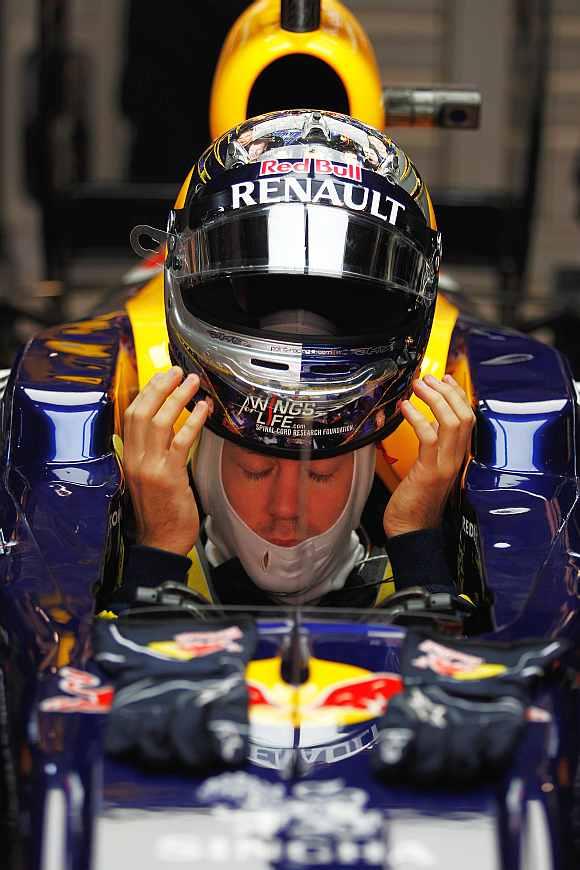 Vicky Chandhok, father of Team Lotus reserve driver Karun and head of the Indian Motorsports Federation, was pleased with how things were shaping up.
"Let's be honest, it's like a new-born child. You've got to nurse it along," he said in his paddock office. "We've all got to accept there are a few shortcomings but at least the will to do it is there. That's the most important factor.
"There's no lack of money or will to do it. It will get done. The promoters are very clear. Whatever it takes, spend it," he added.
Chandhok said the track itself, with smooth asphalt and a long fast straight, was winning plenty of plaudits.
"You've got some electrical and plumbing issues but the circuit, talk to any driver and I think they are absolutely gobsmacked this morning," he grinned.
"They love the circuit. There's not a single team principal that hasn't come up to me and said what a fantastic circuit it is," he added.
'Indianise the paddock'
Last updated on: October 28, 2011 11:59 IST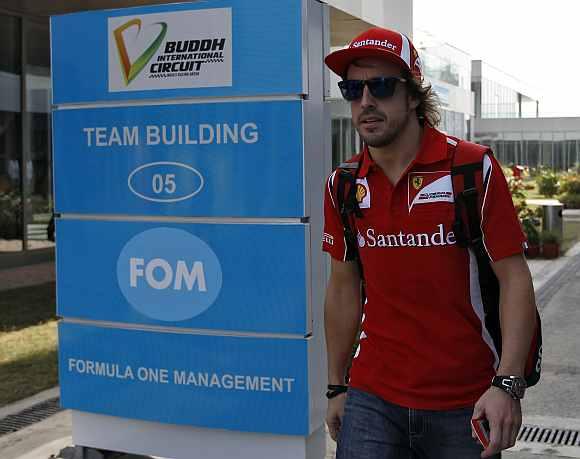 The next stage, said Chandhok, would be to stamp some local character on a facility designed by German track architect Hermann Tilke.
"I think by next year we need to Indianise the paddock. Right now, this could be anywhere," he said.
"The promoters were very clear yesterday, they said let's finish this year and then by next year leave it to us, we'll move our Indian architects in and get this thing done," he added.
Source:
© Copyright 2021 Reuters Limited. All rights reserved. Republication or redistribution of Reuters content, including by framing or similar means, is expressly prohibited without the prior written consent of Reuters. Reuters shall not be liable for any errors or delays in the content, or for any actions taken in reliance thereon.