It's official, Spain's reign is over
June 19, 2014 08:20 IST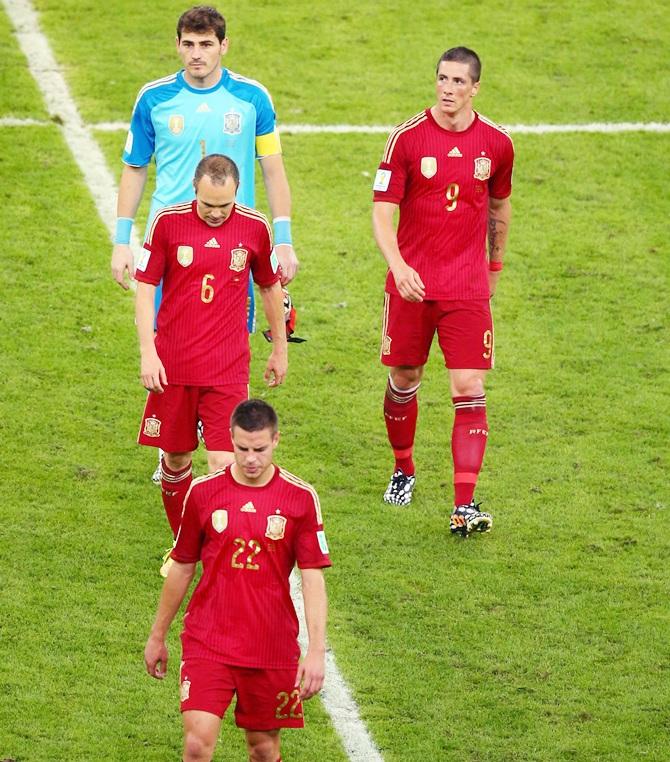 And so it was official. The reign of Spain was not merely on the wane – it was over.
-Complete coverage of the football World Cup
-PHOTOS: Chile end Spain's reign, qualify for second round
But this was no hard luck story. No tale of near misses, or if onlys. It was a 90-minute clubbing of a once-mighty empire.
Of red-shirted men who had been elevated to almost mythical status with two European Championships and a World Cup in the last six years.
Here, in the magnificent Maracana, the chants of 'ole ole ole, Chile, Chile' and 'E-lim-inado' served as a funereal dirge for the Spaniards who are lurching from crisis to embarrassment at this World Cup.
At the end La Roja were left red-faced.
- Please click NEXT for more...
It's official, Spain's reign is over
June 19, 2014 08:20 IST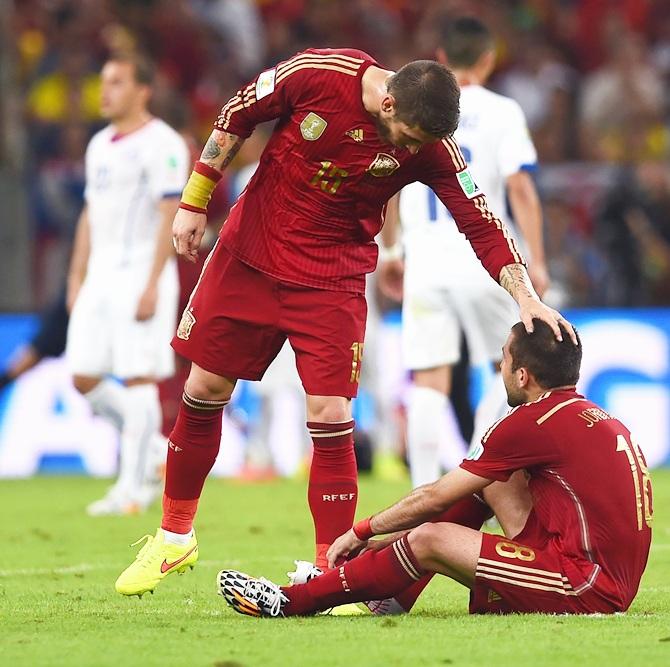 Humbled 5-1 by the Netherlands in the opening match of their title defence last Friday, observers, and no doubt the Chileans, had been braced for a proud and angry response.
Instead the Spaniards were once more bulldozed. The 2-0 scoreline was kinder, but the manner of defeat no easier to stomach for a side used to sweeping all before them.
Reputation alone is never enough, however, and the simple truth is their tiki-taka style of play which won these men such riches proved as effective as tap-dancing in a cage fight.
As was the case against the Dutch last week, it simply was not enough against stronger, livelier and, frankly, hungrier opponents.
- Please click NEXT for more...
It's official, Spain's reign is over
June 19, 2014 08:20 IST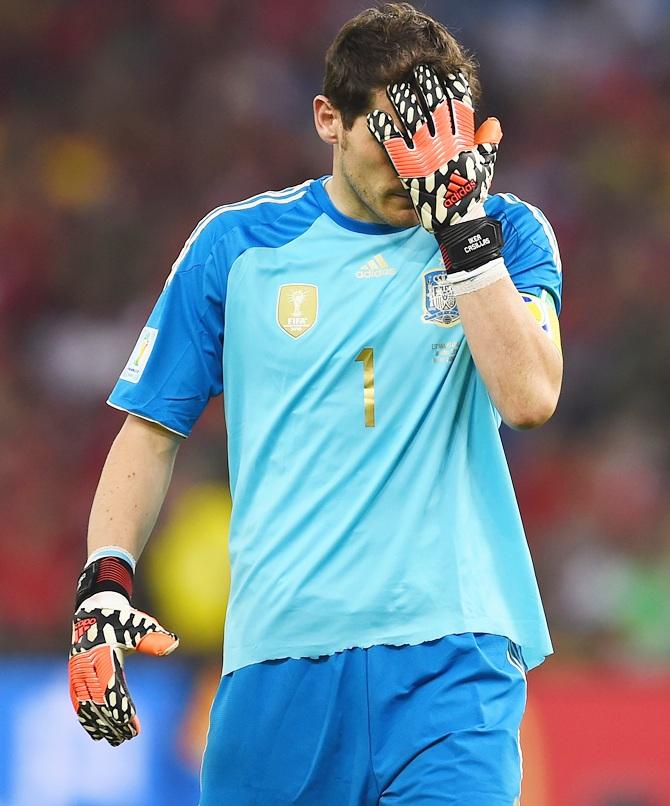 It was not that Spain lost, it was the manner of the defeat which rankled.
Once again goalkeeper Iker Casillas played less like the most-capped player of the world champions and more like a Sunday League stopper.
He allowed Eduardo Vargas to skip around him for the first goal, and comically punched a free-kick straight back towards the boot of Charles Aranguiz for Chile's second.
It would not be accurate to place all the blame on Casillas, for he was joined in terms of mediocrity by most of his team mates.
- Please click NEXT for more...
It's official, Spain's reign is over
June 19, 2014 08:20 IST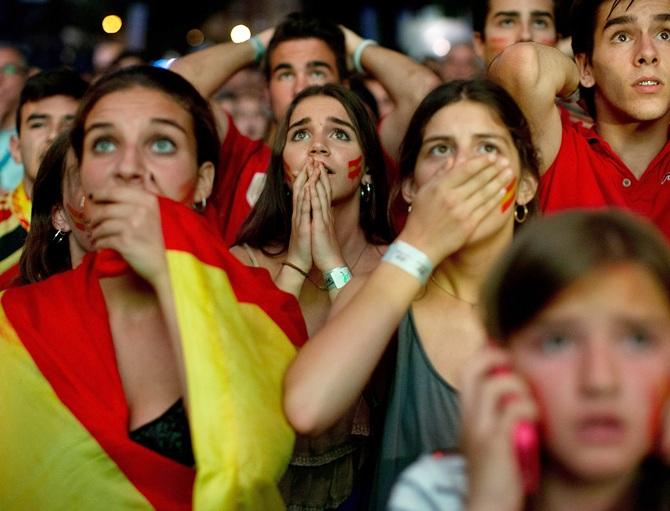 The Chileans were sharper on the break. They were more robust in the challenge. Their passes were crisper.
Diego Costa, the Brazilian who deserted the land of his birth to play for the Spaniards, was blunt up front. So Spain turned to Fernando Torres – himself no stranger to fading fortunes.
Perhaps unsurprisingly the once-magical Torres failed to spark any kind of revival as the Spaniards laboured through the latter stages of this contest.
Like schoolboys blinking back tears in the playground, they ran and they harried. They fought frustration.
But with the swagger sucked out of them, first by a crushing defeat and then by a pugnacious Chilean side, they failed to ever get a foothold in this match.
On the day King Carlos of Spain abdicated his throne, his once glorious footballers found they would advance no further and will return home at the end of the first stage.
Source:
© Copyright 2021 Reuters Limited. All rights reserved. Republication or redistribution of Reuters content, including by framing or similar means, is expressly prohibited without the prior written consent of Reuters. Reuters shall not be liable for any errors or delays in the content, or for any actions taken in reliance thereon.