All hail Germany's wonder boy Goetze
Last updated on: July 14, 2014 11:06 IST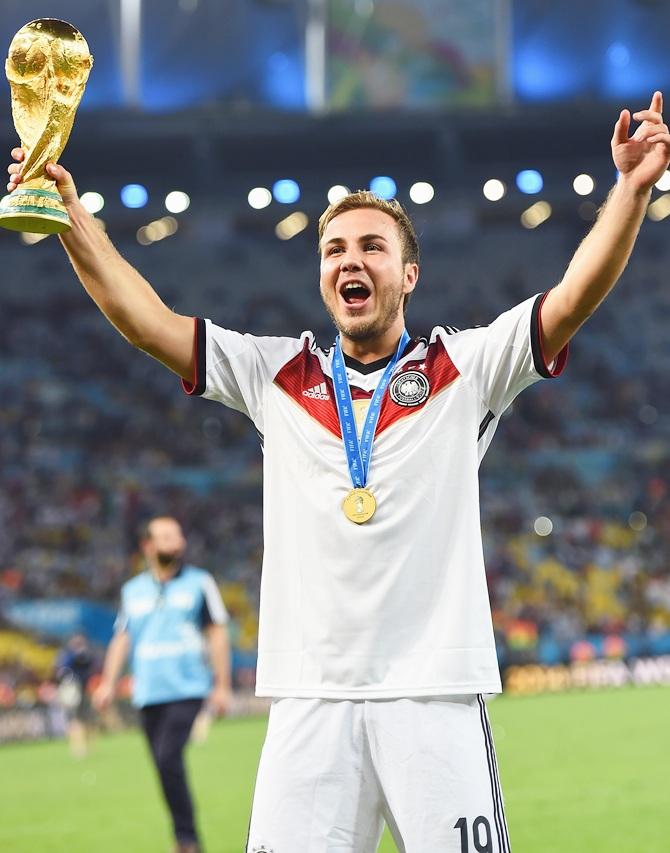 Germany forward Mario Goetze, who plundered the extra-time winner in the World Cup final against Argentina, is a wonder boy with immense qualities, coach Joachim Loew said on Sunday.
-World Cup Player of the Day: Magical Goetze eclipses Messi
- Messi wins Golden Ball; Rodriguez Golden Boot
- PHOTOS: Super Mario stunner guides Germany to World Cup glory
Substitute Goetze, who until the final had had a disappointing tournament, struck the only goal seven minutes before the end of extra time to clinch Germany's fourth World Cup.
"I told him 'you go out there and show the world that you are better than (Argentina captain) Lionel Messi and that you can decide the game tonight'," Loew told reporters.
Four-times world player of the year Messi was looking for a first World Cup victory that would place him among the world's greatest players.
But Goetze stole the show.
- Complete coverage of the football World Cup
-Please click NEXT to read more...
All hail Germany's wonder boy Goetze
Last updated on: July 14, 2014 11:06 IST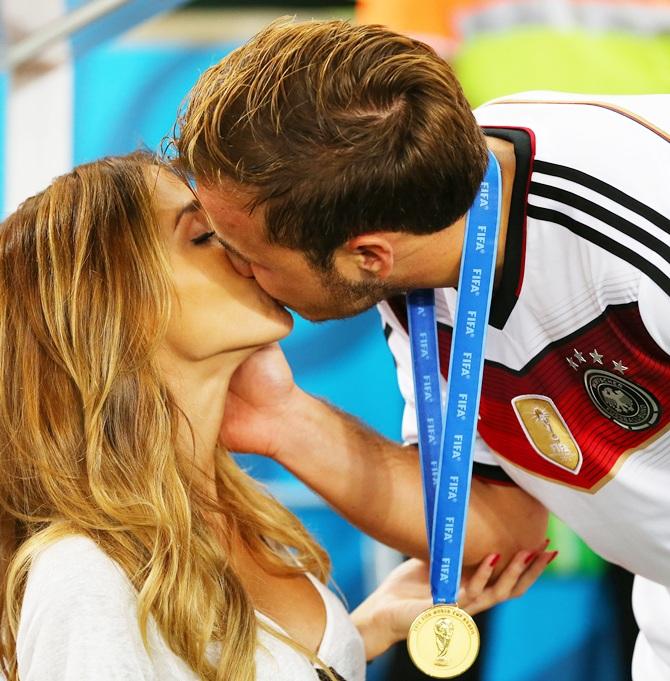 When Germany thrashed Brazil 7-1 with Miroslav Klose becoming the World Cup's all-time leading goalscorer, Mario Goetze could probably have been forgiven for not leading the cheers from the sidelines.
Having arrived in Brazil as his country's first-choice forward he watched the entire semi-final from the bench having been dropped earlier in the tournament and replaced by Klose.
Goetze was again among the substitutes for Sunday's final and would have had few expectations of being involved as coach Joachim Loew understandably kept faith with the team that had marched into the final in such style.
However, Loew threw him on for Klose two minutes from the end of normal time and Goetze repaid him in the most spectacular way possible, smashing home a brilliant goal seven minutes from the end of extra time.
The goal gave Germany a 1-0 win over Argentina and secured his country's fourth World Cup and first since 1990 - two years before he was born.
Fellow substitute Andre Schuerrle advanced past a tiring Argentine defence down the left and picked out Goetze in the box. The 22-year-old leapt to control the ball on his chest before stretching to sweep a sweet volley beyond Sergio Romero.
-Please click NEXT to read more...
All hail Germany's wonder boy Goetze
Last updated on: July 14, 2014 11:06 IST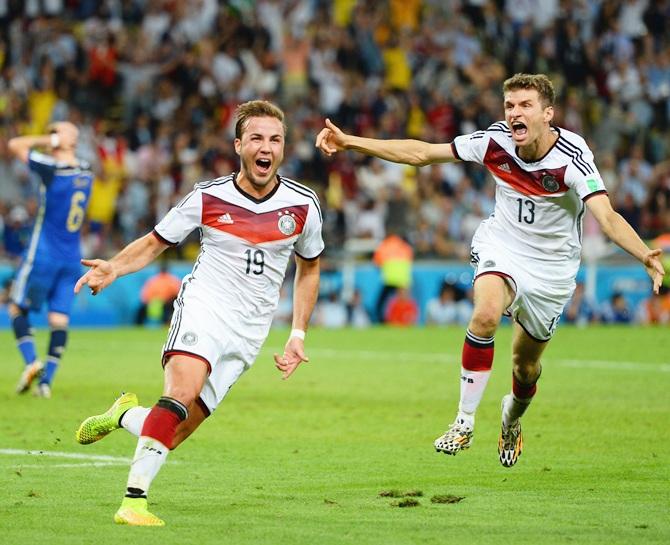 A few months ago Goetze's career seemed to be on an unstoppable upward trajectory.
Having helped Borussia Dortmund to two Bundesliga titles and into the 2013 Champions League final he did what all great German players seem to do - agree a huge transfer to Bayern Munich.
Another league and cup double duly followed and he completely won over Loew, who loved the versatility that allowed him to use the quick-footed and mobile player as a midfielder or even a lone striker.
Once in Brazil he started Germany's opening 4-0 win over Portugal and got the first goal in a 2-2 draw with Ghana but was a substitute in the final group game against the United States.
He was restored to the starting lineup for the second round against Algeria but played poorly and was hauled off at halftime.
-Please click NEXT to read more...
All hail Germany's wonder boy Goetze
Last updated on: July 14, 2014 11:06 IST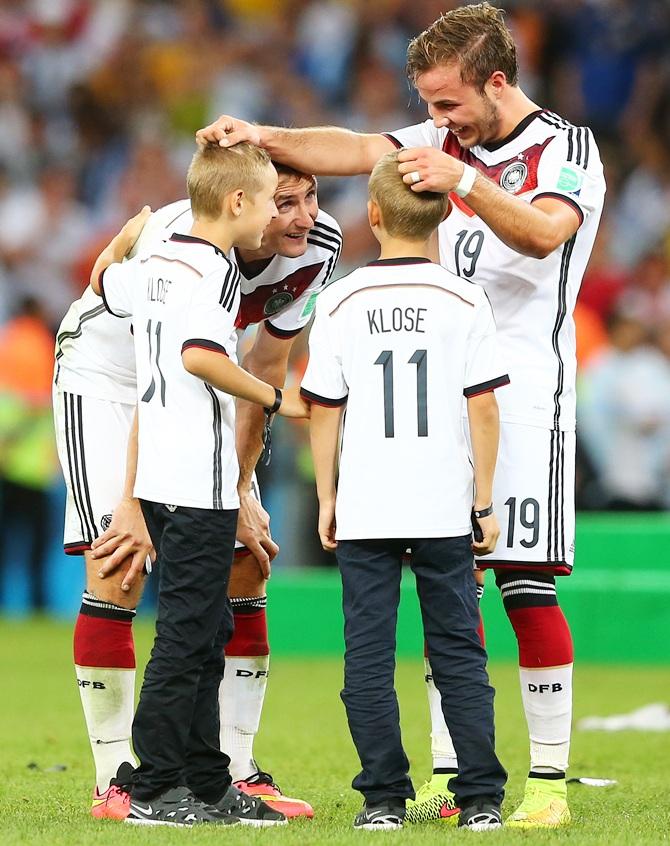 With Klose established in the side he had to settle for another late substitute appearance in the quarter-final victory over France and must have found it difficult as pundits praised Loew for finally finding the right lineup.
How Goetze must have longed to be involved as Brazil's defence opened up so invitingly in Belo Horizonte.
But the goals were spread elsewhere and it was Klose, supported by Thomas Mueller and Tony Kroos, who were again going to be the goalscoring threat in the final.
Loew's plans for Sunday's final were no doubt disrupted by the pre-match withdrawal of Sami Khedira and then being forced to replace his replacement, Christoph Kramer, with Schuerrle after half an hour.
-Please click NEXT to read more...
All hail Germany's wonder boy Goetze
Last updated on: July 14, 2014 11:06 IST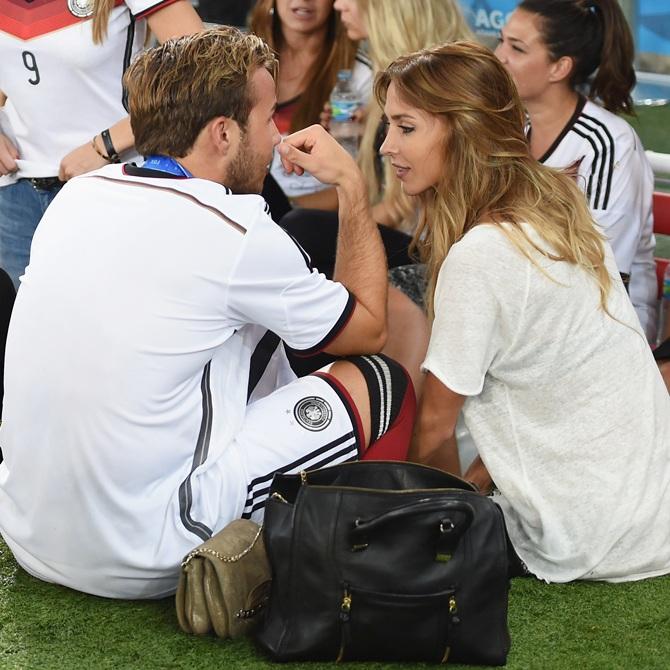 But there was still time for Goetze to become involved and he grasped the opportunity, becoming the only substitute to score the winning goal in a World Cup final.
"I've got to thank my family and friends who believed in me," said Goetze. "Yes there were some other players who came to me and said, 'You'll do it tonight'.
"The ball was just there and then it was in. It was a deliverance for the team and it's a great feeling to have been able to make a contribution to that."
Klose underlined the team spirit that kept things positive when both men were spending time on the bench.
"It's incredibly important that we stuck together," he said.
"At halftime I told Mario 'I think you'll get a goal tonight.'
"It's just incredible."
-Please click NEXT to read more...
All hail Germany's wonder boy Goetze
Last updated on: July 14, 2014 11:06 IST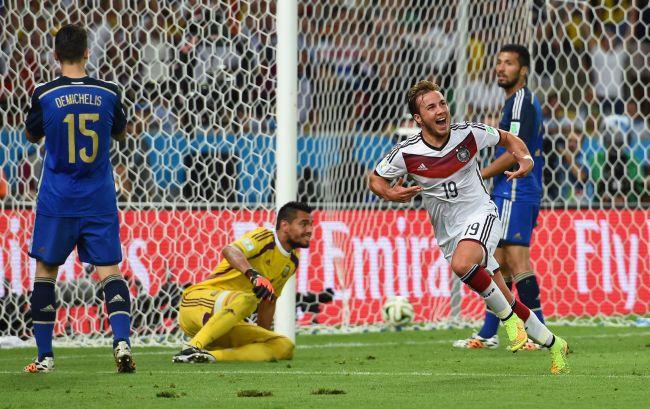 Loew too felt that Goetze's time had come
"I had the feeling that he could do something decisive today because Mario is the kind of player who can decide matches," he said. "I had a feeling somehow that he could bring this thing to a conclusion."
"That's what I told him and I had a good feeling," said Loew, who brought on the attacking midfielder two minutes before the end of normal time for striker Miroslav Klose.
The 22-year-old paid back his coach's trust, volleying in his second goal of the tournament after spending the past few games on the bench.
-Please click NEXT to read more...
All hail Germany's wonder boy Goetze
Last updated on: July 14, 2014 11:06 IST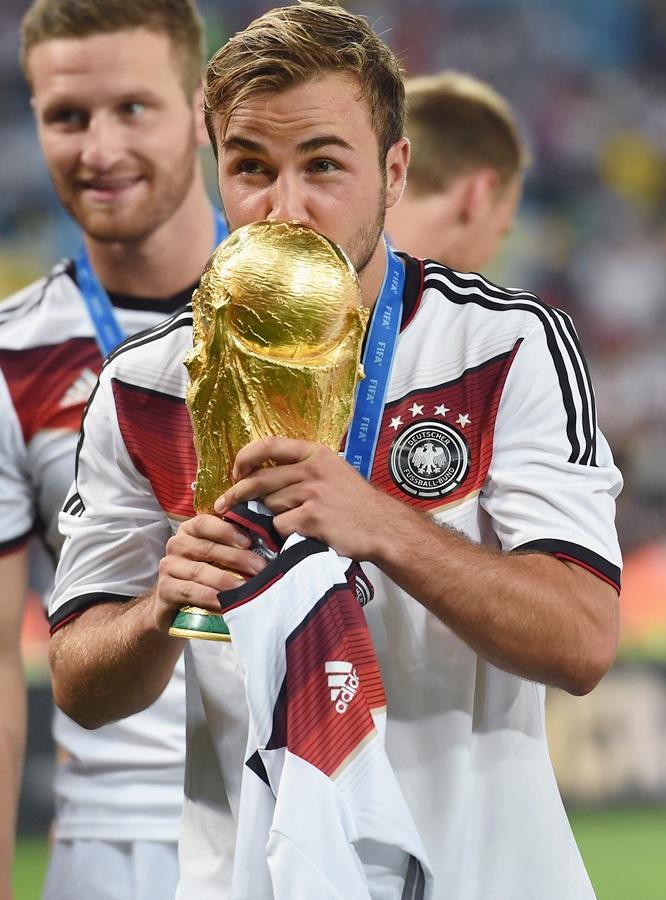 "Goetze is a wonder boy who has these immense abilities, this outstanding skill," Loew said. "He can always decide a game and he scored a great goal today."
For man-of-the-match Goetze, it had not been an easy tournament after initially failing to live up to expectations.
One of Germany's most talented and promising players, he scored in the group game against Ghana but then was not used much.
"It was not an easy year, not an easy tournament for me," said the softly-spoken Goetze.
"But I am just happy that the team won this title with me. I kept training with the team and every player here deserves it," said Goetze.
Source:
© Copyright 2019 Reuters Limited. All rights reserved. Republication or redistribution of Reuters content, including by framing or similar means, is expressly prohibited without the prior written consent of Reuters. Reuters shall not be liable for any errors or delays in the content, or for any actions taken in reliance thereon.