Alpine skiing top official sees Michael Schumacher recovery chance
December 31, 2013 08:26 IST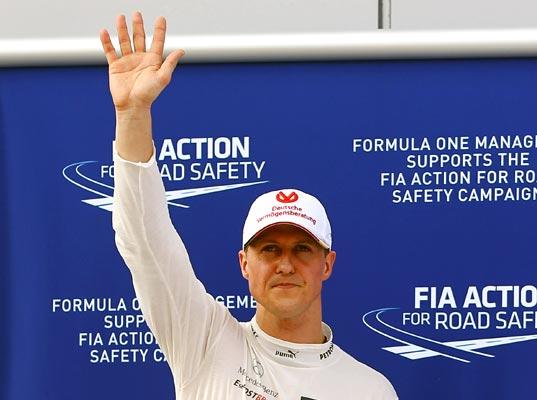 Michael Schumacher's helmet almost certainly saved his life and leisure skiers should always wear head protection, said the man behind the main safety measures in Alpine skiing.
-Michael Schumacher battling for life after ski accident
-Michael Schumacher an F1 great, if not the greatest...
-Down memory lane: The best and worst of Michael Schumacher
"Without a helmet, Michael Schumacher would be dead," Guenter Hujara, men's Alpine skiing World Cup director, told Reuters on Monday.
Seven-times Formula One world champion Schumacher suffered serious head injuries in a crash skiing off piste at the French Alpine resort of Meribel at the weekend and his condition was described as "critical" by doctors in Grenoble.
"Schumacher's injury is of the same sort as those suffered in recent seasons by (Swiss Daniel) Albrecht or (Austria's Johan) Grugger. They were seriously injured but they came out of it and went on to live a normal life," said Hujara.
"Schumacher didn't go as fast as they did so he has a good chance. Athletes have the strength to overcome such bad times."
Alpine skiing top official sees Michael Schumacher recovery chance
December 31, 2013 08:26 IST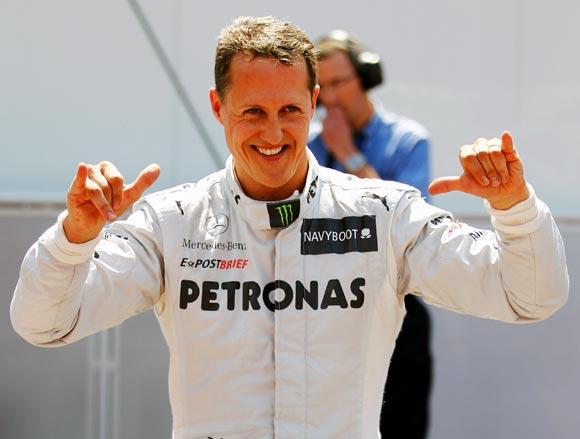 But Hujara, who was one of the first ski officials to wear a helmet while at work and also wears headgear when riding his bicycle at home, warned all leisure skiers they should be inspired by the precautions taken by the professionals.
"Every leisure skier should be told to watch what the pros are doing. They wear a helmet so they should wear a helmet as well. In the case of a crash, in 50 percent of cases, a serious injury can be avoided thanks to the helmet," the Austrian said.
In charge of men's Alpine skiing since 1991, Hujara took charge of the sport in the very year when Austrian hopeful Gernot Reinstadler was killed in training on the Lauberhorn course in Wengen.
Since then, he has introduced several measures to increase safety by installing two sets of safety nets on the pistes, improving the quality of the snow and allowing back protections in downhills as well as braces for the knees, the most frequently injured part of the body in skiing.
Alpine skiing top official sees Michael Schumacher recovery chance
December 31, 2013 08:26 IST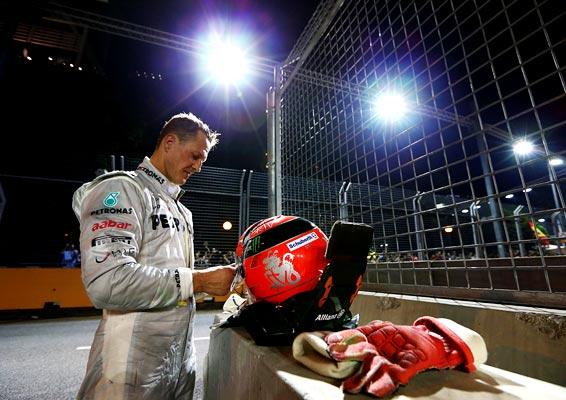 Super-G world champions Ulrike Maier and Regine Cavagnoud died on their skis in 1994 and 2001 respectively and even though few deaths have occurred in recent years, serious accidents still are a part of the sport, especially in the speed events like downhill and Super-G.
The most serious recent crashes involved Albrecht, who remained in a coma for three weeks after crashing in training in Kitzbuehel in January 2009, and Grugger, who was seriously hurt on the same piste two years later.
Both had to give up skiing.
The International Ski Federation (FIS) introduced tougher regulations for helmets at the start of the season, making sure they comply with the American and European safety standards known as ASTM 2040 and EN 1077.
These standards test the resistance of the equipment at high speed and FIS ruled that the resistance of the helmets be certified at a speed of 6.8 metres per second (244 kph) instead of 5.4 metres per second in the past.
Alpine skiing top official sees Michael Schumacher recovery chance
December 31, 2013 08:26 IST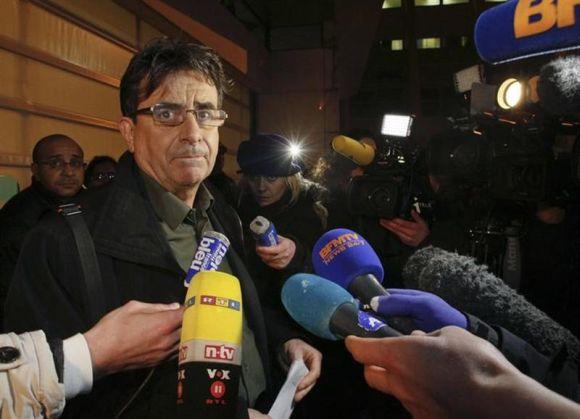 Hujara insisted the research work done by FIS should have an impact on the safety of leisure skiers.
"It is important for the everyday skier to be aware they should wear a helmet and a good one, respecting the best safety standards," he said.
"In the World Cup, we're testing equipment that can be directly useful to the leisure skiers like the helmets, the back protections or the knee braces."
While it is unclear what sort of headgear Schumacher was wearing, other experts said helmets for sale in shops were often not efficient enough.
"An accident like this will shock people and maybe make them more aware of the importance of wearing a good helmet," said Andrea Capeletti, a spokesman for Bolle, one of the leading helmet makers.
Helmets can be bought from 20 euros in ski resorts and be "useless", he said, adding that the new helmets designed for top-flight skiers would go on sale at around 250 euros.
Capeletti said that data from his company showed helmets were worn by almost one in two skiers in North America or Switzerland while the French or Italians seldom used them.
Alpine skiing top official sees Michael Schumacher recovery chance
December 31, 2013 08:26 IST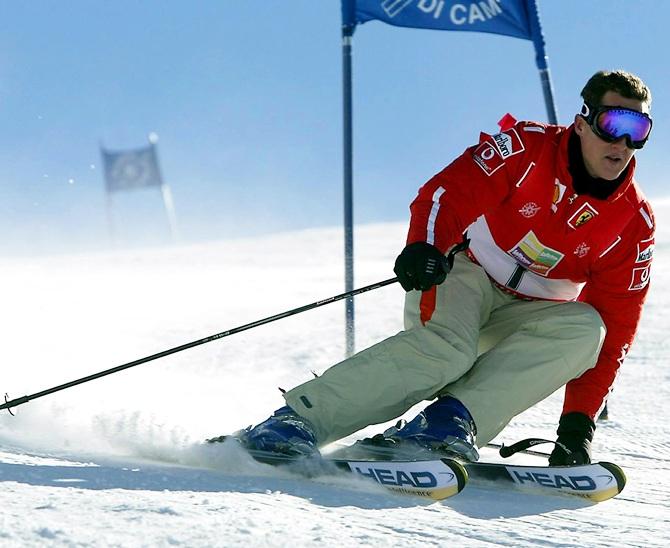 While making it clear accidents like that suffered by Schumacher had "nothing in common with crashes in race conditions", French Ski Team doctor Stephane Bulle underlined that skiing was "an extremely dangerous sport".
"All the mountain doctors will tell you, it's getting worse and worse. People are careless, take risks and do not listen to professional advice," he told Reuters.
Bulle said equipment was not necessarily to blame and that the best helmets could not always save lives or avoid the worst.
"When you hit a tree at 145 kph, you just don't have a chance. Speed is the danger, even if you don't take unreasonable risks," he said, adding that skiers should adapt their speed to their abilities.
"You can drive at 300 kph and take the necessary risks at a professional level and not be able to do the same in a leisure context," he said.
Bulle, who had to contend with many injuries in the French team this season - most frequently knee-related - said he hoped Schumacher's crash would increase awareness on the dangers of the sport.
The use of a helmet was introduced in 1950s in the downhill and in the 1990s in slaloms and giant slaloms by Italian world and Olympic champion Alberto Tomba.
Source:
© Copyright 2022 Reuters Limited. All rights reserved. Republication or redistribution of Reuters content, including by framing or similar means, is expressly prohibited without the prior written consent of Reuters. Reuters shall not be liable for any errors or delays in the content, or for any actions taken in reliance thereon.