Nine years of managerial Blues under Roman
Last updated on: November 22, 2012 08:21 IST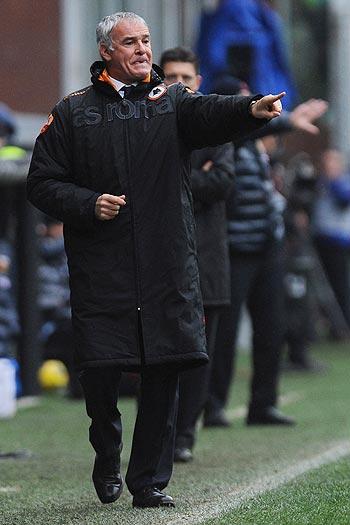 Following the sacking of manager Roberto Di Matteo on Wednesday, we present a list of Chelsea managers and the trophies won since Russian billionaire Roman Abramovich bought the Premier League club in 2003.
Claudio Ranieri
Sept 2000 to May 2004: No trophies under Abramovich
Chelsea became title contenders under Ranieri's reign. He also helped the Blues seal a Champions League berth for the 2002-03 season.
When Abramovich bought Chelsea in 2003, rumours were rife that he was looking for a new coach to guide the team. After a year of intense speculation, Ranieri was finally sacked in May 2004.
Also Read
- The axed emperors of Chelsea's Roman empire
- Carlo Ancelloti tops managerial sack race
JOSE MOURINHO
Last updated on: November 22, 2012 08:21 IST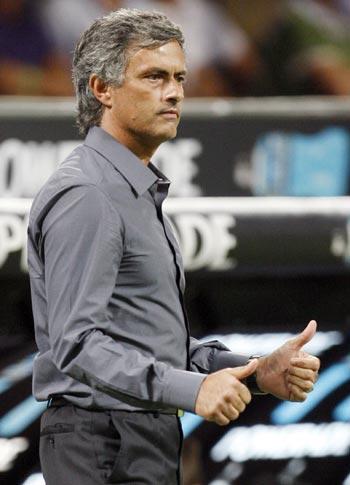 June 2004 to Sept 2007: Premier League 2005, 2006 FA Cup 2007 League Cup 2005, 2007 Community Shield 2005
When Jose Mourinho replaced Ranieri he was billed to fulfill Abramovich's trophy dreams.
And the Portuguese didn't disappoint -- winning EPL titles in his first two seasons in charge.
But Abramovich was thirsting for Champions League glory, which was eluding the Blues season after season.
The 2007-08 season saw Chelsea begin the Premier League season on a false note and they weren't doing anything spectacular in the European competition either.
This frustration gave birth to rumours that Abramovich was planning to sack Mourinho. But Mourinho finally announced he was quitting the club after a crisis meeting with club officials.
AVRAM GRANT
Last updated on: November 22, 2012 08:21 IST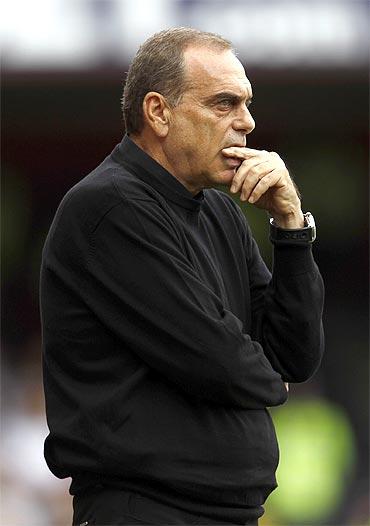 Sept 2007 to May 2008: Took Chelsea to first Champions League final in 2008, where they lost 6-5 on penalties to Manchester United.
Avram Grant's reign lasted just 58 games but those were of huge significance. None could be more than clinching a berth in the 2008 Champions League final.
Abramovich's European dreams were within touching distance. But only if wishes were horses... . Grant would become the first Iraeli to coach a Champions League-winning team. However, none of this happened. It turned out to be anti-climatic -- Terry slipped while taking a penalty, Chelsea lost the final, Abramovich's dream remained but a dream and Grant got the boot.
At the close of the season, the Russian decided to terminate Grant's contract.
LUIZ FELIPE SCOLARI
Last updated on: November 22, 2012 08:21 IST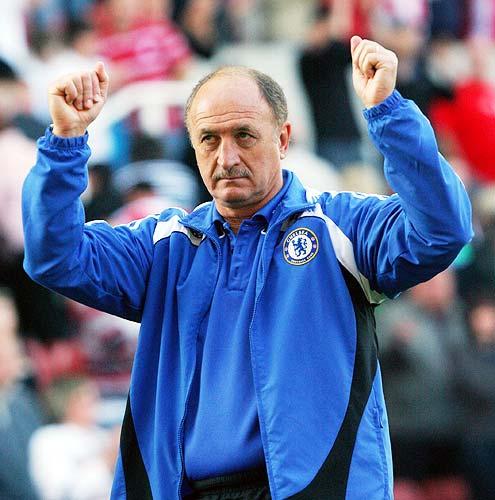 July 2008 to Feb 2009: No trophies
Felipe Scolari's stay at Stamford Bridge was marred by dressing room dramas. His differences with top players Didier Drogba and Michael Ballack told and the team slipped in the points table that season.
Chelsea had now fallen to the fourth spot and in danger of failing to qualify for the next season of the Champions League. Scolari had to bear the brunt of it all and faced the axe in Feb 2009.
GUUS HIDDINK
Last updated on: November 22, 2012 08:21 IST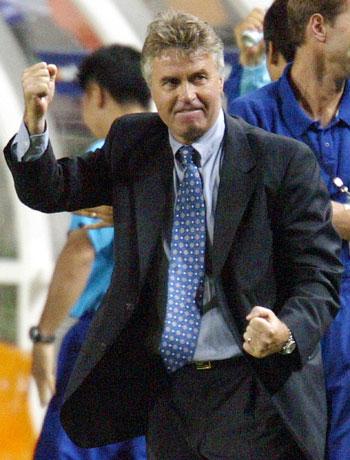 Feb to May 2009: FA Cup 2009
The Dutchman was not given enough time with the team but still managed to bring home the FA Cup.
Hiddink bid adieu to the Blues at the end of the season to join the Turkey national team as coach.
CARLO ANCELOTTI
Last updated on: November 22, 2012 08:21 IST
June 2009 to May 2011: Premier League 2010 FA Cup 2010 Community Shield 2009.
Italian Ancelotti was the next man on Abramovich's radar having had a phenomenal history in the Serie A. He was the sixth managerial change in Chelsea since the Russian took over the London club in 2003.
Under his able shoulders Chelsea once again tasted Premier League success (their first in four years) and the FA Cup titles in his first season -- Chelsea's first ever double.
But the Champions League triumph was not in his fate and that made the Russian owner chase another for the coach's spot.
Just two hours after Chelsea lost their final Premier League match to Everton and finished a distant second in the 2010-11 season Ancelotti was sacked.
ANDRE VILLAS-BOAS
Last updated on: November 22, 2012 08:21 IST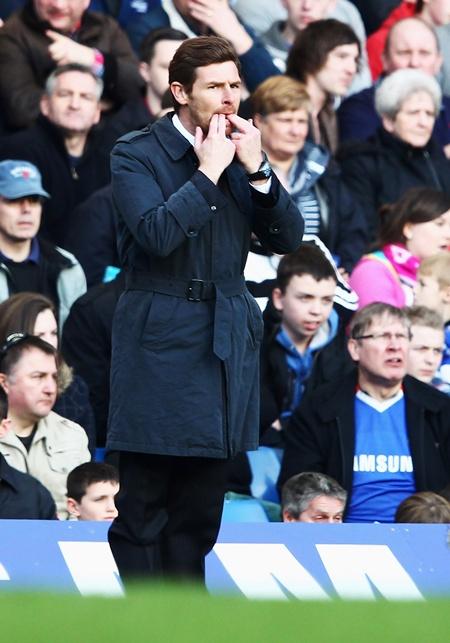 June 2011 to March 2012: No trophies
The 34-year old Portuguese was the most recent of Abramovic's victims. He was sacked less than nine months at the helm.
Successive Premier League losses to Arsenal, QPR and Liverpool saw Villas-Boas enter Roman's bad books. But Abramovich lost patience with the Portuguese following their League Cup quarter-final loss to Liverpool.
On 4 March 2012, following a league defeat to West Brom which left Chelsea three points adrift of Arsenal in the battle for fourth place, Villas-Boas was given the sack.
ROBERTO DI MATTEO
Last updated on: November 22, 2012 08:21 IST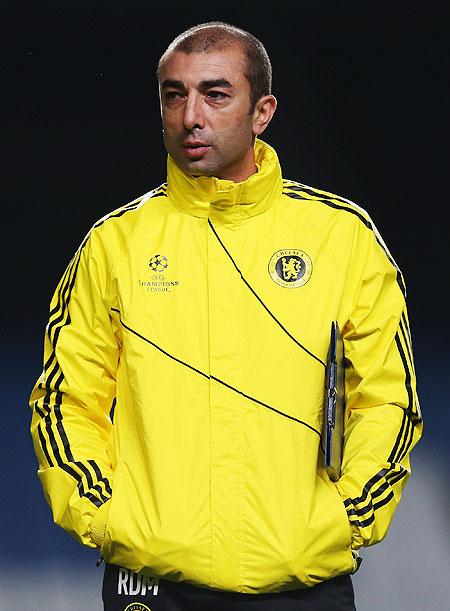 March to Nov 2012: FA Cup 2012 Champions League 2012
Chelsea's madcap managerial merry-go-round spun for the umpteenth time on Wednesday when Roberto Di Matteo, who guided the club to Champions League glory just six months ago, was sacked.
Di Matteo had won Chelsea the Champions League Trophy against all the odds in May but Tuesday's 3-0 reverse at Juventus, a defeat that leaves Chelsea on the brink of Champions League elimination, prompted Abramovich to end the reign of his eighth manager at the club.
Chelsea, who have won only two of their last eight games in all competitions, added they would be making an announcement shortly regarding a new manager with bookmakers listing former Liverpool boss Rafael Benitez and ex-Barcelona coach Pep Guardiola as early favourites.