FA Cup upset could shape futures of Mancini and Martinez
Last updated on: May 12, 2013 16:15 IST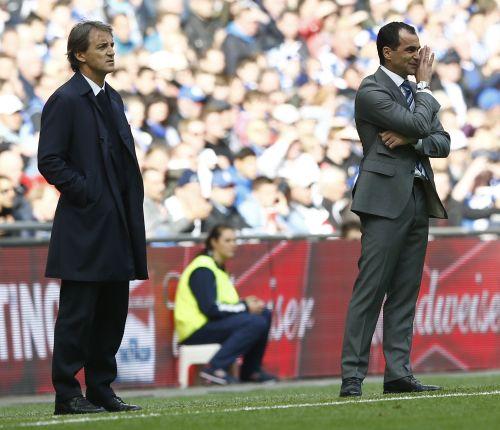 Wigan Athletic's shock 1-0 win over Manchester City in the FA Cup final on Saturday not only caused one of the biggest upsets in the competition's history but could dictate the immediate futures of both managers.
City's Roberto Mancini dismissed as "stupid" speculation he was on his way out of the club he took to FA Cup success two years ago and the Premier League title last season but struggled to stay calm cool in the post-match news briefing.
Wigan's Roberto Martinez also declined to be drawn on questions about a possible move to Everton as the replacement for David Moyes, who is leaving Goodison Park to replace Alex Ferguson at Manchester United next season.
'I will wait and see'
Last updated on: May 12, 2013 16:15 IST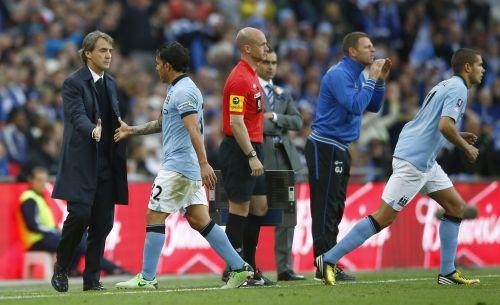 Mancini, normally the epitome of cool in his briefings, seemed rattled by widespread newspaper reports suggesting Manuel Pellegrini of Malaga had been lined up as his replacement.
"This has been going on for six months," said the Italian.
"I think this is stupid, you write these things and maybe you know, but I have been around football a long time, and I will wait and see.
"Manchester United did not win the Premier League last season nor the FA Cup and you did not write about this.
"Maybe something is going on and I don't know and I am stupid, but we have two matches to play and we will see at the end of the season.
"How many teams have done better than us this season? One - Manchester United. We are second in the league and we are in the Cup final. We did not achieve our targets, but we have had a good season."
'Pleased with the success'
Last updated on: May 12, 2013 16:15 IST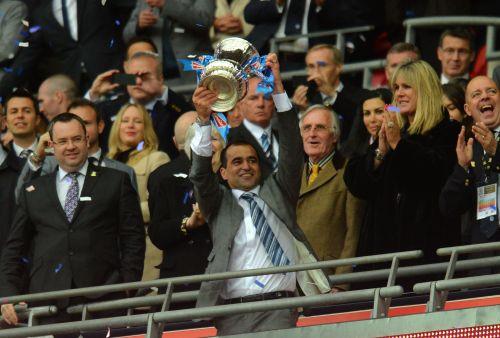 Spaniard Martinez was happier talking about one of his previous clubs Swansea City who, like Wigan, won a major trophy for the first time this season by lifting the League Cup.
Along with Wigan, Swansea will be competing in the Europa League next season, and Martinez said he was proud of the Welsh side's achievements. 
"They play in a similar way to us and I am very pleased they have had this success this season," he said.
He added that his energies now would be focused on keeping Wigan in the Premier League. They are third from bottom of the table and face Arsenal and Aston Villa needing at least three points to avoid making some unwanted history.
If they do go down, they would become the first team to win the FA Cup and be relegated in the same season.
"The reason why we are where we are in the league is because we have had so many injuries, and we have struggled as a result," said Martinez.
"I don't know how we will recover in time emotionally and physically before we play Arsenal on Tuesday but we will do everything we can to stay up."
'We will see what happens next week'
Last updated on: May 12, 2013 16:15 IST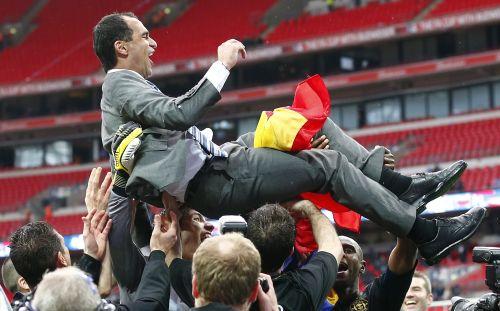 Martinez and Mancini became the first managers to meet in the Cup final sharing the same first name since Matt Busby's Manchester United met Matt Gillies' Leicester City in 1963.
Then, Leicester, who finished fourth, were the hot favourites to beat United who finished 19th, but United won 3-1, a big upset at the time.
"It was an upset today too perhaps," said Martinez, "but I have always believed in my side and know what they are capable of. We will see what happens in the next week.
"And forgive me for being late for this news conference. We are not all that used to celebrating."
Source:
© Copyright 2021 Reuters Limited. All rights reserved. Republication or redistribution of Reuters content, including by framing or similar means, is expressly prohibited without the prior written consent of Reuters. Reuters shall not be liable for any errors or delays in the content, or for any actions taken in reliance thereon.