Davis Cup: Czechs go 2-1 up as injured Del Potro pulls out
Last updated on: September 16, 2012 13:32 IST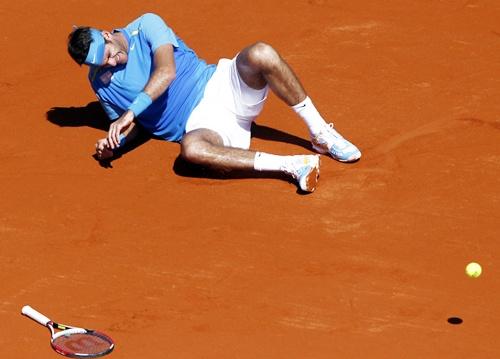 Czech Republic's path to the Davis Cup final was wide open after they won the doubles on Saturday and Argentine Juan Martin del Potro pulled out of the reverse singles.
World number eight Del Potro almost withdrew from the semi-final at Parque Roca earlier this week due to pain in his right wrist.
"Juan Martin will not be in tomorrow's first singles against Tomas Berdych and he will be replaced by Carlos Berlocq," captain Martin Jaite said.
Del Potro opened up for Argentina with a three-set victory over Radek Stepanek on Friday before World No. 6 Berdych overcame Juan Monaco in five sets to level the tie at 1-1.
Berdych and Stepanek then teamed up on Saturday to win the doubles 6-3, 6-4, 6-3 against Berlocq and Eduardo Schwank.
"Juan Martin finished yesterday's match in quite a bit more pain than the previous days. He's not in condition to play," said Argentina team doctor Miguel Khoury.
"He will not move his wrist for 10 days. That's the best decision for Juan Martin and the team."
Argentina's chances of bouncing back are minimal
Last updated on: September 16, 2012 13:32 IST
Former US Open champion Del Potro, who missed most of the 2010 season after having surgery on the same wrist, was recommended two weeks of rest by his doctor but decided to make himself available to Jaite on Wednesday.
He said on Friday he decided to play because of massive support from Argentine fans.
Without Del Potro, Argentina's chances of bouncing back are minimal.
Berdych should have little trouble brushing aside World number 45 Berlocq, who is playing in his first Davis Cup tie at the age of 29, and Stepanek faces World No. 1 11 Monaco in the final rubber.
The Czech pair, playing instead of the originally nominated Ivo Minar and Lukas Rosol, were never in trouble in the doubles although the Argentines showed early tenacity with the first set lasting close to an hour.
The guys came pumped up for the match: Stepanek
Last updated on: September 16, 2012 13:32 IST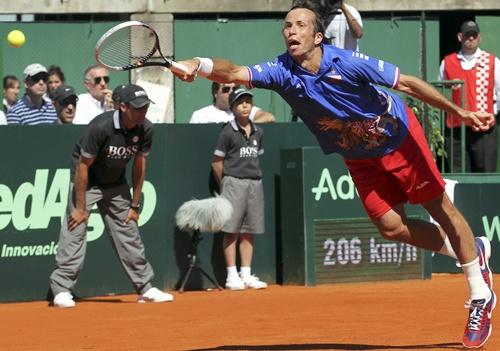 "The guys came pumped up for the match. It was Carlos's Davis Cup debut and in front of such a home crowd you are almost over-motivated," Stepanek said of the passionate and noisy fans.
"We have a good understanding," Berdych said after the win over the second-string Argentine pair.
Had he been fit, experienced Davis Cup campaigner David Nalbandian would have lined up with Schwank instead of debutant Berlocq.
"We play doubles well together so I think we can say we dominated the match practically from the start," added Berdych.
The winning team will meet holders Spain or United States in the final.
Spain lead the Americans 2-1 in their encounter in Gijon.
Source:
© Copyright 2021 Reuters Limited. All rights reserved. Republication or redistribution of Reuters content, including by framing or similar means, is expressly prohibited without the prior written consent of Reuters. Reuters shall not be liable for any errors or delays in the content, or for any actions taken in reliance thereon.