K Ravi Kumar lifts his way to new Games record
Last updated on: October 6, 2010 23:00 IST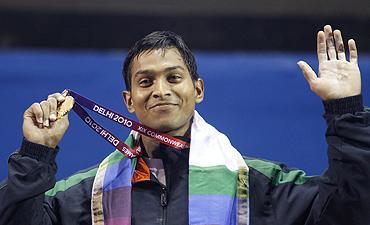 India's K Ravi Kumar created a new Commonwealth Games record with a total lift of 321kgs as he grabbed gold in the 69-kg category in the weightlifting competition on Wednesday.
The silver went to Sri Lanka's Chinthana Vidanage, who finished with a lift of 308 kgs. Mohd Hafifi Mansor of Malaysia bagged bronze with a total lift of 306 kgs.
Earlier in the day, India's Renu Bala Chanu won the gold medal in the women's 58-kg weightlifting.
Good day Indian grapplers
Last updated on: October 6, 2010 23:00 IST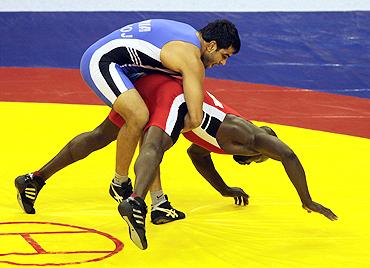 India's grapplers had a fruitful day with four wrestlers, from different categories, enjoying podium finishes.
Rajender Kumar clinched gold in the 55kg category in Greco-Roman style wrestling after overpowering Pakistan's Azhar Hussain 11-0 in a one-sided tie.
Sunil overpowered Hawthorn of Wales in his 66kg bronze medal play-off bout. Manoj won silver in the 84kg Greco-Roman wrestling, while Dharmender Dalal won his bronze in the 120kg category.
Ind women's hockey team loses to Aus
Last updated on: October 6, 2010 23:00 IST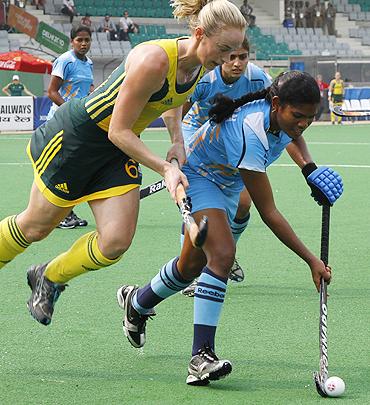 India's chances of progressing to the semi-finals of the women's hockey event at the Commonwealth Games suffered a setback after the home team went down fighting 1-2 to defending champions Australia in their second Pool A match on Wednesday.
Shelly Liddelow (11th minute) and Ashleigh Nelson (59th) scored for Australia while promising Rani Rampal (69th) pulled one back for India.

Mixed day for Indian tennis stars
Last updated on: October 6, 2010 23:00 IST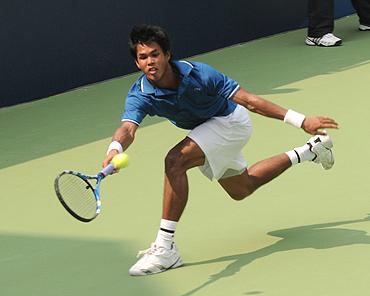 Somdev Devvarman and Sania Mirza breezed into the quarter-finals after easy victories but Rohan Bopanna bowed out of the men's singles competition on Wednesday.
Bopanna went down to World No 133 Australian Peter Luczak 2-6, 6-7(5) in 97 minutes in the second round, at the R K Khanna Tennis stadium.
Top seed Somdev crushed Sri Lanka's Amresh Jayawickreme 6-0, 6-1 in the men's singles while Sania needed 55 minutes to overpower Cook Islands' Brittany Teei 6-0, 6-2 in a women's singles second round match.
Poojashree Venkatesh, who won 6-0, 6-0 in the first round, went down fighting 6-7 (6), 3-6 after an hour and 46 minutes' battle against fifth seed Heather Watson of Guernsey.
But it was Rushmi Chakravarthi who scored a huge upset, ousting British third seed Katie O'Brien 1-6, 7-6, 7-5 in the second round of the women's singles.
With this win, the 32-year old will join Sania Mirza in the quarter-finals of the tennis event.
Shooting stars Sayyed, Narag claim gold
Last updated on: October 6, 2010 23:00 IST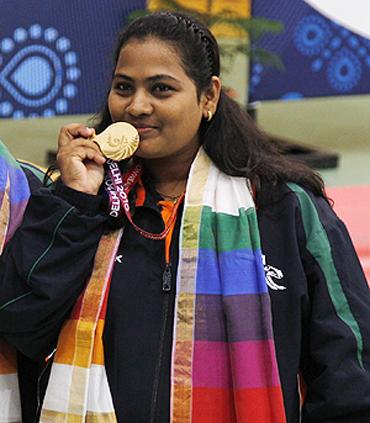 Anisa Sayyed continued India's remarkable showing, winning the gold medal in the women's 25 metres pistol event.
Sayyed shot 203.8 in the final round for a tally of 786.8 and set a new Commonwealth Games record and give India its seventh gold.
Rahi Sarnobat bagged the silver, with a final score of 781 after scoring 205 in the final round, while Malaysia's Pei Chin Bibiana took the bronze with a score of 778.2.
Indian ace Gagan Narang beat compatriot Abhinav Bindra to successfully defend his gold medal in the 10m air rifle event at the Games earlier in the day.
Meanwhile, Indian shooters Ranjan Sodhi and Asher Noria won silver in the double trap pairs event with a tally of 188 points.
England won the gold scoring 189 points.
Australia sweep women's gymnastics all-around medals
Last updated on: October 6, 2010 23:00 IST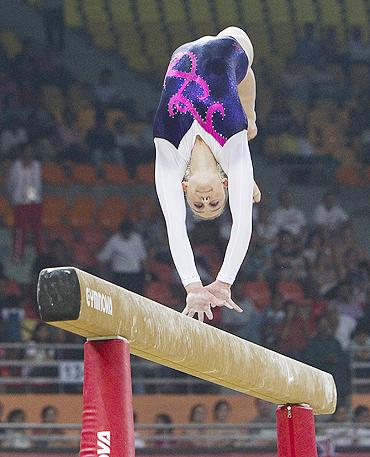 Australia won all three medals in the Commonwealth Games women's individual all-around gymnastics on Wednesday, with Lauren Mitchell collecting her second gold in Delhi.
Mitchell the gold by 2.350 points. Emily Little won silver and Australian Georgia Bonora took home bronze.
Meanwhile, in the men's artistic gymnastics competition, India's Ashish Kumar finished a disappointing eighth in the all-round final. Kumar ended his campaign with a total of 81.800 points, which was not enough for a podium finish, as English duo of Luke Folwell (85.550) and Reiss Beckford (85.450) bagged the gold and silver medals respectively.
Bronze for Indian para-swimmer Prasanta
Last updated on: October 6, 2010 23:00 IST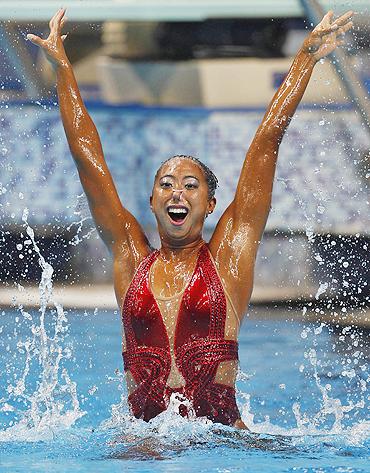 Prasanta Karmakar on Wednesday created history by becoming the first Indian para-swimmer to win a medal when he claimed bronze in the 50m freestyle event.
Clocking his personal best of 27.48s, Karmakar finished behind Simon Miller of England (26.70). Gold medalist, Matthew Cowdrey of Australia bettered his own timing to create a world record in the same event.
India's biggest hope in main swimming event, Virdhawal Khade, who made it to the 50m butterfly final, finished seventh, clocking a time of 24.61.
He had also qualified for the semi-finals of the men's 100m freestyle after finishing 13th. Pooja Alva entered the semi-finals of the women's 100m butterfly by bagging the 15th spot. The top 16 made it to the last four stage.
Earlier, the Indian men's team entered the final of the 4x200m freestyle relay event.
The team, comprising Rehan Poncha, Rohit Havaldar, Madar Divase and Aaron D'Souza clocked 7 minutes 49.20 seconds to grab eighth position in the preliminaries.
India's para-sport swimmer Sachin Verma also progressed to the final of the 50m S9 freestyle men category by finishing eighth.
Ghanain gets pinned
Last updated on: October 6, 2010 23:00 IST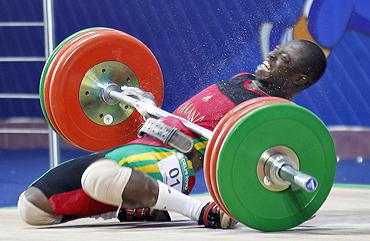 Seth Degbe Fetrie of Ghana is pinned under the bar during an unsuccessful attempt in the men's 69kg weightlifting competition.
The gold medal in this category was eventually won by Indian K Ravi Kumar later on Wednesday.
Najeeb Qureshi equals national 100m record
Last updated on: October 6, 2010 23:00 IST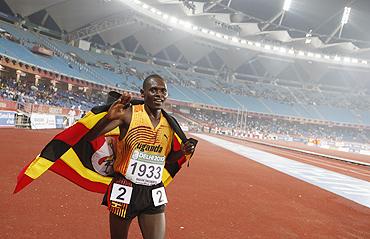 Ugandan Moses Kipsiro stunned Kenyan Eliud Kipchoge, the season's leading athlete and Beijing Olympics silver medallist, with an effort of 13:31.25, one of the slowest timings in the 5000m final in these Games.
Kipchoge, whose season's best was 12:51.21, clocked a disappointing 13:31.32. Another Kenyan, Mark Kiptoo, finished third with 13:32.58.
Meanwhile, India's Mohd Abdul Najeeb Qureshi on Wednesday equalled the national 100m record while qualifying for the semifinals. Qureshi clocked 10.30sec to equal Anil Kumar's national record set in 2005 and finished fourth in the round two heat number one to qualify for the semis.
Another Indian sprinter, G Nagaraj, failed to advance after finishing seventh in a round two heat with a time of 10.65secs, below his seasons's best of 10.55secs.