PHOTOS: India beat Wales in CWG hockey opener
Last updated on: July 25, 2014 19:18 IST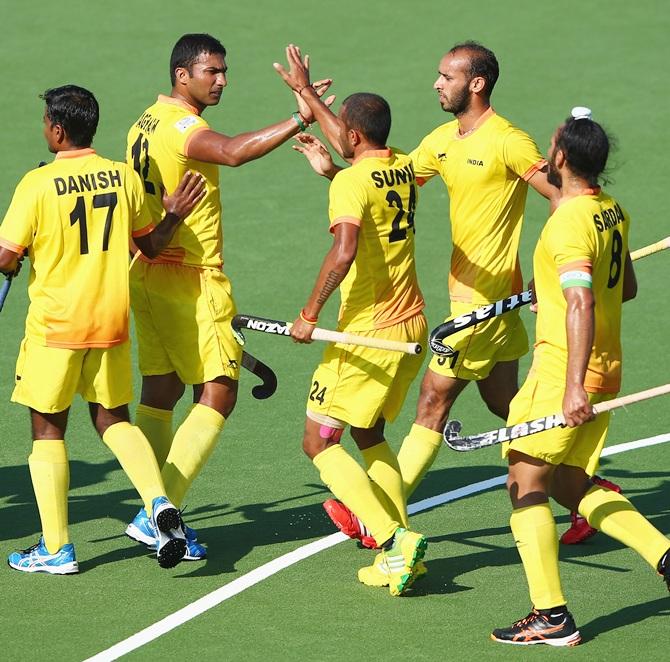 India got off to a winning start in the Commonwealth Games' men's hockey tournament, beating lowly Wales 3-1 on Friday.
- Indians at CWG: Lifters Sukhen, Sanjita win gold
Ranked ninth in the world, the Indians though had to dig deep to overcome a resolute Welsh defence in the Group A match and pocket their first points at the Glasgow Games.
India scored twice from penalty-corner conversions through V R Raghunath (20th minute) and Rupinder Pal Singh (42nd) before comeback man Girvinder Singh Chandi added a field effort in the 47th minute.
Andrew Cornick scored Wales's lone goal in the 23rd minute from field play.
Please click NEXT for more...
PHOTOS: India beat Wales in CWG hockey opener
Last updated on: July 25, 2014 19:18 IST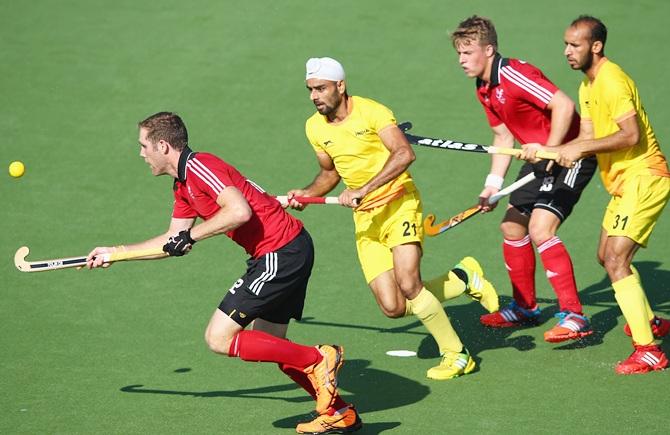 India went into the match as overwhelming favourites against the 31st-ranked Wales, but the Sardar Singh-led side looked completely off colour in the opening half.
The Welshmen, on the other hand, started cautiously and defended in numbers. After sitting back initially, they put the fragile Indian defence under constant threat with counter attacks in the final 15 minutes of the first half.
India enjoyed the opening share of exchanges and got their first scoring chance in the fifth minute but Rupinder's high flick from a penalty-corner hit the cross bar.
Minutes later, Akashdeep Singh's try from close range was kept away by Wales goalkeeper, David Kettle.
After surviving a penalty-corner scare, India surged ahead in the 20th minute when Raghunath scored from their second set-piece with a powerful flick.
But three minutes later, Wales stunned the Indians, drawing level through a beautiful field goal by Cornick. The Wales forward scored with a deft touch from a tight angle after receiving a cross from Dan Kyriakides from the right flank.
Please click NEXT for more...
PHOTOS: India beat Wales in CWG hockey opener
Last updated on: July 25, 2014 19:18 IST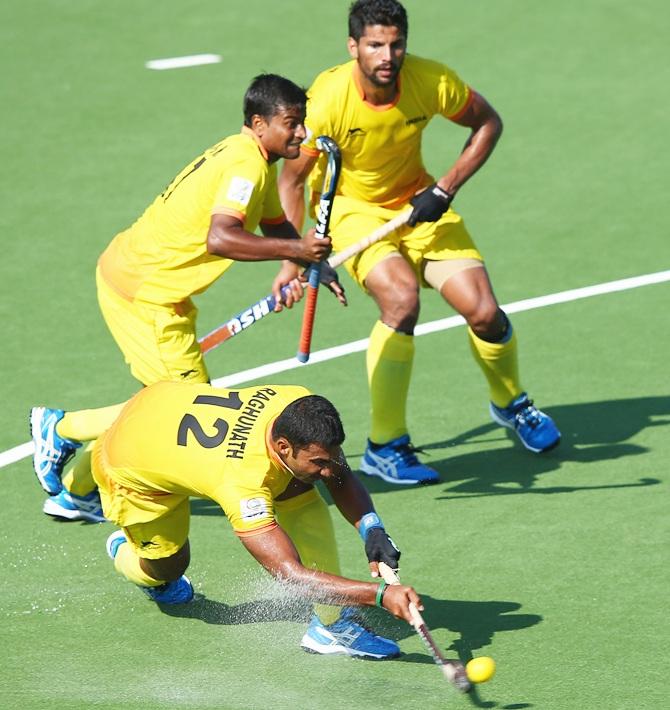 Both India and Wales earned a penalty-corner each in the remaining minutes of the first half but failed to utilise the opportunities and went into the breather locked 1-1.
Shell-shocked by Wales's performance in the first 35 minutes, the Indians came out with more purpose after the change of ends and it was evidently visible in their game.
They looked far more threatening as the midfield and forward line combined well to create chances.
India earned two more penalty-corners within a span of six minutes in the second session, the second of which was converted by Rupinder to give the side a 2-1 lead.
Five minutes later, Chandi found himself at the right place at the right time to push home the ball past Wales custodian Ketlle after a fine one-two between S V Sunil and Nikkin Thimmaiah to extend India's lead.
Please click NEXT for more...
PHOTOS: India beat Wales in CWG hockey opener
Last updated on: July 25, 2014 19:18 IST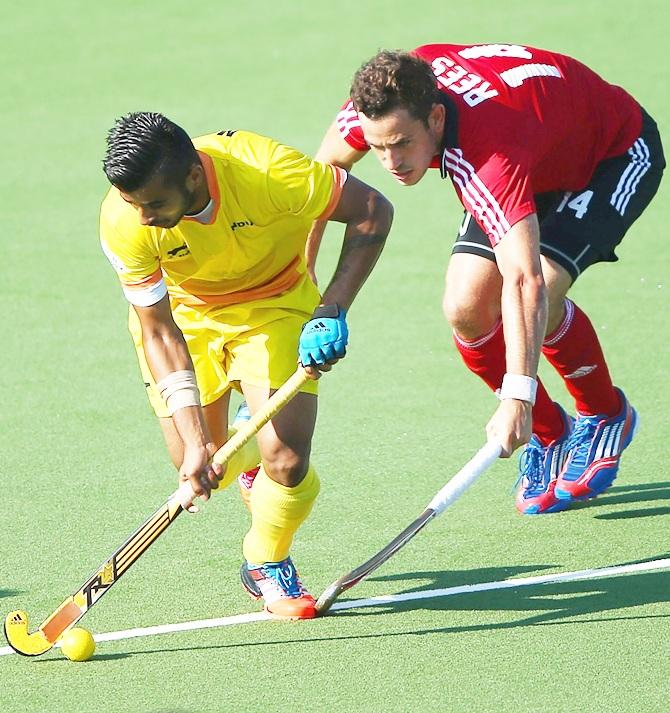 India kept up their pressure on the Wales defence and created numerous scoring chances only to be denied by an agile Ketlle.
Ketlle had a fantastic outing in the Wales goal as in the final 10 minutes of the game he made a series of saves to save his side from humiliation.
Despite the loss, Wales can take a lot of heart from their gritty performance against India, who have eight Olympic gold medals to their credit.
India next play hosts Scotland on Saturday, while Wales will be up against World champions and reigning Commonwealth Games champions Australia.
Judoka Sunibala makes bronze-medal round
Last updated on: July 25, 2014 19:18 IST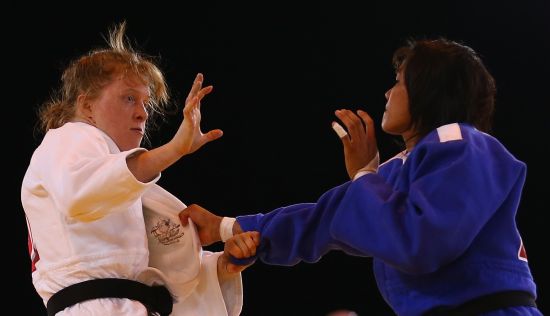 Indian judokas failed to replicate their opening day performance with only Sunibala Huidrom managing to enter the bronze-medal contest in the women's 70kg competition at the 20th Commonwealth Games.
Sunibala faced a tough test in the repechage contest but she managed to prevail over Monika Burgess of Canada in a battle that lasted for three minutes and 58 seconds to make the medal round.
She will now fight for the bronze medal with Scotland's Sally Conway, later in the day.
However, it was curtains for Garima Choudhary in the women's 63kg category after she went down fighting in her repechage round.
Early in the day, Sunibala got the better of Australia's Catherine Arscott in the quarterfinals in another tough four-minute contest, while it took her just 53 seconds to beat Memory Zikhale of Botswana in her round of 16 bout, as she got a couple of Wazaris, which is equivalent to an 'Ippon' that finishes a contest.
Garima, who was the only Indian judoka to have qualified for the London Olympics in 2012, lost to K J Yeats-Brown of England in the repechage. Yeats-Brown won on the basis of two Wazaris.
Earlier on the day, Garima got the better of Soctland's Sarah Clark in the quarterfinals, while she defeated Bibiene Fopa of Cameroon in just nine seconds in the round of 16.
Indian men had a disappointing outing as both Balvinder Singh and V Vikender Singh lost in the round of 32 in 73kg and 81kg, respectively.
While Balvinder went down to Mozambique's Edson Madeira, Vikender lost to E J Omgba Fouda of Cameroom.
Indian Judokas won two silvers and a bronze on the opening day.