India at the CWG: Vijender packs a punch; wrestlers swell medal tally
Last updated on: July 31, 2014 13:23 IST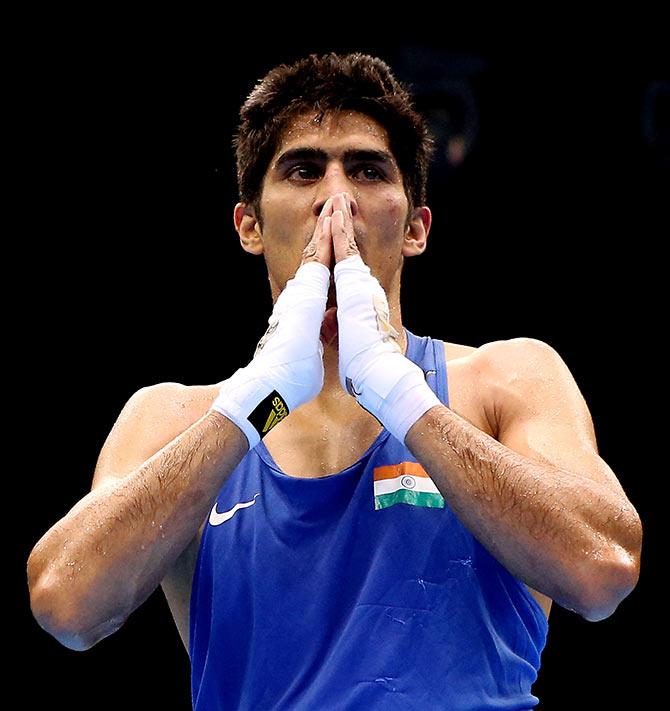 Star boxer Vijender Singh packed a punch while assuring himself of a medal in what proved to be a good outing for Indian pugilists on Day 7 of the Commonwealth Games in Glasgow on Wednesday.
In the ring, Vijender outclassed Trinidad and Tobago's Aaron Prince in the men's 75kg category. The 2008 Olympic bronze medallist won 3-0 on points in an unanimous decision by the three judges.
The first round was a bit subdued with both the boxers trying to get a measure of each other. Vijender played a bit defensively while Prince attacked more.
In the second round though, Vijender's flurry of punches landed on his opponent who was in difficulty to fend them off. A straight jab and then a right hook punch from Vijender rattled Prince. The tempo continued in the third round and Vijender won comfortably at the end.
- Complete coverage of the Glasgow Commonwealth Games
- Please click NEXT to read more...
Credible performance by wrestlers
Last updated on: July 31, 2014 13:23 IST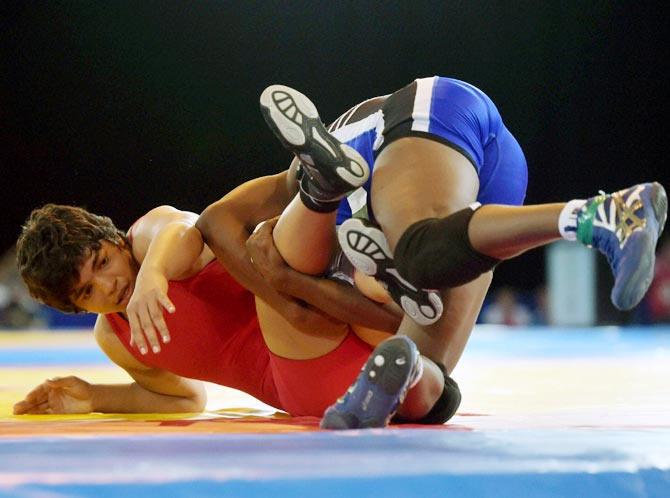 Earlier, the country's wrestlers continued their good run, winning four silver and a bronze on seventh day of competitions in the 20th CWG.
Satyawart Kadian (men's 97kg freestyle), Bajrang (men's 61kg), Lalita Sehrawat (women's 53kg) and Sakshi Malik (women's 58kg) won a silver each while Navjot Kaur bagged a bronze in women's 69kg.
For the wrestlers, it was a far cry from Tuesday's three-gold burst but was still a creditable performance, as they swelled the overall tally in the sport to 10.
As many as four Indians entered the final and one made it to the bronze medal round through repechage but none could win a gold at the SECC wrestling arena.
There were high expectations from the grapplers after India won three gold, one silver and one bronze yesterday but they could not replicate that showing.
- Complete coverage of the Glasgow Commonwealth Games
- Please click NEXT to read more...
Pinki Jangra won convincingly to enter semis
Last updated on: July 31, 2014 13:23 IST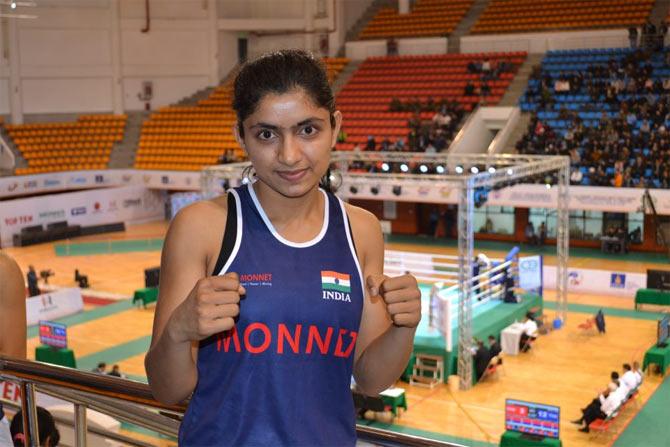 In boxing, experienced Laishram Sarita Devi and young Pinki Jangra reached the semi-finals of the women's light (57-60kg) and 51kg respectively.
World No. 3 L Devendro Singh outclassed Aqeel Ahmed of Scotland to advance to the medal round and so was Mandeep Jangra.
Sarita Devi, the 32-year-old from Manipur, came from behind to outsmart Charlene Jones of Wales 3-1 in a hard-fought quarter-final bout. She will next take on Mozambique's Maria Machongua in the semi-finals on Friday.
Placed sixth in the overall standings, India's medals tally now stands at 41 with 10 gold, 19 silver and 12 bronze.
Pinki, who had beaten Olympic bronze medallist Mary Kom in the national trials to make it to the Indian CWG team, outclassed her Papua New Guinea opponent Jacquiline Wangi in a unanimous 3-0 decision by the judges in the semi-final bout.
Devendro outclassed Aqeel Ahmed of Scotland 3-0.
- Complete coverage of the Glasgow Commonwealth Games
- Please click NEXT to read more...
Jangra assured himself of a bronze
Last updated on: July 31, 2014 13:23 IST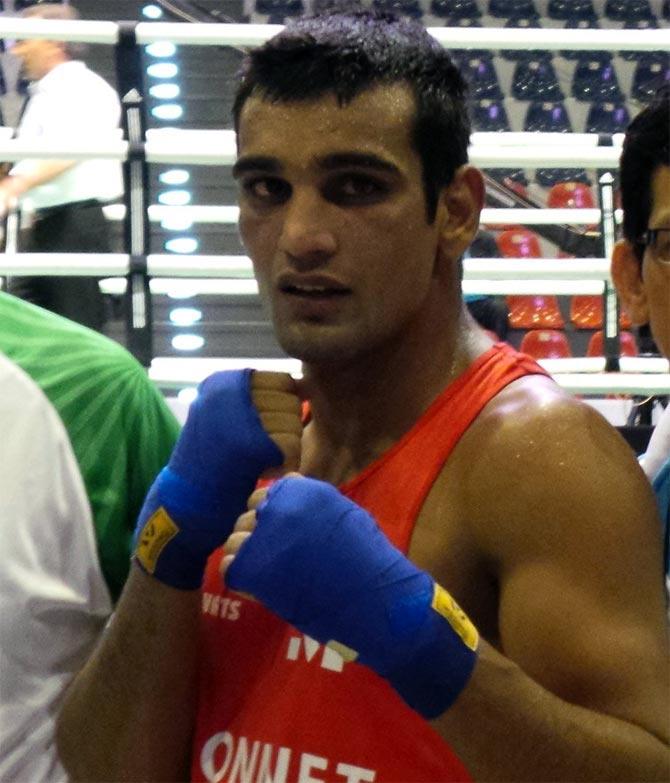 In the men's 69kg division, young Indian boxer Mandeep Jangra also assured himself of a bronze in his debut Commonwealth Games by advancing to the semifinals after his opponent failed the medical test ahead of their quarter-final bout.
India have so far won a total of three gold, five silver and two bronze from wrestling.
The best Indian who looked like winning a gold was Satyawart Kadian in men's 97kg freestyle but the remaining three finalists came a cropper in the bout that mattered the most.
Kadian led 2-0 on technical points against Indian origin Canadian Arjun Gill in the first period of three minutes but squandered it as his opponent came back strongly in the second period to run away with the gold.
The final bout ended in a tense situation as the scoreboard showed both wrestlers tied 4-4 on technical points but the judges awarded the gold to Gill as he won the last point from the bout.
Jangra, the Asian Championships silver-medallist, who has won two rounds so far in the event, will now be up against the winner of the clash between Canadian Custio Clayton and Northern Ireland's Steven Donnelly.
The 21-year-old, a protege of former Commonwealth Games gold-medallist Akhil Kumar, was declared the winner after his rival, Daniel Lewis of Australia, failed to get the doctor's clearance to fight due to a cut above his eye sustained during the pre-quarterfinals.
In another quarter-finals in the men's 91Kg category, India's Amritpreet Singh suffered a 0-3 loss to Stephen Lavelle of Scotland.
In the women's light (57-60kg) quarter-finals, Sarita was lagging behind after the first round as Jones started the proceeding with a perfect 10 from each of the three judges.
But the Indian soon got her act together as she outwitted the Wales pugilist 30-27 in the second, before edging her out by an identical margin of 29-28 in the third and fourth rounds to bring joy to the Indian camp.
- Complete coverage of the Glasgow Commonwealth Games
- Please click NEXT to read more...
Gowda in discus final
Last updated on: July 31, 2014 13:23 IST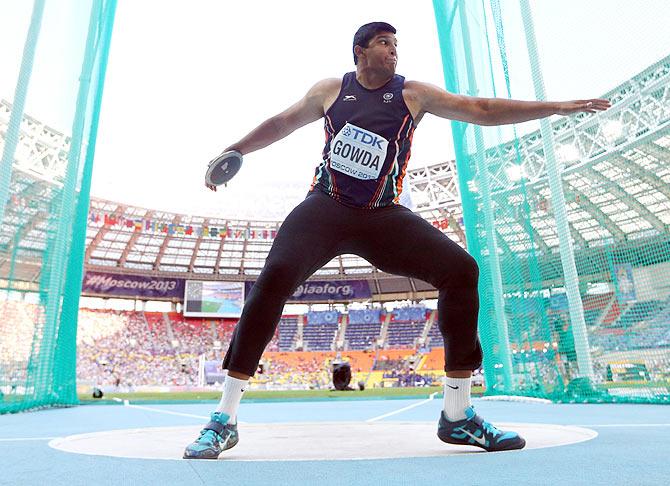 In athletics, Vikas Gowda put up an impressive show and finished on top in the qualifying to seal his place in discus throw final while Sahana Nagaraj also made it to the final round in women's high jump event.
Gowda, who is India's first ever CWG medallist in discus throw, managed a distance of 64.32m in his first attempt and was way ahead of second-placed Apostolos Parellis (61.91m) from Cyprus and Jamaica's Chad Wright (61.08m).
In women's javelin throw final, India's Annu Rani finished eighth in a field of 12 with a best effort of 56.37m, well below the season's best of 58.83m.
- Complete coverage of the Glasgow Commonwealth Games
- Please click NEXT to read more...
Indian paddlers advance
Last updated on: July 31, 2014 13:23 IST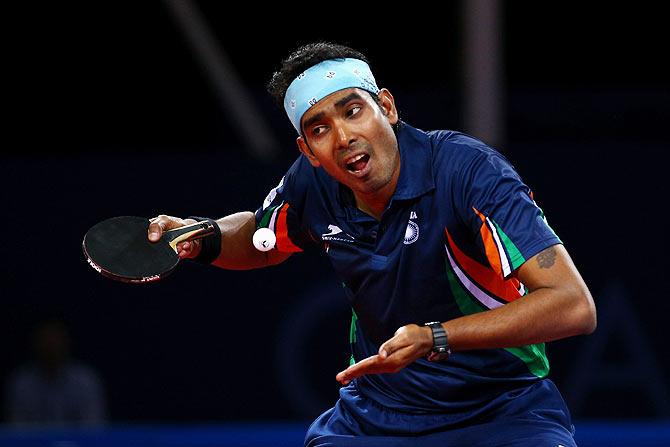 Indian paddlers had a decent outing with Achanta Sharath Kamal and Anthony Amalraj winning their respective mixed doubles third round matches before pairing up to win in men's doubles as well.
Kamal and Shamini Kumaresan defeated Malaysian combo of Ying Ho and Chee Feng Leong 11-5, 11-8, 11-8 in the third round.
They had spanked Uganda's Paul Moody Mutambuze and Ludia Magandlen Natunga 11-4, 11-4, 11-4 in the second round.
Amalraj and Madhurika Patkar too made it to the next round after beating Dexter St Louis and Reann Chung of Trinidad and Tobago 11-4, 11-9, 9-11, 11-4. They had earlier beaten another Trinidad and Tobago pair Aaron Wilson and Catherine Spicer 11-4, 11-8, 11-9.
In men's doubles, Sharath and Amalraj thrashed Simasiku Kalaluka and Friday Ng'andu of Zambia 3-0 (11-6, 11-4, 11-3).
- Complete coverage of the Glasgow Commonwealth Games
- Please click NEXT to read more...
Good day for Palllikal and Co
Last updated on: July 31, 2014 13:23 IST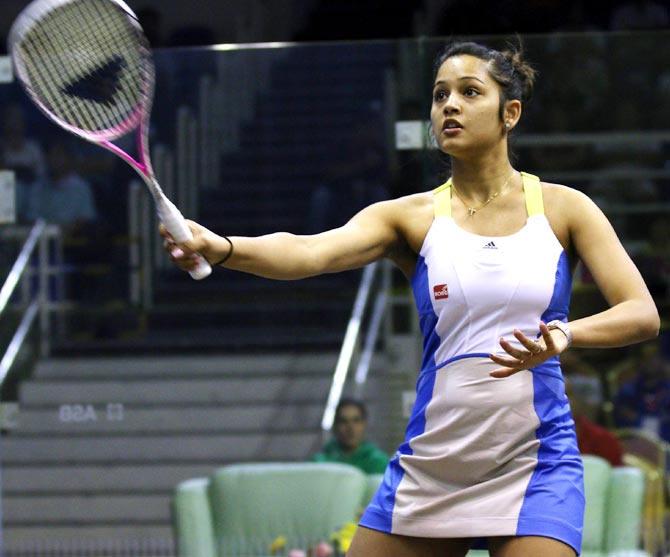 In squash, India's Dipika Pallikal teamed up with Sourav Ghosal to notch up a straight-game win over Canada's Sam Cornett and Shawn Delierre in a mixed doubles Pool E match.
The 22-year-old Pallikal and Ghosal thrashed the 12th seeds from Canada 11-3, 11-2 to top pool E, which also has Sri Lanka, at Scotstoun Campus here.
In Pool G, Harinder Pal Sandhu and Joshna Chinappa defeated New Zealand's Paul Coll and Amanda Landers-Murphy 11-8, 11-10.
Earlier in the day, Pallikal and Joshana Chinappa made a big stride towards ending India's medal drought at the Commonwealth Games by beating the mighty Malaysian pair of Nicol David and Low Wee Wern in the women's doubles.
The fifth seeds from India brushed aside David and Wee Wern 11-8, 11-5 for their second win in as many matches in Pool D.
- Complete coverage of the Glasgow Commonwealth Games
- Please click NEXT to read more...
All Indians, including Sindhu and Kashyap enter last 16
Last updated on: July 31, 2014 13:23 IST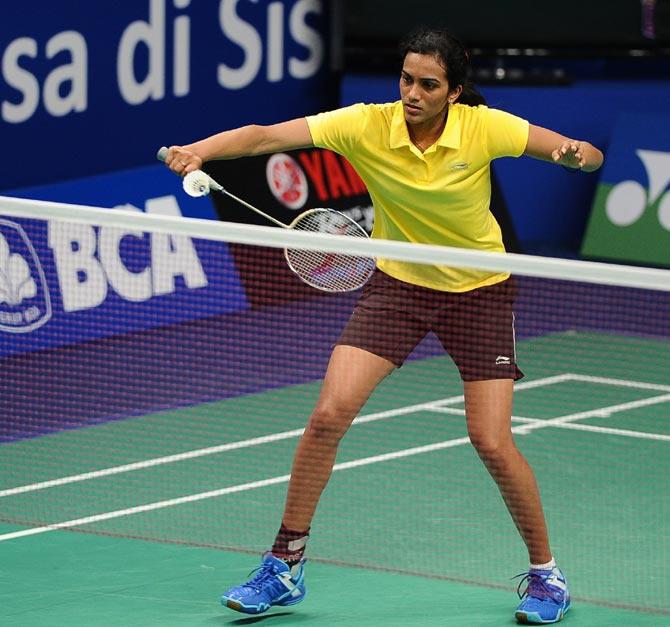 India's medal contenders, P V Sindhu and Parupalli Kashyap notched up easy victories in the women's and men's singles events respectively to storm into the Round of 16 of the badminton competition at the 20th Commonwealth Games.

Indian shuttlers had a good day in office as P C Thulasi, RMV Gurusaidutt, Kidambi Srikanth and men's doubles pair of Pranaav Chopra and Akshay Dewalkar also advanted to the last 16 at the Emirates Arena.

World No. 11 Sindhu had a walk in the park against South Africa's Sandra Le Grange whom she tamed 21-4, 21-6 in just 17 minutes, while Delhi Games bronze medallist, Kashyap streamrolled Dakeil Thorpe 21-9, 21-5 in a 19-minute men's singles match.

World championship bronze medallist, Sindhu will next take on 17-year-old Thilini Hendahewa of Srilanka, while London Olympics quarter-finalist, Kashyap will face Australia's Jeff Tho.

In another women's singles match, Thulasi made mince meat of Ireland's Sinead Chambers 21-10, 21-2 in 24 minutes, while Gurusaidutt brushed aside Edwin Ekiring of Uganda 21-13, 21-11.

Srikanth also didn't break any sweat as he disposed off Daniel Font of Wales 21-8, 21-13.

In the men's doubles, Pranaav and Akshay thrashed Sri Lankan pair of Sachin Dias and Buwaneka Dullewa 21-10 21-9 in 23 minutes.