CWG: Sindhu loses; Ghosal makes semis after hard-fought win
Last updated on: July 28, 2014 04:29 IST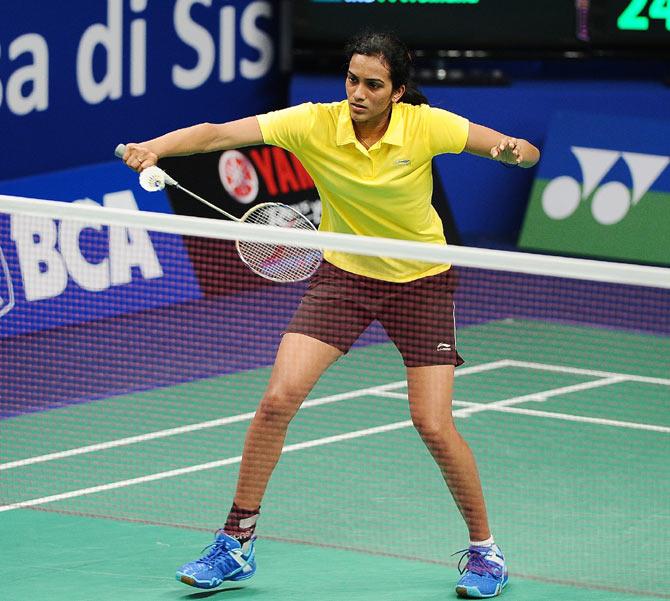 It was a mixed night for the Indian badminton team at the Commonwealth Games in Glasgow as India's big hope P V Sindhu suffered a three-game loss against Michelle Li in the women's singles but the Indian team still managed to advance to the semi-finals of the mixed team championship after defeating Canada 3-1.
Silver medallists at the 2010 Delhi Games, India were leading 2-0 after the first two matches, courtesy the winning start by mixed doubles combo of Kidambi Srikanth and Jwala Gutta and men's singles player Parupalli Kashyap.
However, Hong Kong-born Michelle then stunned Sindhu 15-21, 22-20, 21-17 in an hour-long women's singles match to reduce the margin.
But the men's doubles pair of Pranaav Chopra and Akshay Dewalkar made sure there were no more hiccups as they notched up a 21-15, 19-21, 21-13 win over Adrian Liu and Derrick Ng in a 49-minute match.
- Please click NEXT to read more...
Kashyap win gives India 2-0 lead
Last updated on: July 28, 2014 04:29 IST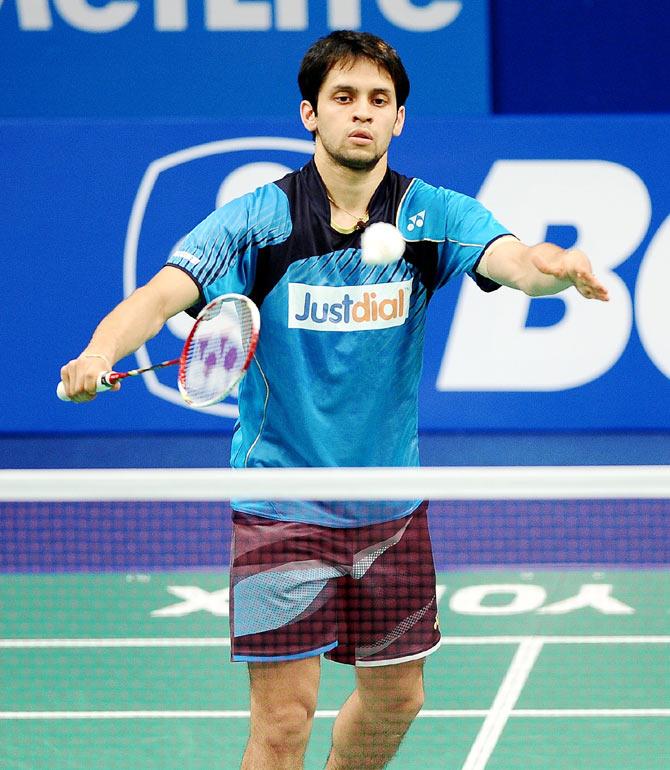 Earlier, Srikanth and Jwala put India 1-0 ahead with a 21-19, 17-21, 21-18 win over Toby Ng and Alex Bruce in the mixed doubles match.
Kashyap then thrashed Andrew D'Souza 21-11, 21-9 in a men's singles match that last 28 minutes to make it 2-0 in India's favour.
The Indian men's table tennis team, meanwhile, blanked hosts Scotland 3-0 to reach the semi-finals but it was all over for their women counterpart after they suffered a 1-3 loss to Singapore in the last four contest.
India's squash players also faced mixed fortunes. Saurav Ghosal notched up a hard-fought 3-2 win over New Zealand's Campbell Grayson to enter the semi-finals of men's singles but it was curtains for Dipika Pallikal in the women's singles event.
Fourth seed Ghosal produced a gritty performance as he rallied from two-game down to eke out a difficult 8-11, 7-11, 11-6, 11-8, 11-6 win over the 12th seed from New Zealand.
Ghosal thus became the first Indian to reach the singles semi-finals since the sport was introduced in the Games programme in 1998.
- Please click NEXT to read more...
Judoka Rajwinder Kaur gets bronze for India
Last updated on: July 28, 2014 04:29 IST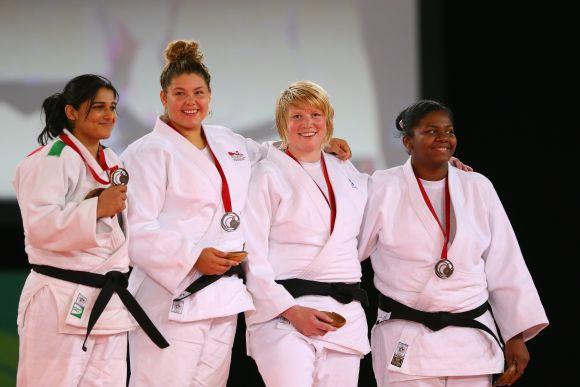 Among other Indians Omkar Otari continued India's power-packed performance in the weightlifting arena, clinching a bronze in the 69kg category to take the country's medal tally in the sport to six on the third day of the 20th Commonwealth Games here.
Besides, Rajwinder Kaur bagged a bronze in women's +78kg judo competition to add to the three medals that India have won in the sport.
But Indian Judokas Sahil Pathania (upto 100 kg men), Jina Devi Chongtham (upto 78 kg women) and Parikshit Kumar (+100 Kg) could not earn India medals after losing in the bronze medal contest.
With seven more medals, India took their overall medals tally to 17 with five gold, seven silver and five bronze medals and were placed fifth on the medals table.
Australia are at top with 50 medals, including 17 golds. England too have 17 golds but are placed at second as they overall they have 45 medals.
Hosts Scotland are third with 25 medals out which 11 are yellow metal. Canada also have seven gold but their total is 16 medals.
- Please click NEXT to read more...
'There were some tense moments, but I got the job done in the end'
Last updated on: July 28, 2014 04:29 IST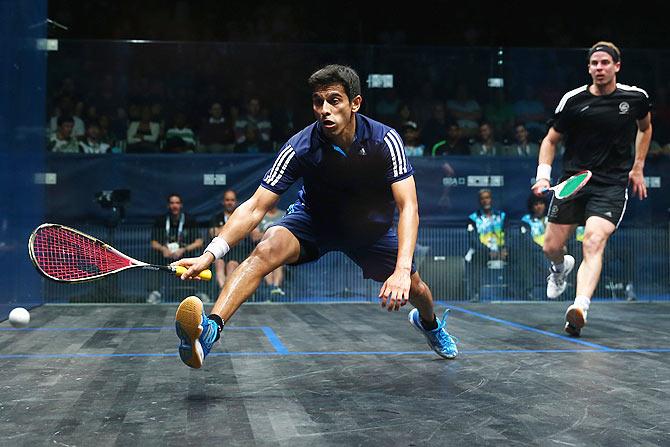 Talking about his victory Ghosal said, "I knew it would be a tough match. I surely did not see myself going 0-2 and then winning 3-2. Really happy that I won.
"He played some very good stuff in the first two games -- I thought I deserved at least one of them. In my head and my heart, I kept telling myself I need one game on board. He came out firing in the fourth, going 5-0 up and in the fifth it was neck and neck. There were some tense moments, but I got the job done in the end," he added.
Ghosal said he is looking forward to the contest against James Willstrop.
"I'm really happy to be able to back up yesterday's 86-minute match with this one. I'm so focused on trying to win that maybe I'm missing the chance to appreciate the setting and the crowd. It's the first time I've played on this court and I'm looking forward to coming back," he said.
"Yes, I know his (James's) game but he knows mine too! We're very good friends on and off the court and our matches are played in the right spirit. But I want to win and will be doing my best to do so," he added.
However, it was heartbreak for Dipika, who went down to Alison Waters of England in the quarter-finals.
Sixth seed Dipika squandered a one-game advantage to go down 11-8, 2-11, 9-11, 6-11 to fourth seed Alison at the Scotstoun Sports Campus.
"I won't say I played badly but she's got more experience than me and I think that's what made the difference," Pallikal explained.