'I had fantastic 16 years of international football'
Last updated on: August 24, 2011 14:00 IST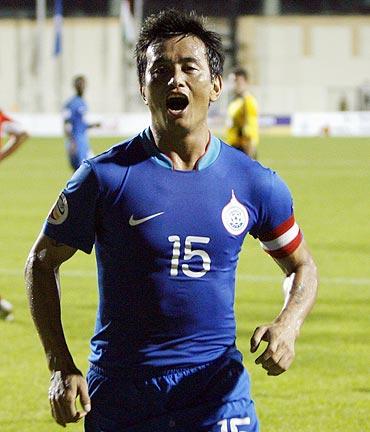 Former captain and the face of Indian football for major part of the last two decades, star striker Bhaichung Bhutia on Wednesday announced his international retirement, drawing curtains on an illustrious 16-year career.
The 34-year-old, known as the 'Sikkimese Sniper' for his shooting skills, announced his decision at the All India Football Federation headquarters in New Delhi.
"I had fantastic 16 years of international football. I enjoyed every moment to have represented the country, to have contributed to the game," Bhaichung said.
Speculation had been rife on the imminent retirement of the talismanic striker, who was struggling with injuries for the last one year. He managed to play for 15 minutes in the Asian Cup in Qatar in January, the most prestigious event India has ever taken part in the last 27 years.
'My commitment and contribution to Indian football will not diminish'
Last updated on: August 24, 2011 14:00 IST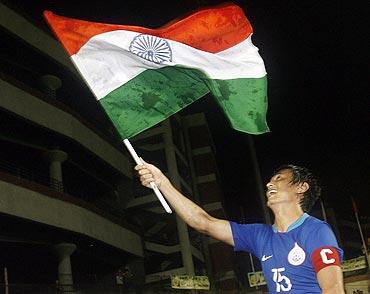 "Winning the AFC Challenge Cup in 2008, to qualify for the Asian Cup were the best moments of my career and I thought of retiring after playing in that tournament," he said.
"But I could play only 15 minutes in the Asian Cup and I thought it was not the right way to retire. I wanted to continue playing but the last 7-8 months have been frustrating due to lot of injuries. So I have decided to quit," he added.
He was dropped from the Indian squad selected for the 2014 World Cup qualifiers and the preparatory matches.
Bhaichung, however, will continue to play for his club United Sikkim FC, a club founded by him.     "Lots of things in life do not happen the way we wish so I am quitting from international football but will continue playing for my club," he said.
"My commitment and contribution to Indian football will not diminish and I am ready to help the AIFF in whatever way they want me," he said.
The club failed to qualify for I-League this season but he will be keen to take the side to the Federation Cup main round, the qualifiers of which will begin on September 8.
Bhaichung has been awarded the Arjuna and the Padma Shri
Last updated on: August 24, 2011 14:00 IST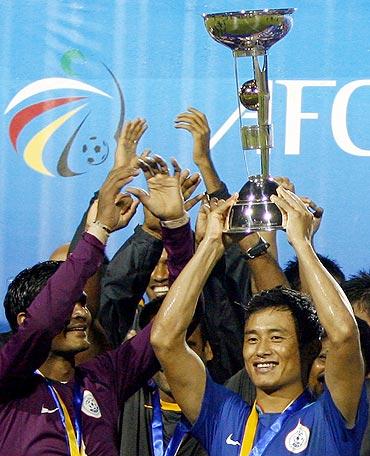 Bhaichung captained India for over 10 years and scored 43 international goals, more than any other footballer of the country. He is also the only Indian and one among few international players to have played more then 100 matches for his country.
Under him, India won the South Asian Football Federation Championships thrice, two Nehru Cup titles (in 2007 and 2009) and the 2008 AFC Challenge Cup which gave India the right to play in the Asian Cup this year for the first time after 1984.
The most recognisable face of Indian football, Bhaichung has been decorated with the Arjuna Award and the Padma Shri.
Born on December 15, 1976 at Namchi, the five feet eight inch Bhaichung made his international debut against Thailand in 1995 and went onto play more than 100 international games.
He reached the milestone during the 2009 Nehru Cup in New Delhi.
He was on the verge of international retirement in 2006 after India had a string of poor shows under coach Syed Nayeemuddin with whom he had serious differences but only to change minds on the plea of then AIFF president Priya Ranjan Dasmunshi and new coach Bob Houghton.
Bhutia became first Indian to play in Europe
Last updated on: August 24, 2011 14:00 IST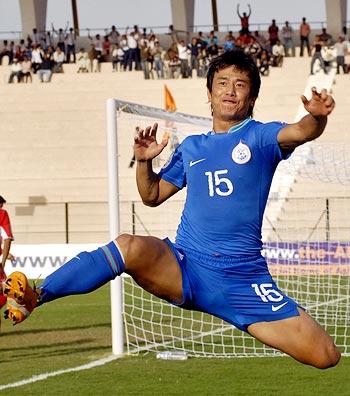 Bhaichung first came to the forefront at the 1992 Subroto Cup in New Delhi where he played for SAI Centre Gangtok. The next year, he was signed on by Kolkata giants East Bengal after his showings in the Subroto Cup and for the National Under-16 team in the Asian Under-16 Cup Qualifiers.
In 1995, Bhaichung, along with a host of other Indian top stars, signed up for JCT Mills of Phagwara and had two very successful seasons with them, among other things winning the first-ever National Football League title, being also the league's top scorer.
In 1997, Bhaichung returned to East Bengal. By this time he had become one of India's top players and in the 1998-99 season he was club captain, one of the youngest ever at 21.
After unsuccessful trials with English Premiership side Aston Villa and Championship clubs Fulham FC and West Bromwich Albion, Bhaichung finally signed for Division Two club Bury FC in 1999 to become the first Indian to play in Europe.
He was with Bury FC for three years till 2002.
© Copyright 2022 PTI. All rights reserved. Republication or redistribution of PTI content, including by framing or similar means, is expressly prohibited without the prior written consent.