Kournikova opens up about career-ruining back injury
Last updated on: September 29, 2011 12:39 IST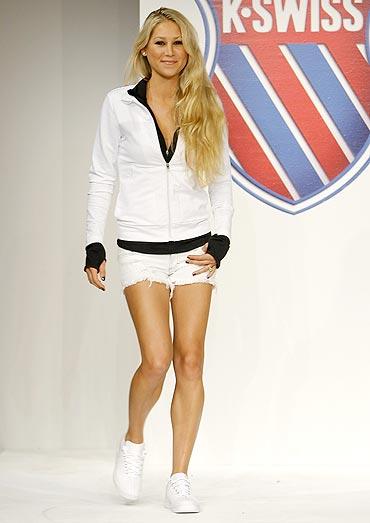 Anna Kournikova has opened up about the end of her tennis career following a back injury, and how she has learnt to live without the sport.
The 30-year-old Moscow-born star started playing at the tender age of five, and by eight she had been signed by sports agency IMG.
By the age of 9, she moved to the US to train with legendary coach Nick Bollettieri, and by 18 she ranked number eight in the world in singles.
Injury forced her to take time out, and doctors kept extending her recovery time --- first from just three months and then up to a year.
"I never planned or thought that was going to be it," she told People magazine.
'My back really forced me to stop. It got so bad I couldn't tie my shoes, literally. I would be in excruciating pain. I had been doing six to eight hours (of training) every day since I was five years old.
'Enrique helped me figure out who I am'
Last updated on: September 29, 2011 12:39 IST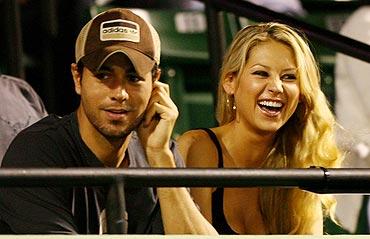 Kournikova admitted that initially without tennis, she found herself trapped in an identity crisis.
 "It was very interesting to me to stop playing and to figure out, 'Who am I without tennis?' It was very difficult and scary as hell," she said.
"I did everything from therapy to 10-hour walks on the beach to discover, and think, and try new things.
"Eventually, her family and long-time boyfriend Enrique Iglesias, "helped me figure out who I am," she added.
Now a qualified fitness trainer, with a slot of the TV programme Biggest Loser, she added that she couldn't be happier with her new career.
"I am so proud. The last time I felt like this, I was in Iraq and Afghanistan, Russia and Haiti on my charity trips, and then before that it was on the court. I am not doing this just to be on TV. I am able to help and influence people's health and well-being. That is an amazing feeling," she added.
Source: ANI