Zidane annoyed by talk of referees favouring Madrid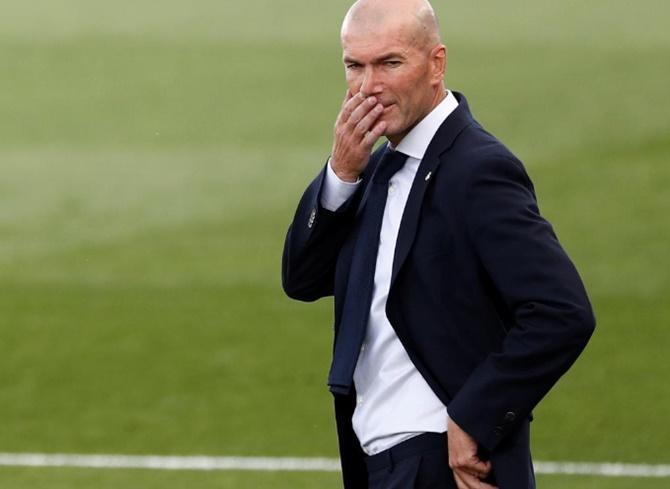 Real Madrid coach Zinedine Zidane said he was disappointed that he was only asked about the referee's decisions after his side earned a 2-1 victory at Real Sociedad, on Sunday, to climb above Barcelona and top La Liga.
The day before the game, Zidane had been forced to defend his team against a suggestion from Barca defender Gerard Pique that decisions were going Madrid's way after their 3-0 win over Valencia, in which Rodrigo Moreno had an opening goal ruled out.
The French coach faced fresh questions about Madrid's apparent fortune after three huge decisions went their way against Sociedad.
"It annoys me that at the end of the day people are only talking about the referees as if we did nothing out on the pitch," Zidane told a virtual news conference.
"But we cannot control what people will say. We win matches on the pitch and that's what we did today. It was a deserved victory."
Sergio Ramos scored the opening goal just after the break with a penalty after a contentious foul on Vinicius Jr while Sociedad had an Adnan Januzaj strike ruled out for a positional offside against Mikel Merino.
Karim Benzema then doubled Madrid's advantage in the 70th minute after controlling a cross with the top of his arm, the goal being awarded following a VAR review.
"I didn't see the plays but I've been told the penalty decision was correct and that Benzema's goals were legal," added Zidane. "I don't get involved in controversies because that's the referee's job. I just want to think about our deserved victory."
"I would prefer to talk about football and the match, I can't say anything else about the other things."
Having won all three matches since the season re-started after the hiatus caused by the new coronavirus, Real now lead the title race due to a superior head-to-head record over Barcelona but Zidane said there was still a long way to go.
"We haven't achieved anything yet even though we've got nine points from nine," he said with another eight rounds of Liga matches remaining this season.
"It's going to be difficult right until the end. We always want more and you have to recognise how great our attitude was today. We saw a team that always wanted to win."
Klopp laments lack of chances after derby draw
Liverpool manager Juergen Klopp was left disappointed with the lack of chances his team created after Sunday's goalless draw at Everton in the Merseyside derby.
The Premier League leaders need five points from their remaining eight matches to secure their first league title in 30 years.
On their return after the three-month stoppage due to COVID-19, Liverpool found themselves frustrated by Carlo Ancelotti's well-drilled Everton side.
Klopp was pleased with the way his team approached the match, in terms of their fitness and defensive solidity but was left frustrated by his forward players.
"We didn't have enough chances. Most of the time we were dominant but they had the biggest chance," said Klopp, whose side survived a late scare when Tom Davies hit the post in the 80th minute.
"I liked a lot of things about our game but we didn't have those moments in attack, we didn't have the rhythm," he said.
"Everton defended really well and we were not smart enough to use the space. That is normal when you start to play again.
"It was a real fight. Both teams showed they understand it is a derby. Intense, physical, all players were all in.
"The point is one we deserve. When I think of all the derbies here, they looked pretty similar. Everton were well organised so we had to run a lot but we looked fit and ready."
Ancelotti said his team had stuck to their gameplan well.
"It was not an open game because we did not want an open game. The performance was good against a strong team. We showed good personality and character. A draw is fair," said the Italian.
"We performed really well. We were focused, we sacrificed. We had opportunities to score at the end. Liverpool played a good game, they had more possession but defensively we were really good."
Lampard heaps praise on trio as Chelsea grind down Villa
Chelsea manager Frank Lampard praised Christian Pulisic as the American forward scored an equaliser five minutes after coming off the bench to help Chelsea earn a 2-1 comeback win at Aston Villa in the Premier League on Sunday.
Pulisic levelled on the hour after Kortney Hause had given Villa a 43rd minute lead and Frenchman Olivier Giroud netted the winner two minutes later, tightening Chelsea's grip on fourth place.
Lampard also singled out midfielder Ross Barkley and right back Cesar Azpilicueta, who set up both Chelsea goals - one with a superb cross from his flank and the other with a sublime pass to Giroud from the opposite side.
"The individuals who make the difference should always take all the credit so with Christian and Ross Barkley, who came on at the same time, they're both players who have trained well and had cases to start this game," said Lampard.
"We knew that fitness would play a part so the idea of bringing on Christian and Ross early in the second half was always something that was in my mind.
"The way it was going, we needed a bit of inspiration and Christian gave it with his goal. I thought Ross did really well too. I keep saying to the players how important subs could be in this period and they showed that."
"I thought Azpi was really good in the game. Obviously he delivers the ball for Christian's goal and got really high up in areas."
The result left Chelsea on course for a Champions League berth next season, five points ahead of fifth-placed Manchester United and sixth-placed Wolverhampton Wanderers, with Lampard praising his team's character.
"We showed great character and quality in the second half to win the game so I'm pleased. I thought we moved the ball pretty well for most of the game and dominated possession clearly."