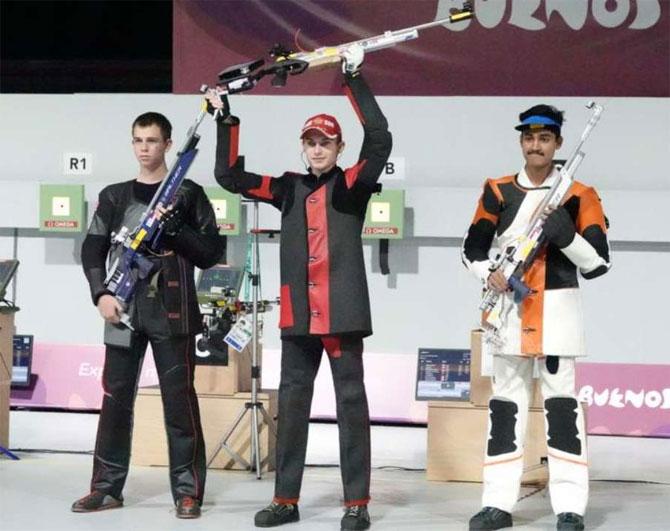 India opened its medal tally at the Youth Olympic Games with shooter Tushar Mane bagging a silver in the men's 10m air rifle event while judoka Tababi Devi Thangjam at least assuring herself a silver by progressing to the final of the 44kg women's category on the opening day of competitions in Buenos Aires on Sunday.
Mane, who qualified third for the final, shot 247.5 to win the silver while Grigorii Shamakov took the gold with 249.2. Aleksa Mitrovic of Serbia won the bronze with a score of 227.9.
It was close fight among the three podium finishers till the end and Mane edged out Mitrovic for the silver medal by collecting 228.0 as against 227.9 of the Serbian shooter in the penultimate round.
But, the final round was not the best one for the Indian as he shot 9.6 and 9.99 while the eventual gold winner had 10.4 and 10.7.
In the qualification round held earlier in the day, Mane had shot 623.7 to finish third and qualify for the final.
In more good news for India, Tababi Devi defeated Ana Viktorija Puljiz of Crotia 10-0 in the semi-finals to enter the summit clash of 44kg women's judo competition.
She had earlier defeated Bhutan's Yangchen Wangmo 10-0 in the elimination Round of 16 before getting the better of Erza Muminoviq of Kosovo in the quarter-finals.
In the men's Hockey 5s competition, India crushed Bangladesh 10-0 in their opening match.
Shivam (4th minute), Rahul Kumar (4th), Sanjay (6th), Rabichandra (9th, 20th), Vivek Sagar Prasad (9th, 18th), Sudeep (11th, 17th) and Maninder (12th) were scored for India in the convincing win.
In swimming, Srihari Nataraj finished third in Heat 4 with a timing of 56.57s to qualify for the semi-finals of 100m backstroke.
In the women's singles badminton, Jakka Vaishnavi Reddy defeated Elena Andreu of Spain 21-13, 21-6 in her opening Group F match.
India is being represented by 46 athletes in 13 sports in the prestigious event. This is India's largest ever contingent at the Youth Olympics.
India won two medals -- a silver and a bronze -- in the last Youth Olympics in 2014 in Nanjing in China.