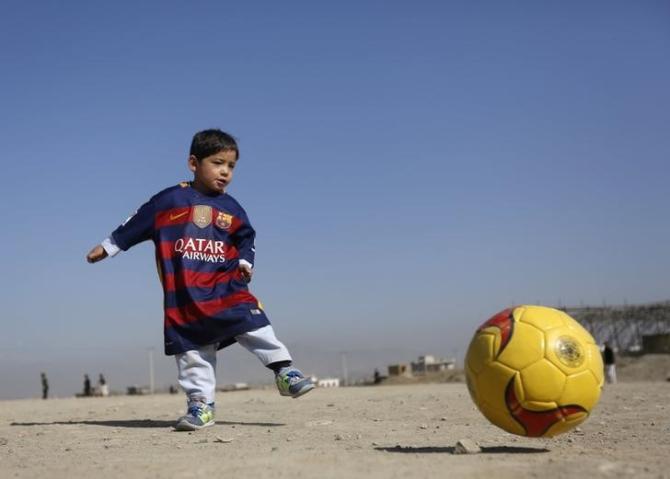 Image: Five year-old Murtaza Ahmadi, an Afghan Lionel Messi fan, wears a shirt signed by Barcelona star Lionel Messi, as he plays football at the open area in Kabul, Afghanistan February 26, 2016. Photograph: Omar Sobhani /Reuters.
A young Afghan fan of Argentine soccer star Lionel Messi has fled his home and gone to Pakistan because his family feared he could be kidnapped after he became an unlikely Internet sensation, the boy's uncle said on Tuesday.
Five-year-old Murtaza Ahmedi grabbed world headlines after being photographed in a shirt improvised from a plastic bag in the colours of the Argentine national team bearing Messi's name and number 10 playing number.
After pictures of Murtaza went viral on social media, his family feared that after becoming famous worldwide, he could be abducted by kidnappers for ransom. His home is in the central region of Ghazni where security has been fragile and where kidnappings are common.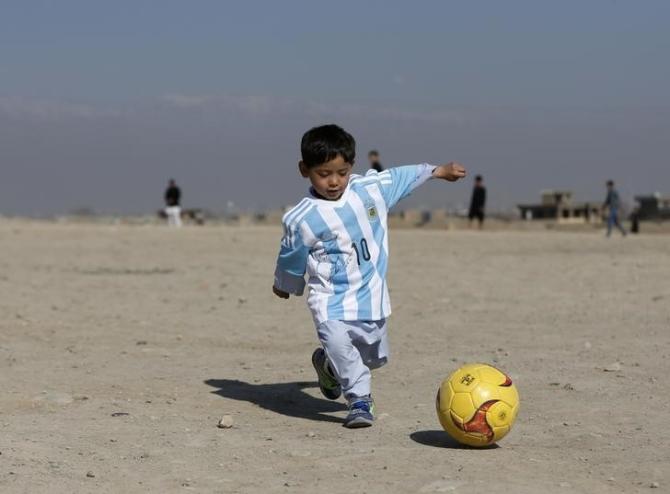 "These people felt that the different gangster and terrorist groups in Afghanistan might kidnap him," his uncle Wahid Ahmedi said in the western Pakistani city of Quetta, where Murtaza's family have sought refuge.
"There are such gangs that can kidnap him and then demand ransom. His father does not have so much money. That is why they have shifted from there (Afghanistan) to this place."
For the moment, Murtaza's dream of meeting his idol has not come true but his family said they continued to hope.
"We request the government here, the Afghan government, the United Nations, and any Football Associations to fulfil Murtaza's wish of meeting Messi," Ahmedi said.