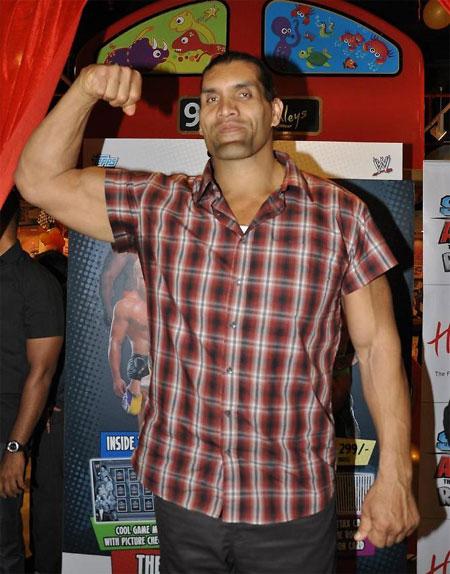 After creating waves on the World Wrestling Entertainment (WWE) circuit in the US, Dalip Singh Rana, also known as "The Great Khali" on Tuesday said his aim is to take the WWE kind of wrestling to every city in India.
"My aim is to take the WWE kind of wrestling to every city in the country. I returned from the United States last year because I wanted to do something which would provide new platform to the wrestlers in my country," Khali, who addressed a joint press conference here along with Haryana's Sports Minister Anil Vij, said.
Khali's Continental Wrestling Entertainment (CWE) will be conducting two international level fights on October 8 in Tau Devi Lal stadium in Gurgaon and October 12 at Panipat where 15 international and 35 Indian fighters will be seen in action.
Haryana Government has decided to exempt the two events from entertainment tax.
Khali said the event would serve the objects of the sports in respect of fun, recreation, relaxation, competition and socio-economic development.
The CWE initiative is focused on aggressively promoting the sport in India as well as scouting and developing talent from across the country, said the 7 feet 2 inches tall wrestler, who once annihilated The Undertaker - the star in the WWE universe.
Khali had also organised a similar wrestling event in Dehradun in February.
He said that he had recently met Haryana Chief Minister Manohar Lal Khattar and Sports Minister Vij, both of whom had assured him full support for the upcoming event.
"It will be nothing like what India has seen so far," he said about the Gurgaon and Panipat events, in which he threw open challenge to any international star of the likes of The Undertaker to come and fight with him.
"Haryana is one state that loves combat sports. In fact, majority of the kids who learn wrestling from me are from Haryana," said Khali, who runs his academy in Punjab.
While Khali said that he was getting full support from the governments in Haryana and Punjab, but he was critical of the Himachal Pradesh government, stating that he wanted to do something for his native place, but the incumbent regime there was creating "obstacles in whatever initiative I have in the recent past discussed with them for promoting the sport".
"What I am doing would give youth platform to showcase their talent, especially when we get to hear stories from far and wide of youths falling into drug menace, at least they have something positive to look towards to," he said.
Speaking on the occasion, Anil Vij said that Haryana government would offer its full support to Khali's event.
Vij said that it is for the first time that such an event is being organised in the State.
The Minister said that Haryana Government was taking steps to improve sports infrastructure in the State and said that in-principle decision has been taken to set up Sports Injury Centre at Rohtak.
Besides, 440 sports nurseries were being set up in all the 22 districts of the State, he said.
Image: Dalip Singh Rana, better known as Khali