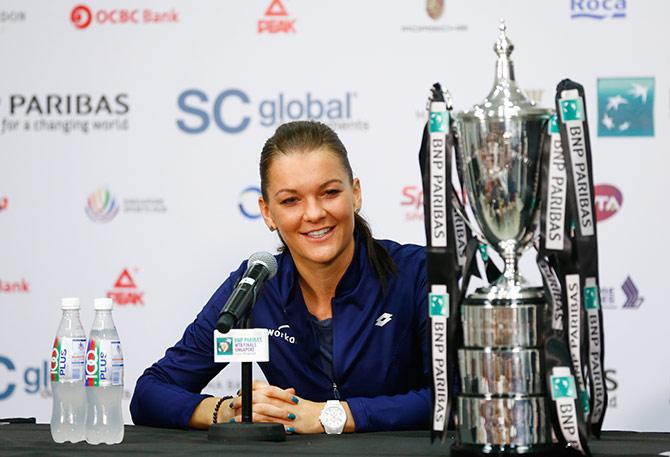 IMAGE: Agnieszka Radwanska of Poland speaks at a press conference after defeating Petra Kvitova of Czech Republic in the WTA Finals in Singapore. Photograph: (Julian Finney/Getty Images
With the unique format at the WTA Finals, it is all about how you finish rather than how you start as new champion Agnieszka Radwanska proved perfectly in Singapore this week.
The Pole became the first winner of the end-of-season championships for the top eight women to lose two out of three matches in the round-robin phase.
The 26-year-old used her supreme court coverage and shot making craft to dispatch double Wimbledon champion Petra Kvitova 6-2 4-6 6-3 in Sunday's final at the Indoor Stadium to land the biggest title of her career.
It seemed an unlikely prospect after she lost a tight three-setter to Russia's Maria Sharapova and was then beaten by U.S. Open champion Flavia Pennetta in straight sets to kick off her Red Group campaign.
Having completed an exhaustive schedule just to qualify for Singapore, Radwanska, with a taped shoulder and thigh, needed to remind herself there was still hope.
"I lost first two matches but it's not like I was playing bad. It was still good matches. I just didn't use the chances," a beaming Radwanska told reporters, sitting alongside the Billy Jean King Trophy.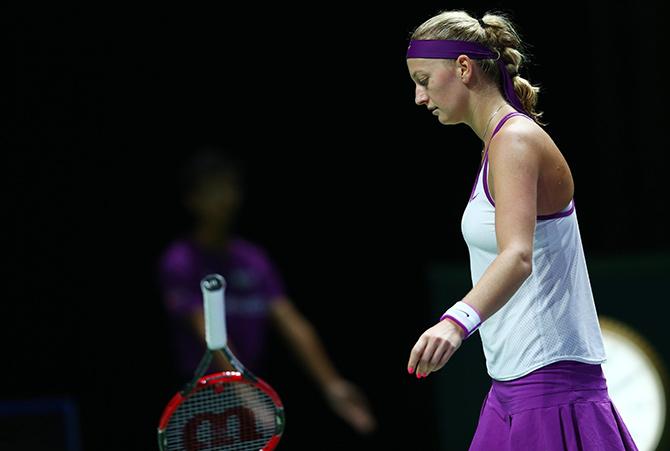 IMAGE: Petra Kvitova of Czech Republic reacts during the final match against Agnieszka Radwanska of Poland at the WTA Finals in Singapore. Photograph: Clive Brunskill/Getty Images
"I wasn't really focused enough and something just slipped away and then it was hard to come back. But definitely not bad matches, especially the one against Maria," she added.
"I was really feeling better afterwards and I think I got used to the conditions, used to the surface."
Radwanska's guile and ability to make her opponent always have to play one more shot has established her as one of the most awkward customers on the WTA Tour.
Kvitova, who was full of praise for Radwanska's technique and movement, made 53 unforced errors as she aimed for the corners to try and put away the Pole, a player dubbed La Profesora for her shrewdness on court.
"Yeah, well, I think this is always great to hear, especially from those kind of players like Andy Murray or the other girls," Radwanska said.
"I think this is a big respect, so I just have to appreciate it. It's always a very nice compliment when I hear that my tennis is smart or very entertaining. Each time I'm very happy to hear that, like I'm hearing it for the first time."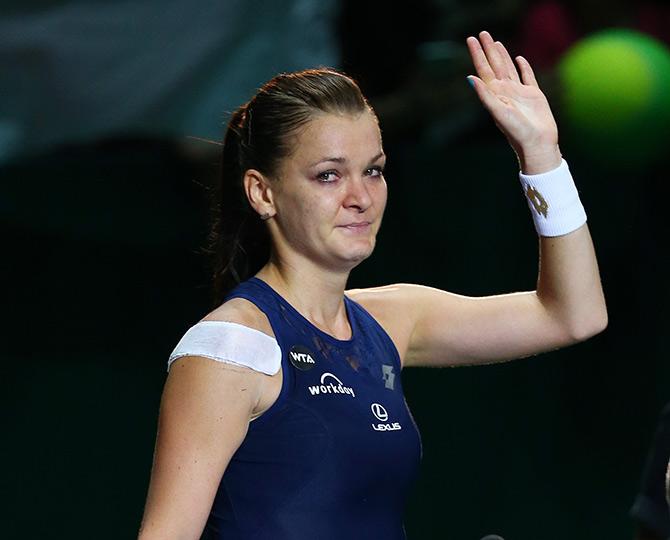 IMAGE: Agnieszka Radwanska of Poland waves to the crowd after defeating Petra Kvitova of Czech Republic in the final in Singapore. Photograph: Clive Brunskill/Getty Images
Respect is nice but a grand slam title is what she really craves.
Amelie Mauresmo was the last player to win the WTA Finals before a grand slam when she triumphed in Los Angeles in 2005. The Frenchwoman, Murray's current coach, backed up that triumph the following year by winning the Australian Open and Wimbledon.
Radwanska, a finalists at the grass court major in 2012 hoped for something similar having beaten top seed Simona Halep, world number three Garbine Muguruza and Kvitova to take the title in Singapore.
"Well, for sure it gives me more confidence, especially that in a grand slam you also to have win and beat (a) couple of top players in a row," she said.
"I think here it's even harder because there is just eight of us and you don't have any first rounds to get used to the courts. But definitely a good start. I'll definitely try to do that next year."