Saurav Ghosal and Ramit Tandon came up with wonderful displays to help India win the battle of Asians against Hong Kong and enter the quarter-finals of the WSF Men's World Team Squash Championship in Mulhouse, France.
Ghosal started as a strong favourite against World No 34 Max Lee and duly delivered, putting India 1-0 ahead with a comfortable 3-1 victory in just over an hour.
In the next game, Tandon kept his composure to beat Yip Tsz Fung 3-0 in 38 minutes.
In just under 100 minutes, India had booked a berth in the quarter-finals with still a match to go. However, in the dead rubber, Harinder Pal Sandhu lost to Leo Au 1-2.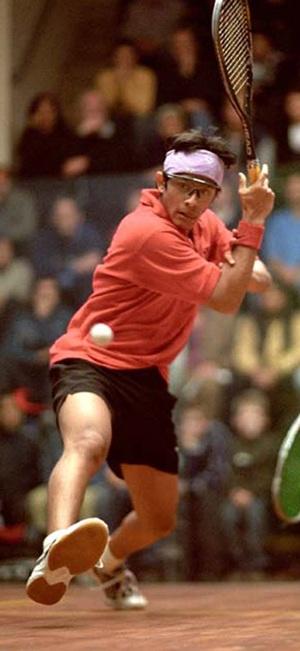 Eighth seed India will play favourites Egypt in the quarters. A win could take India closer to their bid of becoming the first nation since 1987 to win the title three times in a row.
In the match against Lee, Ghosal started strongly and his usual busy game reaped good rewards as he won the first game.
A quarter-finalist at the Asian Championship in Pakistan and the
Hong Kong International in May, Lee came back strongly, matching Ghosal stroke for stroke and dominating the front court. He opened a 7-2 lead in the second game.
Ghosal paid the price of being too aggressive and Lee took full advantage to open up the front of the court.
The Indian, however, was quick to realise his mistake and made amends. Ghosal held himself back a little, allowing a bit more time to stretch his opponent. He won seven points on a trot, including cashing in on three unforced errors from Lee, to take a 9-7 lead and eventually close out the game 11-8.
The third game was an equally interesting tussle with little to choose between the two. At one stage the scores were tied 7-7. Ghosal inexplicably froze, making uncharacteristic errors and missing a boast to hand the game to his opponent.
But the lapse proved momentary. Ghosal regrouped quickly to get back into his rhythm and controlled the pace in the fourth game to win 11-6.
Tandon was next on court against Fung, a regular on the junior circuit who only graduated to the senior tour this year.
Tandon did not perform to the standard he set against Henrik Mustonen earlier in this tournament, but he never really needed to get out of
second gear against the inexperienced youngster from Hong Kong.
Tandon might have got unnerved a bit by the extra bounce, which allowed his opponent to pick up his shots a lot easier, but he kept his cool to win 11-9, 11-5, 11-9.
"We were very confident going into this match," said India coach Cyrus Poncha.
"Being our Asian counterparts, we know their standards well. Our first goal was to get into the top eight. We've got a tough one in Egypt tomorrow," he conceded.
His Egyptian counterpart, Mohamed Medhat Morsi said, "The boys are ready for the battle. We have tough opponents in the next round. India are one of the countries coming up in squash."
Results:
India bt Hong Kong 2-1 (Saurav Ghosal bt Max Lee 3-1 (11-3, 11-8, 7-11, 11-6); Ramit Tandon bt Yip Tsz Fung 3-0 (11-9, 11-5, 11-9); Harinder Pal Sandhu lost to Leo Au 1-2 (9-11, 11-7, 4-11).
Image: Saurav Ghosal
© Copyright 2020 PTI. All rights reserved. Republication or redistribution of PTI content, including by framing or similar means, is expressly prohibited without the prior written consent.