Demand disbanding of WFI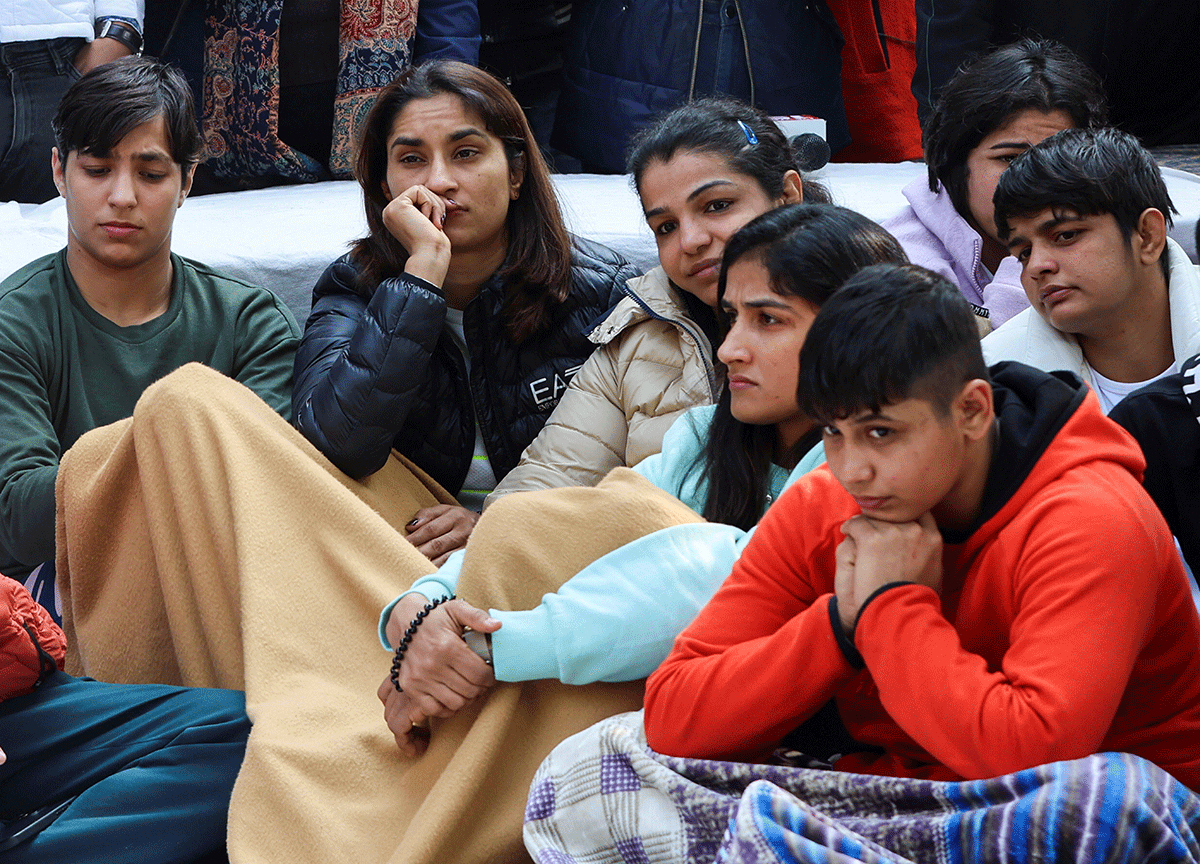 The country's top wrestlers on Thursday vowed to intensify their protest, saying the government has given them an assurance but no "satisfactory response" and they will lodge multiple FIRs against WFI President Brij Bhushan Sharan Singh if the Wrestling Federation of India is not disbanded immediately.
The wrestlers, who have accused the WFI President of sexual exploitation and intimidation, continued their dharna for the second day as more grapplers joined them in what they called was a fight to give "a new life to Indian wrestling."
Three-time CWG medallist and BJP leader Babita Phogat came to the protest site with a "message" from the government and assured the grapplers that their demands will be met as the athletes took turn to share their bad experiences.
Tokyo Olympics silver medallist Ravi Dahiya pleaded for more support while young Anshu Malik narrated how WFI President's presence in the players' hotel in Bulgaria during the world junior championship last year made the women wrestlers uncomfortable.
It may be noted that 21-year-old Anshu had not competed in that championship as she was injured.
A team of wrestlers, including Bajrang Punia, Vinesh Phogat, Anshu, Sakshi Malik, and her husband Satyawrat Kadiyan, was then called for a meeting with the government as they discussed their issues with Sports Secretary Sujata Chaturvedi, Director General SAI Sandip Pradhan and Joint Secretary (Sports) Kunal.
At the hour-long meeting, the wrestlers were asked to end their protest and assured that their grievances will be addressed.
However, the wresters wanted a concrete and immediate action and decided to continue their protest unless WFI President is removed and the national federation is disbanded along with all the state wrestling associations in the country.
Later addressing the media, Vinesh did not disclose what transpired at the meeting but said, "Unfortunately we did not get a satisfactory response."
"Yesterday, we had 1-2 victims amongst us but now we have 5-6 wrestlers, who were harassed (sexually). We can't name them now, after all they are daughters and sisters of somebody. But if we are forced to disclose their identity, it will be a black day," said Vinesh, the two-time World Championship medallist.
"It's not just about his (Brij Bhushan) resignation. We will send him to jail. We did not want to take the legal route, because we had hoped for resolution but if a proper solution is not provided, we will lodge FIRs against the President.
"We are World Championship and Olympic medallists, don't suspect us, we are telling the truth, believe us."
Bajrang said, "The entire wrestling hub (fraternity) is here. We have proofs, we are not lying. We want wrestling to live, start a new life."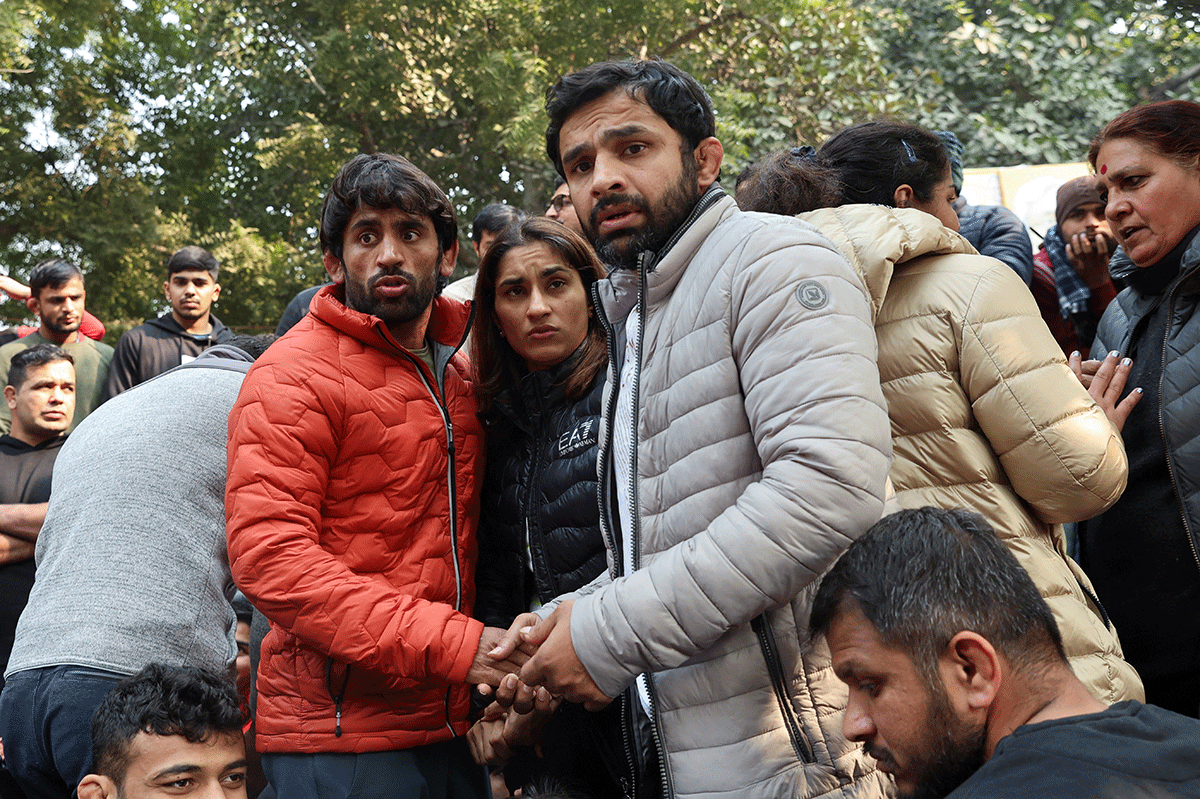 The 28-year-old Vinesh claimed that she has got calls of appreciation from Kerala and Maharashtra woman wrestlers for taking up the cause.
"At least 5-6 girls will lodge FIRs tomorrow and it will be a black day if it happens in a country like India where 'Durga' and 'Lakshmi' are worshipped. Then I would say that no woman is safe in this country and no daughter should be born to anyone."
Asked to give details of the meeting they had with the government representative, Vinesh said, "They did not give any time-frame, just gave assurances."
"Everything is at stake now. We have not even taken police protection and (are) sitting here. But where is the WFI President; his office (is) locked. Where are those eyes that used to scare us."
When reminded that London Olympics medallist Yogeshwar Dutt has backed WFI President along with Asian Championship medallist Divya Karan, Vinesh said, "Yogeshwar is definitely sitting in the lap of the WFI and that Kakran herself spoke against the President in the past. We have proofs."
"All the videos (in support of WFI President) are being made where he has that aatank ka adda (hub of terror), people should come and make videos here at Jantar Mantar while sitting in front of the public.
"We want the government to take control of WFI and we will not compete in any competition under the current President."
Sakshi Malik said all state wrestling associations should be disbanded in the country because the WFI President has all his men in these sports bodies.
Meanwhile, the National Commission for Women (NCW) said that the wrestlers can approach it with their complaints.
WFI Emergency General Council in Ayodhya
It has been learnt that the Wrestling Federation of India (WFI) has called for an Emergency General Council in Ayodhya on Sunday to discuss the issue.
"Yes, a meeting has been called and future course of action will be discussed. I can't say if WFI President will resign or not. It needs to be discussed," said a WFI official.
It may be noted that Brij Bhushan Sharan Singh's third term as WFI President is ending soon and he is ineligible to contest again. He was elected WFI President for the third time in February 2019.
According to the National Sports Code, a person may serve as President, and thereby on the Board, of the NOC/NSF for up to three terms or 12 years with or without break, after the completion of which tenure as President, the person shall not be entitled to return as an office bearer or Board member of the NSF.
© Copyright 2023 PTI. All rights reserved. Republication or redistribution of PTI content, including by framing or similar means, is expressly prohibited without the prior written consent.