Police press charges for 'rioting' against protesting wrestlers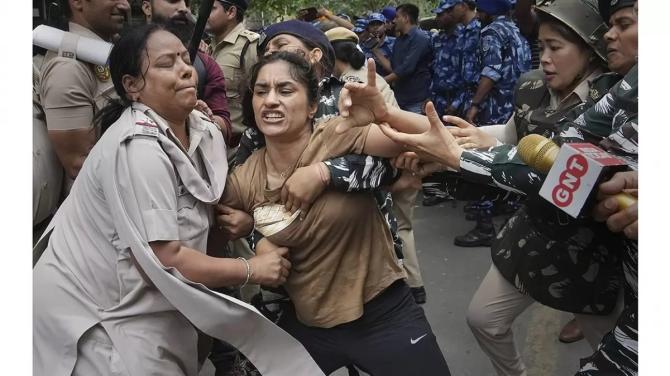 Over 700 protesters including India's top wrestlers, including Olympic medallists Bajrang Punia and Sakshi Malik, were detained by the Delhi Police on Sunday as they intensified their protest demanding the arrest of their federation chief Brij Bhushan Sharan Singh over sexual harassment allegations.
After keeping India's Olympics medallist in prison for hours the Delhi Police registered an FIR related to rioting and other offences over the scuffle with protesting wrestlers in the national capital.
"They (police) have released me, Sakshi (Malik) and Sangeeta (Phogat). The remaining ones (wrestlers) are still under detention," wrestler Vinesh Phogat said after being set free.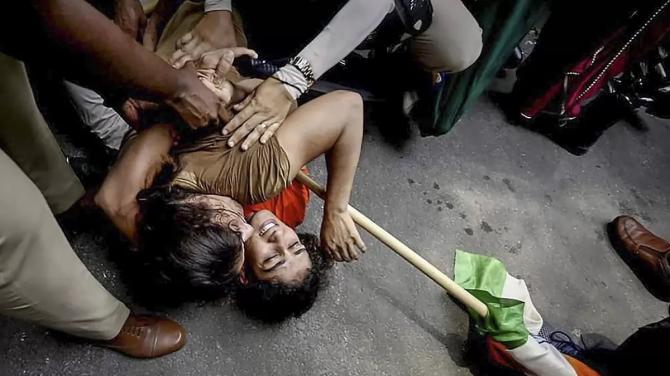 Malik later tweeted, "This is how our champions are being treated. The world is watching us!"
After the wrestlers were detained and pushed into a bus from where they were taken to unknown locations, the Delhi Police cleared the protest site by removing cots, mattresses, coolers, fans and the tarpaulin ceiling along with other belongings of the wrestlers.
"The police continues to keep me in detention. They have not told us anything. Have I committed a crime? Brij Bhushan should have been arrested. But why are we being kept in captivity"? Bajrang Punia tweeted.
The shocking treatment of Indian wrestlers happened on the day when Prime Minister Narendra Modi inaugurated the new temple of democracy adjacent to the old Parliament building.
Footages showed police dragged Sakshi Malik, Vinesh Phogat, and other wrestlers by the scruff of their necks from Jantar Mantar where they have been protesting for more than a month. Police have now removed all the tents at the protesting site.