The 23-year-old from Haryana is the first Indian woman wrestler to win a gold medal at the Asian Games.
Vinesh Phogat created history, becoming the first Indian woman wrestler to win a gold medal at the Asian Games after brushing aside her opponents with remarkable ease in the 50 kg category, in Jakarta, on Monday.

The medal-favourite in the category, she was expected to face stiff competition from Japan's Yuki Irie but she easily outdid her opponent and won the final 6-2.
It is a ground-breaking achievement by the 23-year-old firebrand Haryana wrestler, who is connected to the Dangal-famed Phogat family.

Putting behind her heart-breaking loss at the Olympics two years ago, Vinesh began her victorious campaign with a revenge win over China's Yanan Sun, against whom she suffered that terrible leg injury which cut short her journey in Rio.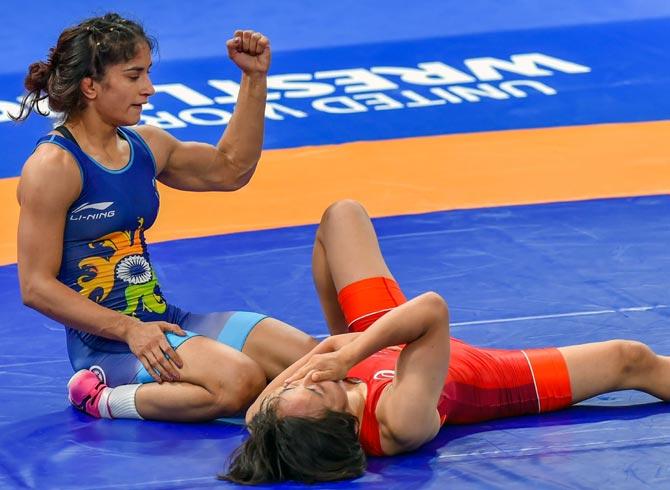 This time Vinesh did not give her opponent any chance and came out a dominant winner with an 8-2 score.

In the next bout she brushed aside the challenge of Korea's Hyungjoo Kim by technical superiority. She ended the bout with a four-point throw.

Her semi-final lasted just 75 seconds and she moved into the final with a dominating showing. She was already up 4-0 and then rolled over her opponent thrice with leg-lock.

The gold also enabled Vinesh to achieve another feat as she became the only woman wrestler to win two medals in back-to-back Asian Games.
Vinesh had earlier won a bronze medal in the 48 kg category at the 2014 Incheon Asian Games. She also won back-to-back gold medals in Glasgow and the Gold Coast Commonwealth Games earlier this year.

Earlier, Sakshi Malik paid the price for being over-defensive and was left to fight for bronze in the 62 kg category.

Commonwealth Games silver medallist Pooja Dhanda will also fight it out for bronze after losing her semi-final in the 57 kg.

Pinki was the only girl to not reach the medal round; she lost her first round bout in the 53 kg category to Mongolia's Sumiya Erdenechimeg. She could not score a single point and lost on technical superiority.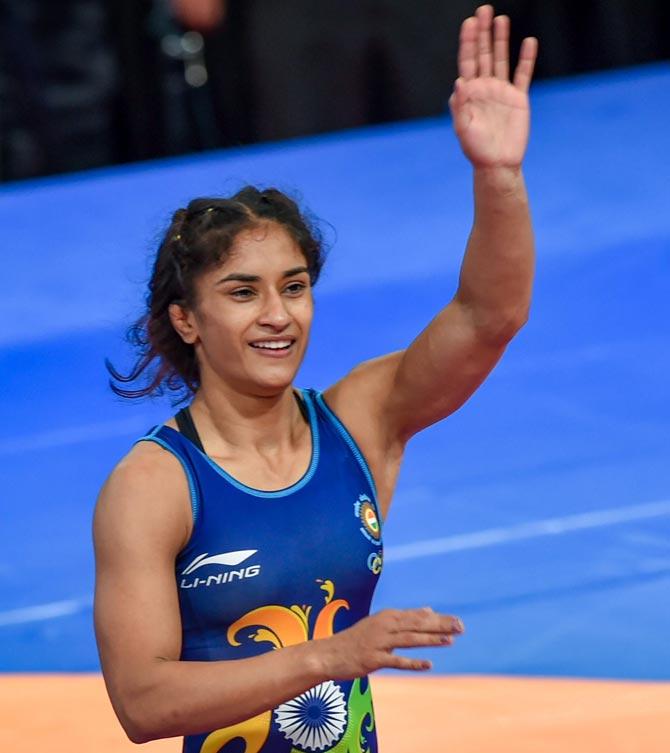 Sumit Malik, the last remaining Indian in the men's freestyle, bit the dust in the 125 kg category as he could not resist his opponent even for two minutes, losing by technical superiority.

Thus, the men's campaign finished with just one gold medal from Bajrang Punia (65 kg).

Sakshi, participating in her first Asian Games, was hardly challenged before her semi-final round as she easily won against Thailand's Salinee Srisombat (10-0) and Ayaulym Kassymova (10-0).

She was up 4-0 in her semi-final bout against Kyrgyzstan's Aisuluu Tynybekova but lost six points in a row by the end of first period.

She led 7-6 with a throw but became too defensive with 10 seconds to go. The Kyrgyz took advantage and pushed Sakshi out of the mat to pocket the match-wining two points.

Pooja lost just one point en route the semis as she outclassed Thailand's Orasa Sookdongyor (10-0) and Uzbekistan's Nabira Esenbae (12-1) but lost the last-four clash on technical superiority to Korea's Myong Suk Jong.