Disappointed at not winning gold for India at the recently concluded  London Olympics, wrestler Sushil Kumar said if he had attacked the Japanese opponent first then he could have easily defeated him in the final.
"Had I attacked the Japanese wrestler first, I could have won the gold medal for India in London Olympics," Sushil said on Wednesday.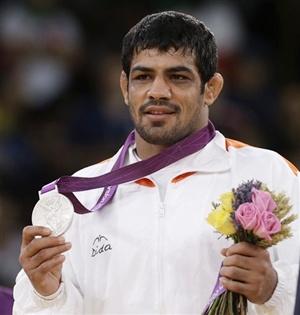 The silver medallist arrived in Bhopal as part of the Madhya Pradesh government's Shikhar Khel Award ceremony.
He was accorded a grand welcome on his arrival by the fans and various organisations in the state capital.
Wrestling is a game of mind and power in which it is really difficult to read what is going on in the opponent's mind, Sushil said.
On asked if he was under pressure since his health was also not up to mark on the day of final, Sushil said, "The only thing that was going on in my mind was to anyhow do something for the nation on that day," he said.
He said after the Beijing Olympics, everybody knew that he had a potential to win gold in London and he made lot of effort keeping that in mind.
He said in the next Rio-de-Janerio Olympics, he will ensure that "Japanese wrestlers have tears in their eyes."
Referring to boxer Vijender and shooter Abhinav Bindra as world class athletes, Sushil said that particular day (of the event) did not favour them.