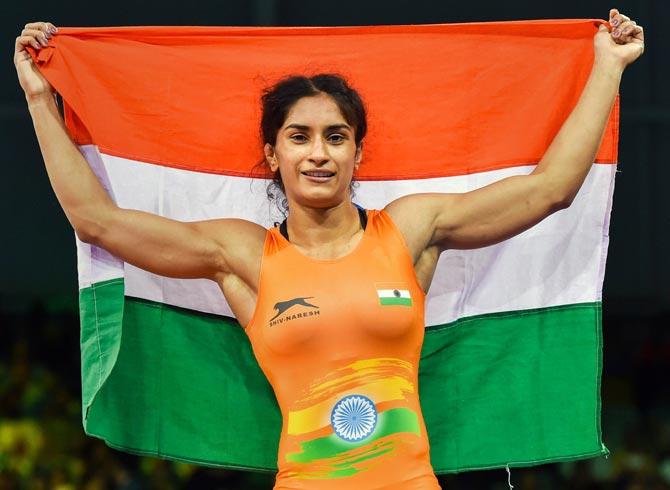 There was no stopping the gold rush in wrestling as two more were added to the tally by Vinesh Phogat (50kg) and Sumit (125kg) but Olympic bronze-medallist Sakshi Malik (62kg) had to be content with a third-place finish in the Commonwealth Games, in Gold Coast, on Saturday.
Adding another bronze to the count was Somveer, in the 86kg category. India signed off their wrestling campaign at the Games with five gold, three silver and four bronze medals.
The overall count was one less than the medals achieved in the 2014 edition of the Games but India kept their gold medal count at five, the number they achieved the last time.
The weight categories of both Sakshi and Vinesh were competed on a round-robin format as the number of competitors in the draw were less than six.
Sakshi went out of the gold medal contention in the first round itself after losses to Canada's Michelle Fazzari and Nigeria's Aminat Adeniyi following a win over Cameroon's Berthe Ngolle.
But she gathered herself after the setback to defeat New Zealand's Tayla Ford 6-5 in a close bout to avoid going without a medal. The heartbreak of missing the gold left her in tears during the medal ceremony.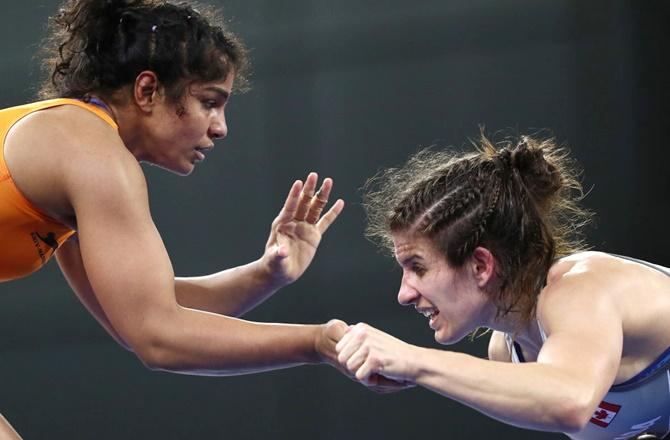 "I am so disappointed, I should have won a gold medal and I have to settle for a bronze. It will be another four years before I can make this right. I could not get what I expected of myself," she said wiping away her tears.
"I had a bad second bout because I thought I was winning till the last few seconds but then I lost and it destroyed my composure, I could never recover from that," she said referring to her defeat at the hands of Canadian Michelle Fazzari. The final scoreline read 8-11.
Asked what's next for her in the calendar, Sakshi said, "Next for me is the Asian Games and I will prepare hard for it."
However, Vinesh continued her tremendous comeback to big-ticket wrestling. The 23-year-old, who had sustained a career-threatening injury during the Rio Olympics, was in complete control of proceedings from her first bout.
"It was a tough fight as Jessica Macdonald is a world champion, but I am glad I lived up to the challenge. I have been waiting for this moment for four years, to lift my flag and listen to my national anthem being played," she said.
"When I saw Neeraj take the gold in javelin throw, I felt very inspired and wanted to claim one for myself," she added.
She ultimately did what her cousin Babita could not do and claimed a second successive gold medal at the Games. The Indian won two of her three bouts on technical superiority, raising to 10-point leads before her rivals could open their accounts.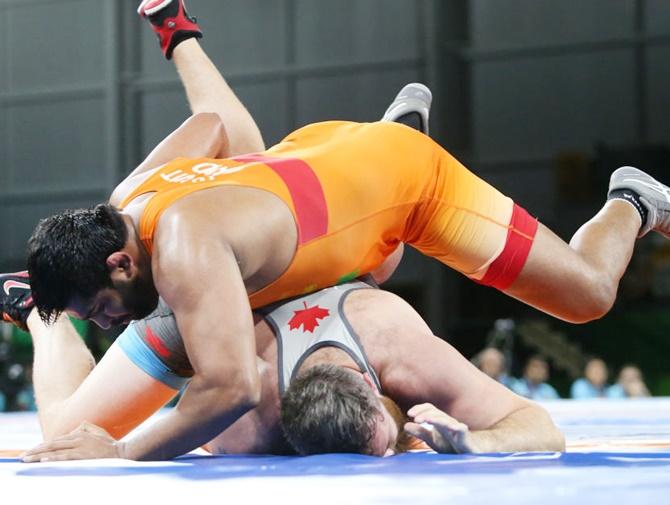 Sumit, on the other hand, competed in three bouts but didn't have to fight it out in the gold medal bout after his Nigerian rival Sinivie Boltic pulled out citing an injury sustained earlier in the day.
Sumit found himself in slight controversy after his second-round rival -- Korey Jarvis of Canada -- accused him of biting his hand during the bout. Jarvis' hand was heavily bandaged after the bout and he accused Sumit of being responsible for it.
"I don't think it would've made me win but there was no need to poke me in the eye or bite me. It happens a lot with Indian guys. They poke a lot and they bite, but it's part of the sport," Jarvis said.
Sumit, however, denied the charge.
Later, in the last India bout of the day, Somveer ensured that it ended on a bright note as he clinched the 86kg category bronze.
Somveer rallied from a 1-3 deficit to defeat Canadian Alexander Moore in the play-off bout.
Earlier, double Olympic-medallist Sushil Kumar, Rahul Aware and Bajrang Punia had picked up gold medals for India on the first two days of the competition.