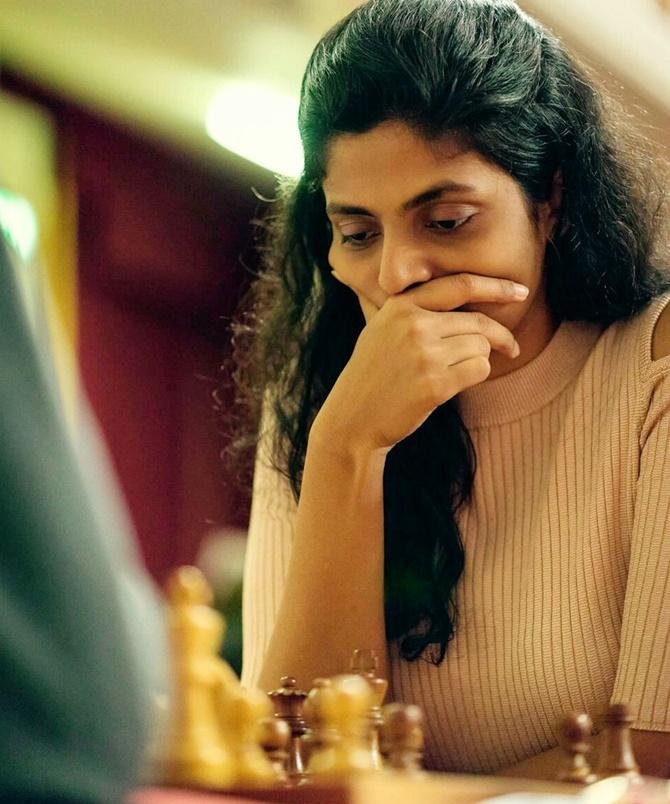 IMAGE: Indian Grandmaster D Harika. Photograph: Twitter
Grandmaster D Harika missed out on some chances to settle for a draw with Georgia's Sopiko Guramishvili, while Padmini Rout survived a scare before enforcing a draw with China's Tan Zhongyi in the first game of the third round of World Women's Chess Championship in Tehran.
Playing black, fourth seeded Harika pulled all the right strings for a long time against Guramishvili but failed to find a way to force a victory.
However, the Indian will have white pieces in the return game, an opportunity for her to score her first victory in the Classical format.
All Harika's wins in first two rounds came only in rapid tiebreak games.
Facing her third higher ranked opponent in a row, Padmini yet again managed to salvage a difficult position against Zhongyi. Padmini showed some fine preparation and excellent attacking acumen as white. And return game gives her all the hopes for an encore.
The world championship this year is being held under knock-out rules. The $ 450000 event started with 64 players and is now down to 16 with three more rounds.
Top seed Ju Wenjun of China could not force matters against Olgay Girya of Russia, while another former champion Alexandra Kosteniuk of Russia also could not break the ice against veteran Pia Cramling of Sweden. The other draw also involved a Russian – Natalija Pogonina was held by Ni Shiqun of China.
Results round 3: Ju Wenjun (Chn) drew with Olga Girya (Rus); Pham, Le Thao Nguyen (Vie) lost to Anna Muzychuk (Ukr); Alexandra Kosteniuk (Rus) drew with Pia Cramling (Swe); Sopiko Guramishvili (Geo) drew with D Harika (Ind); Nana Dzagnidze (Geo) beat Shen Yang (Chn); Natalija Pogonina (Rus) drew with Ni Shiqun (Chn); Antoaneta Stefanova (Bul) beat Nino Khurtsidze (Geo); Tan Zhongyi (Chn) drew with Padmini Rout (Ind).