Sharath Kamal of India moved into the third round of the World Table Tennis Championship in Suzhou, China, on Wednesday.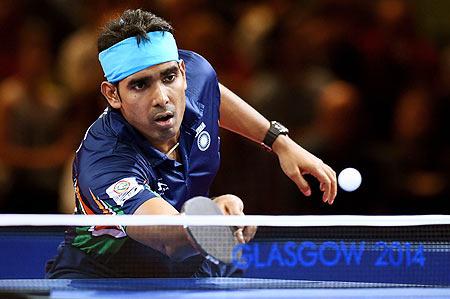 The world No 44 defeated the 35th ranked Frenchman Simon Gauzy 11-4, 11-5, 11-7, 6-11, 11-8 in the second round.
Sharath will next face the winner of the second round match between compatriot G Sathiyan and China's Fang Bo.
Sharath has now equalled his best performance in the World Championships.
Among other Indians, Soumyajit Ghosh moved into the second round to join compatriots Sharath and G Sathiyan. Ghosh upset 29th seed Aruna Quadri of Nigeria 11-6, 12-10, 14-12, 6-11, 11-5 in the first round. Soumyajit will take on Shibaev of Russia in the second round.
Earlier, Sathiyan, ranked 188th in the world, pulled off an upset of sorts when he beat 68th ranked Swede Gerell Par 11-5, 11-8, 8-11, 11-4, 11-7 in the first round.
Sharath was stretched by lowly ranked Pak Sin Hyok of South Korea in the first round. Sharath dropped the first and fifth sets before winning 12-14, 12-10, 12-10, 11-9, 5-11, 11-7.
India, however, did not enjoy as much good a fortune in doubles, with losses to both pairs in the first round.
First, the pair of Sharath Kamal and Sathiyan lost to M Morizono and Oshima Yuya of Japan 4-11, 11-9, 6-11, 4-11, 5-11 and later Soumyajit Ghosh and Sanil Shetty lost to H Chiang and S Huang 11-9, 10-12, 12-10, 11-4, 6-11, 11-8.
In the women's singles event, the Indian paddlers courted disappointment with both Mouma Das and K Shamini going down tamely in the first round.
Mouma Das lost to P Mikhailova (Russia) 11-6, 7-11,13-11,11-6, 11-6 while Shamini, who did well to qualify for the main draw, lost to R Paskauskiene 2-11, 5-11, 4-11, 9-11 in straight sets.
Shamini and Mouma's campaign in doubles also ended in the first round with the duo losing to N Komwong (Thailand) and Li Xia Don (China) 11-7, 6-11, 1-11, 8-11, 7-11.
Ghosh and Mouma bowed out in the mixed doubles event in the second round. They were beaten 11-7, 11-7, 5-11, 11-7, 11-9 by Kim Hyok Bong and Kim Jong of South Korea.
Soumyajit and Mouma had won the first round beating Mohammad Dsamasud and Hussien Habab of Sudan 11-3, 11-4, 11-5, 11-3 in the first round.
The other Indian pair of Sanil Shetty and Manika Batra lost in the first round to Chen Chien and Chen Seu Yu of Chinese Taipei 11-3, 11-7, 6-11, 11-7, 11-7.
Image: Achanta Sharath Kamal

Photograph: Jeff J Mitchell/Getty Images