Pune Strykers and Sher-E-Punjab will meet in the final of the Bridgestone WSH, at the Mumbai Hockey Association's Mahindra stadium on Monday.
The  Pune side made the grade after beating Chandigarh Comets 7-6 in the penalty shoot-out after regulation time in the second semi-final in Mumbai ended 4-4.
Mario Almada, Bikash Toppo, Nikkin Thimmaiah and Vikas Villay scored in the penalty shoot-out for Strykers, with Roshan Minz failing with his attempt
Gurjinder Singh and Bharat Chhikara scored for Comets while Ramandeep Singh, Sukhwinder Singh and Rehan Butt missed strokes.
In an enthralling battle, Pune Strykers trailed  1-4 for most of the match and then 0-2 in the penalty shoot-out. But they kept their cool to stage a dramatic comeback and set up a meeting with Sher-e-Punjab, who steamrolled Karnataka Lions 4-1 in the first semi-final earlier in Bangalore.
Pune Strykers struck thrice in the last 10 minutes to cancel out the 1-4 deficit, the fourth goal coming after the hooter through a penalty-corner by Simranjeet Singh.
Then, in the penalty shoot-out, goalkeeper Gurpreet Singh Guri blocked the strokes from Ramandeep Singh, Sukhwinder Singh and Rehan Butt to script a dream victory for the Strykers.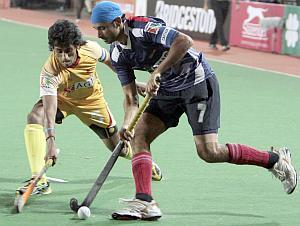 Earlier, the opportunist Shers, exemplified and epitomized by the livewire Prabhjot Singh, dominated the first semi-final and tactfully did not cede penalty-corner advantage to the Lions for Len Aiyappa to do any damage.
Prabhjot Singh, despite seeing his lightning goal not surviving a referral, and then team-mate Mathew Hotchkis miss out the stroke he fetched, went on his own three minutes before the whistle to post perhaps the best goal of the tournament.
The fourth goal, the manner in which it was conceived and the geometrical precision with which Prabhjot gave the finishing touch to it despite falling, provided enough proof of the Shers' determination to win the match.
Braving an early setback, Shers came up with quick counter attacks and struck a goal apiece through the sticks of Mathew Hotchkis, Karamjit Singh, Harpreet Singh and Prabhjot Singh.