150 Indian players, including top stars from the current national team have signed on and received advanced payments to play in World Series Hockey (WSH).
Most of the players have signed 3-year contracts.
- Choose between country and WSH, says Hockey India
- Top Indian players for World Series Hockey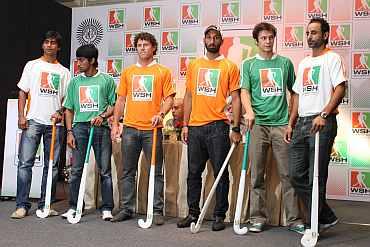 Four of these stars will be captains in the inaugural edition of the tournament. This list includes Goalkeeper Adrian D'Souza, playmaker Arjun Halappa, forward Prabhjot Singh, and Sardara Singh.
Prabhjot Singh said, "I'm really excited about playing in the inaugural edition of World Series Hockey. It's a great initiative for the sport of hockey and I can't wait to play alongside the best hockey players from India and around the world"
The other star Indian players to participate in the tournament include ace drag-flicker Sandeep Singh, current captain Rajpal Singh, goalkeeper Bharat Chetri and emerging champion Yuvraj Walmiki, who dazzled at the recently concluded Asian Champions Challenge.
WSH also marks the comeback of former India captains Viren Rasquinha and Dhanraj Pillay.
The league will also provide a platform for fledging talents like Gurjinder Singh, Kangujam Chinglensana Singh, forward Victo Singh and the best player of the last National Games, SK Uthappa.
The WSH will be held from December 17, 2011 to January 22, 2012 and will involve 200 leading players -- Indian and international -- who will showcase their talent in 61 matches. It will be a multi-city franchise-based League with players being allocated to the teams based on the internationally accepted and practised 'draft' system.
Indian players signed for World Series Hockey
• A B Cheeyanna
• Abhishek Singh
• Adam Sinclair
• Adrian D'Souza
• Aijub Ekka
• Ajitesh Roy
• Akashdeep Singh
• Alden D'Souza
• Amar Aiyamma
• Amardeep Ekka (IOB)
•Amardeep Ekka
• Amit Gowda
• Amit Kumar Prabhakar
• Anand Tirkey
• Ankit Gulllia
• Anup Anthony
• Arjun Antil
• Arjun Halappa
• Armaan Qureshi
• Baljeet Singh
• Baljinder Singh
• Barkat Singh
• Bharat Chikara
• Bharat Chetri
• Bikash Topo
• Bikramjit Singh
• Birendra Lakra (Air India)
• Birendra Lakra
• Bruno Lugun
• C S Khalkho
• Cariappa A D
• Chinthakunta Santosh Kumar
• Conroy Remedios
• Damandeep Singh
• Danish Mujtaba
• Deep Mahendrabhai Patel
• Deepak Kullu
• Deepak Thakur
• Devesh Chauhan
• Devinder Singh
• Dhananjay Mahadik
• Dhanraj Pillay
• Dharamvir Singh
• Dinesh Ekka
• Diwakar Ram
• Errol D'Silva
• G M Hariprasad
• Gagandeep Singh
• Gaurav Tokhi
• Gauravjeet Singh
• Gurbaj Singh
• Gurjinder Singh
• Gurpreet Singh
• Gurpreet Singh Guri
• Gursev Singh
• Gurvinder Singh Chandi
• Hamza Mujtaba
• Hansraj Jangra
• Harbir Singh
• Harmanpreet Singh
• Ignace Tirkey
• Imran Khan
• Inderjit Singh
• Inocent Kullu
• Jagdeep Dayal
• Jarnail Singh
• Jasjit Singh Kular
• Jaspreet Singh
• Jaswinder Singh
• Jay Karan
• John Topno
• K Victo Singh
• Kangujam Chinglensana Singh
• Kangujam Suresh Singh
• Karan Pal Singh
• Karmjit Singh
• Kiesham Roshan
• Kuttappa AC
• Lalit Kumar Upadhyay
• Lovedeep Singh
• Mandeep Antil
• Mandeep Singh
• Manjeet Kullu
• Manoj Antil
• Mathias Minz
• Mohd. Amir Khan
• Mohd. Sahir
• Mrinal Choubey
• N Senthil Kumar
• Nagalingaswamy B
• Narad Bahadur
• Nikkin Thimmaiah C A
• Nitin Kumar
• Nitin Thimmaiah
• Niyaz Rahim Mumtazur Rahim
• P R Sreejesh
• P T Rao
• Poonacha M G
• Prabhakar
• Prabhdeep Singh (BPCL)
• Prabhdeep Singh
• Prabhjot Singh
• Prabodh Tirkey
• Pradhan Somanna
• Pramod Kumar
• Preetinder Singh
• Rafeeq S M
• Raghunath V R
• Rajesh Kumar
• Rajpal Singh
• Ramandeep Singh
• Ranjan Lakra
• Ranjodh Singh
• Ravipal
• Roshan Minz
• Rupinderpal Singh
• S Arumugam
• S K Uthappa
• S V Sunil
• Sameer Dad
• Samir Baxla
• Sanawar Ali
• Sandeep Antil
• Sandeep Singh (International)
• Sandeep Singh (IOC)
• Sandeep Singh (Air India)
• Sankalp Raghav
• Sardar Singh
• Sarvanjit Singh
• Shashi Topno
• Sher Singh
• Shivendra Singh
• Simrandeep Singh
• Simranjeet Singh
• Sudhir Raju Dixit
• Sukhjeet Singh
• Sunil Yadav
• Sunny Samuel
• Tushar Khandker
• Tyron Pereira
• V S Vinaya
• V.Raja
• Vickram Kanth
• Vikas Sharma
• Vikram Ramkaval Yadav
• Vinayak Bijwad
• Viren Rasquinha
• Vivek Gupta
• William Xalxo
• Yuvraj Walmiki