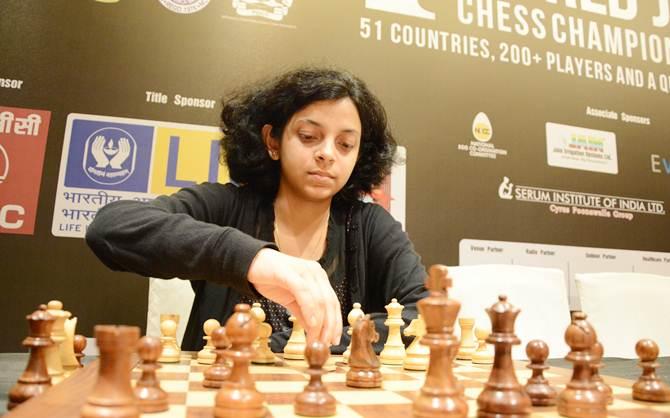 Padmini Rout
Padmini Rout is well-placed along with four foreigners atop of the points' table after seven rounds in the LIC World Junior Chess Championships, being played at Hotel Hyatt, in Pune.
With six rounds left in the tough 13-round Swiss league event, the players in both sections are tightly bunched, making the hunt for the title quite open.
In the boys' section the story is entirely different, the super Grandmasters (Elo above 2600) failing to dominate the event as expected.
In fact, the lesser-fancied and lower-rated players have stolen the limelight, the most prominent among them being India's S L Narayanan.
Jorge Cori of Peru is sole leader with six points, while Narayanan, China's Wei Yi and Lu Shanghlei, and Armenia's Karen Grigoryan are hot on his heels, half a point behind.
Vidit Santosh Gurjarthi, bronze medallist in the last edition and India's highest rated player in fray, got bogged down by draws, and defeat in the sixth round has seriously jeopardised his chances.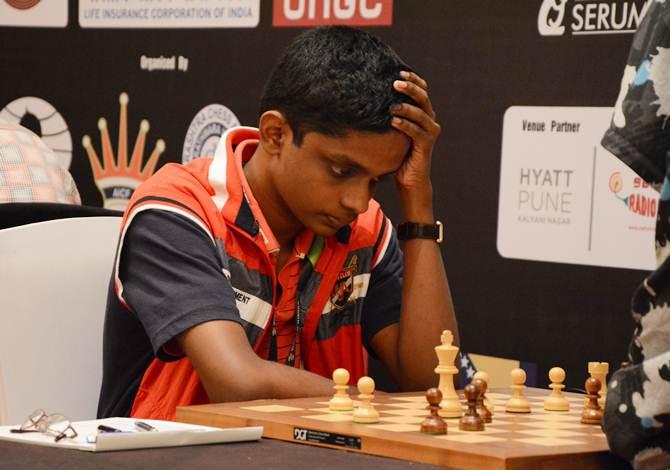 S L Narayanan
Both Padmini and Narayanan remain unbeaten in their respective sections, but the pace of the event has definitely slowed down in terms of scoring percentage.
Scoring outright victories in both sections is difficult and there were no easy draws. Each half point has had to be earned.
Ivana Maria Furtado and P V Nandhidhaa were impressive in the girls' section amongst the Indians thus far.
Amongst the super GMs, Cori showed both aggressive as well as defensive skills while Yi was steady.
Top seed Vladimir Fedoseev, ranked in the top 100 in the world, has struggled while second seed Robin van Kampen and fourth seed Vidit appeared to have been frustrated by numerous draws and both dropped a point, courtesy blunders.
Aravindha Chithambaram and Diptayan Ghosh trail by a point behind the leader and are also in with a chance.
Predictions to point out the eventual winner are difficult to make at this stage as the general strength of the tournament has risen over the years. A more visibly evident point is the fact that many of the talented players are under-rated.
Standings after seven rounds:
Girls' section:
| | | | | | |
| --- | --- | --- | --- | --- | --- |
| Rank | | Name | IRtg | FED | Pts |
| 1 | FM | Pustovoitova Daria | 2354 | RUS | 5½ |
| 2 | WGM | Padmini Rout | 2331 | IND | 5½ |
| 3 | WGM | Goryachkina Aleksandra | 2430 | RUS | 5½ |
| 4 | WIM | Chumpitaz Ann | 2201 | PER | 5½ |
| 5 | WIM | Iwanow Anna | 2279 | POL | 5½ |
| 6 | WGM | Khademalsharieh Sarasadat | 2366 | IRI | 5 |
| 7 | WIM | Ivana Maria Furtado | 2165 | IND | 5 |
| 8 | | Nandhidhaa Pv | 2174 | IND | 5 |
| 9 | | Gelip Ioana | 2154 | ROU | 5 |
| 10 | FM | Brunello Marina | 2275 | ITA | 5 |
| 11 | WIM | Ibrahimova Sabina | 2271 | AZE | 4½ |
| 12 | WIM | Zhai Mo | 2339 | CHN | 4½ |
| 13 | WFM | Petrukhina Irina | 2218 | RUS | 4½ |
| 14 | WIM | Frayna Janelle Mae | 2140 | PHI | 4½ |
| 15 | WIM | Nguyen Thi Mai Hung | 2299 | VIE | 4½ |
| 16 | WIM | Gu Tianlu | 2055 | CHN | 4½ |
| 17 | WFM | Pujari Rucha | 2113 | IND | 4½ |
| 18 | | Shweta Gole | 1881 | IND | 4½ |
| 19 | WFM | Varshini V | 2066 | IND | 4½ |
| 20 | WFM | Srija Seshadri | 2099 | IND | 4½ |
| 21 | WFM | Sviridova Vlada | 2069 | RUS | 4 |
| 22 | | Pratyusha Bodda | 2078 | IND | 4 |
| 23 | WFM | Monnisha Gk | 2069 | IND | 4 |
| 24 | IM | Arabidze Meri | 2409 | GEO | 4 |
| 25 | WFM | Saranya J | 2107 | IND | 4 |
| 26 | WFM | Chitlange Sakshi | 1827 | IND | 4 |
| 27 | WFM | Zarkovic Mila | 2136 | SRB | 4 |
| 28 | WFM | Tarini Goyal | 1868 | IND | 4 |
| 29 | | Monpeurt Cyrielle | 2115 | FRA | 4 |
| 30 | WIM | Ni Shiqun | 2312 | CHN | 4 |
| 31 | | Madhurima Shekhar | 2000 | IND | 4 |
| 32 | | Ivekovic Tihana | 2122 | CRO | 4 |
| 33 | | Michelle Catherina P | 2099 | IND | 4 |
| 34 | WFM | Gueci Tea | 2099 | ITA | 4 |
| 35 | | Potluri Supreetha | 1738 | IND | 4 |
Open section:
| | | | | | |
| --- | --- | --- | --- | --- | --- |
| Rank | | Name | IRtg | FED | Pts |
| 1 | GM | Cori Jorge | 2612 | PER | 6 |
| 2 | GM | Lu Shanglei | 2533 | CHN | 5½ |
| 3 | GM | Wei Yi | 2641 | CHN | 5½ |
| 4 | IM | Sunilduth Lyna Narayanan | 2420 | IND | 5½ |
| 5 | GM | Grigoryan Karen H. | 2591 | ARM | 5½ |
| 6 | GM | Fedoseev Vladimir | 2661 | RUS | 5 |
| 7 | GM | Antipov Mikhail Al. | 2524 | RUS | 5 |