AC Milan youth players subjected to alleged racist abuse; Argentine fan punches player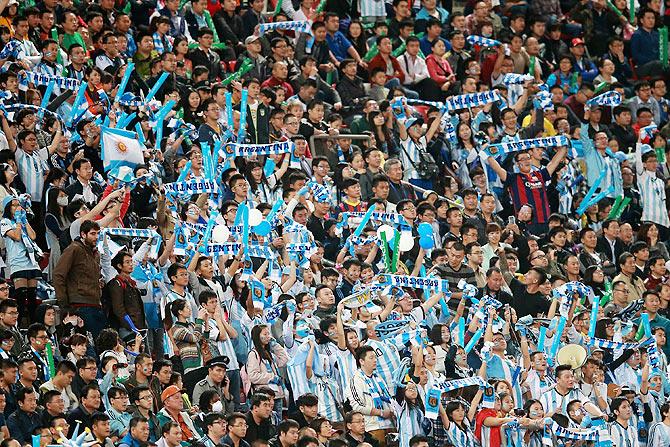 Fans of Argentina (This image is used for representational purposes only). Photograph: Feng Li/Getty Images
AC Milan youth players were allegedly subjected to racist abuse during a tournament in Italy over the weekend, the Serie A club said on Monday.
The incidents occurred during a quarter-final match against Paris St Germain.
"It has been brought to our attention that during yesterday's match between Milan and PSG that there was alleged incidents of racism from certain people in the stands towards Milan's black players," the club said in a statement.
"We do not wish to magnify the issue but truly hope these reports aren't true or that it was simply a sporadic incident. If they were to be confirmed then it would be simply unacceptable."
Chelsea, Ajax Amsterdam, Inter Milan, Benfica, Juventus and AS Roma were among other teams playing in the tournament in northern Tuscany.
Argentine club Lanus ban fan for punching player
Argentine first division club Lanus have expelled a fan for punching the team's midfielder Matias Fritzler after Sunday's 1-0 defeat at home to Argentinos Juniors.
Fritzler was signing autographs after leaving the dressing rooms when the fan, who was not named, punched him then ran off leaving him with a bleeding cut by his left eye.
"It was totally unexpected, absurd and took us by surprise. We investigated the incident, called in the directors for an extraordinary board meeting and took the hardest measure in our statutes," club president Alejandro Maron told TyC Sports on Monday.
"He's a member who had paid his quota until January 2016, it was quite unexpected and not a 'barra' (hooligan) situation."
"I don't know who he was, what angers me most is how he behaved," Fritzler, who had to be held back by several men after being punched, told ESPN.
"I was surrounded by little kids and there were other people (when it happened)... I felt like hitting back (but) you have to repudiate violence," he added.
In a separate incident at a second tier Primera B Nacional match, veteran Boca Unidos goalkeeper Gaston Sessa, who has a history of violence, stamped on grounded opponent Marcos Pirchio of All Boys twice and was sent off.
The 41-year-old former Racing Club, River Plate and Velez Sarsfield keeper can expect a severe sanction having served several bans in the past.
Sessa was suspended for 10 matches for grabbing referee Sergio Pezotta by the throat after being sent off in a match 10 years ago and in 2012 he kicked a ball hard at a ball boy with such accuracy that he hit him full in the face, then got in a fight with fans and ended up under arrest.
Regional body CONMEBOL suspended Sessa for six months and four matches in 2007 for kicking then Boca Juniors striker Rodrigo Palacio, who is now at Inter Milan, in the face during a Libertadores Cup match and was sent off.
The incident led to his departure from Velez where he had won a league title in 2005.