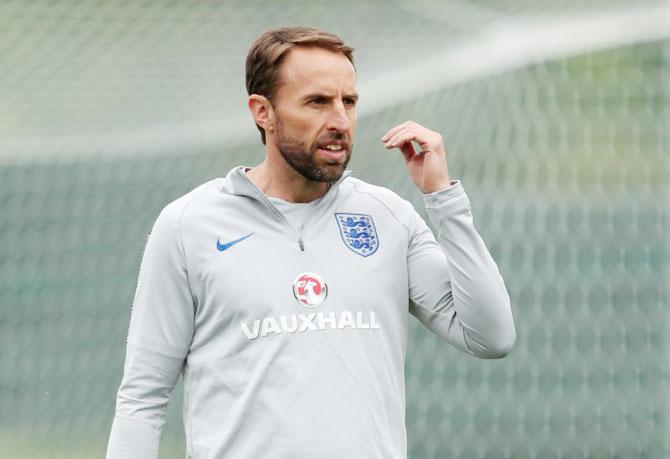 England manager Gareth Southgate said he will have to tone down his goal celebrations after dislocating his shoulder while having a run during a day off on Wednesday.
Southgate had his arm in a sling as he addressed his players at their nightly team briefing at their World Cup base in Repino alongside the Baltic coast.
"I might not be celebrating any goals as athletically in future!" Southgate told the Football Association website.
"The doc has made it clear that punching the air is not an option."
Southgate, whose team face Panama on Sunday in Group G, was treated at a nearby hospital under the supervision of the England team doctor Rob Chakraverty.
"We have a great support team and they were there very quickly," he said.
"They were supposed to be relaxing because we let the players have a bit of time off and I am causing them work."
While uncomfortable, Southgate was prepared to take it on the chin, saying it was better he was injured rather than any of his players.
"It is better this is me than one of the players," he said.
"They were a bit surprised in the team meeting and were asking 'what have you been doing!?' -- as always, they were probably quite amused.
"I am just a bit gutted because I was on for my record 10k time!"
Brazil name Thiago Silva captain for Costa Rica match
Brazil have named Thiago Silva as captain for Friday's World Cup match against Costa Rica in a continuation of their long-standing policy of rotating the team leadership.
The Paris St Germain defender last wore the armband last June during a 1-0 defeat by Argentina.
That friendly loss in Australia was the only defeat suffered by coach Tite's Brazil in the last 22 games.
Brazil drew their Group E opener 1-1 with Switzerland and face Costa Rica, who lost their opening match 1-0 to Serbia, in St Petersburg.
Thigh injury prevents England's Alli from training
England attacking midfielder Dele Alli missed team training on Thursday as he bids to recover from a thigh injury in time for the side's second World Cup Group G encounter against Panama.
The Tottenham player picked up the knock during the 2-1 win over Tunisia on Monday with Alli tweeting that he was working to get back to full fitness.
"Frustrating to have picked up a slight injury on Monday. Will do everything in my power to get back to full fitness asap," he wrote.
England take on Panama in Nizhny Novgorod on Sunday before completing the pool phase against Belgium in Kaliningrad next Thursday.
FIFA fines Mexico as Hernandez asks fans to stop homophobic chant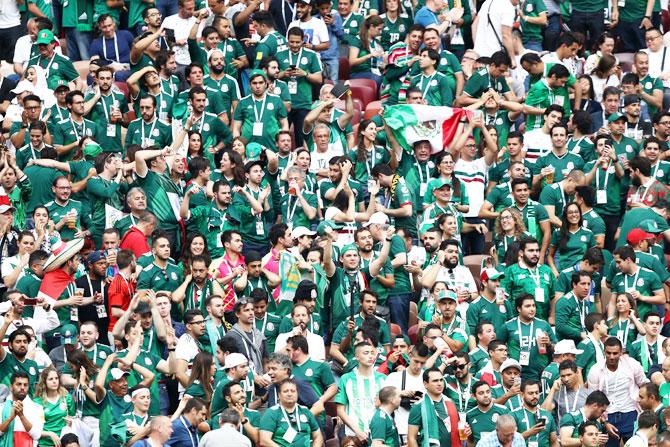 Mexican striker Javier Hernandez has appealed to his country's football fans to stop their homophobic chanting at World Cup matches, on a day when FIFA once again fined the Mexican football federation for their fans' misconduct.
FIFA slapped the Mexicans with a CHF 10,000 fine for what it called "discriminatory and insulting chants" during their surprise 1-0 win over Germany on Sunday.
Mexicans have long shouted a slang word for a male sex worker at games, which gay rights groups argue is homophobic.
The Mexican Football Federation (FMF) was sanctioned 12 times for homophobic chanting during the World Cup qualifying campaign, receiving warnings for the first two offences and fines for 10 more.
Hernandez posted a message on Instagram on Wednesday asking fans to end the derogatory chant that is usually shouted during their opponents' goal kicks.
"To all Mexican fans in the stadiums, don't shout 'Puto'," Hernandez said. "Let's not risk another sanction."
Although the Mexican team has appealed before for an end to the chants – the players even released a video on the subject in 2016 – some supporters have not relented.
The chant was widely heard at Mexico games in the 2014 World Cup in Brazil, when FIFA took no action, but the governing body has since launched a clamp-down. Other Latin American teams, including Argentina and Chile, have also been fined.
FIFA is employing three specialist observers at each World Cup match to report discriminatory behaviour by spectators.
FIFA also said it was fining Serbia because of their fans display of a political message in Sunday's Group E opener against Costa Rica.
"The FIFA Disciplinary Committee has sanctioned the Serbian Football Association with a fine of CHF 10,000 for the display of an offensive and political banner by Serbian fans during the match played between Serbia and Costa Rica," FIFA said.
British police investigate World Cup fans in Nazi salute video
British police said on Wednesday they were investigating images of England soccer fans making Nazi salutes in what appeared to be a bar in the Russian city of Volgograd, where England played Tunisia on Monday.
The video, shared widely on social media, shows three fans raising their arms in the salute and singing an anti-Semitic song with references to the Auschwitz concentration camp, punctuated with shouts of "Sieg Heil".
"The abhorrent behaviour seen in this video is completely unacceptable and it will not be tolerated," said Detective Superintendent Caroline Marsh, Britain's investigations lead for the Russia World Cup.
"Our investigation team in the UK is already making swift enquiries to identify those involved and will seek to take all appropriate action against them."
The English Football Association said it "strongly condemned" the actions of the people in the video.
"We are working with the relevant authorities, including the UK police investigations team, who are making enquiries to identify the individuals involved and take appropriate action," a representative said.
"The disgraceful conduct of the individuals in this video does not represent the values of the majority of English football fans supporting the team in Russia."
Before the game against Tunisia, English soccer fans and a British diplomat paid tribute to the victims of the bloodiest battle of World War Two, which took place in Volgograd, then called Stalingrad.
In the battle, the Soviet Red Army, at a cost of over a million casualties, broke the back of advancing German forces.
Commenting on the Nazi salute incident, the British embassy in Russia said its advice for all visiting fans was "to be good guests whilst they are here, by following local laws and customs".