Andres Iniesta will always have a special place in the hearts of Spanish soccer fans for scoring the dramatic extra-time goal that secured the Iberian nation's first world title in South Africa in 2010.
The pale, shy lad from the Manchegan village of Fuentealbilla, now 29, has returned to where it all began this week as Spain play their final World Cup 2014 Group I qualifier against Georgia in the nearby city of Albacete on Tuesday.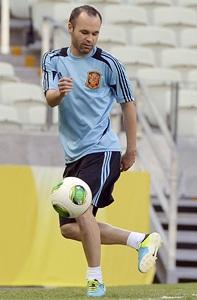 It is not just Iniesta's home town and the place where his career began but was also the venue for his national team debut, a 0-0 draw against Russia in May 2006, and he has gone on to represent his country 91 times, scoring 11 goals.
Spain need a solitary point to secure their place at the finals in Brazil next year and the stage is set for Iniesta to make another vital contribution to their stunning success since he became an integral part of the team.
Coach Vicente del Bosque has already said the Barcelona playmaker will be in the starting lineup and Iniesta was given a hero's welcome by adoring locals when he arrived in Albacete by train with the rest of the squad on Monday morning.
"When I found out the match was going to be here it was a feeling of immense joy," Iniesta told a news conference before Monday evening's public training session.
"I am just going to try to enjoy it as much as possible and I hope the people do too.
"It's a very special match for me on a personal level but qualification for the World Cup is on the line and we have to be fully focused on the match and beating our opponent."
Making his debut at home at Albacete's Carlos Belmonte stadium more than seven years ago had without doubt been "one of the happiest days" of his sporting life, Iniesta said.
"Of all the cities where we could have been playing I had the good fortune to make my debut at home," he said.
Spain centre back Sergio Ramos, who plays for Barca's arch rivals Real Madrid, paid warm tribute to his international team mate.
"It's a privilege for us to have a player like Iniesta who has made history both in the national team and for his club," Ramos told Monday's news conference.
"Even more so because of the quality of person he is and you can only have a special affection for people like that."
Spanish media have been eulogising Iniesta this week and the newspapers have been full of interviews with his family and friends.
They have painted a picture of a man who has managed to maintain his links with his home despite moving away to Barcelona aged only 12 and becoming one of the most famous and best-paid players in the sport.
"Andres still has the sensitivity you get in a small village like ours," his father, Jose Antonio, told Monday's El Pais.
"I think that the day he started to walk I put a ball in front of him and he already took a shot."
As a child, his son was "prudent like his mother, sometimes chatty, sometimes shy, very respectful, studious and hard working", Jose Antonio added.
Fernando Garcia Sanz, who taught Iniesta during his final two years at the local school, told El Pais his former pupil had been "a hard worker and met his objectives with no problem".
"As far as his behaviour, he rarely lost his temper and he never treated a school mate badly, on the contrary, he was very respectful and worked well with the others," he said.
Juan Ramon Pardo, now a local councillor for culture in Fuentealbilla, remembered playing a match against an eight-year-old Iniesta when the talent that won him a place at the Barca academy four years later was already beginning to shine through.
"In the semi-final, (the coach) brought the lad on to the pitch and he beat two players and then me, the keeper, and scored a goal," Pardo said. "I was 22 and he was barely eight."
Image: Andres Iniesta
Photograph: Claudio Villa/Getty Images