Hosts The Netherlands beat Germany by a solitary goal to complicate the Olympic champions' chances of making it to the last four of the Men's World Cup Hockey.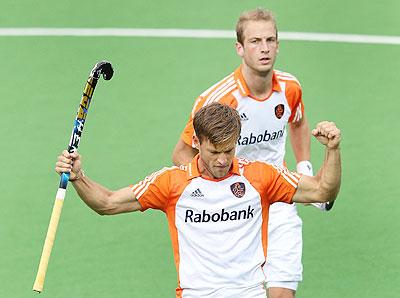 Dutch striker Jeroen Hertzberger capitalized on a pass from Billy Bakker in the 23rd minute to score the all-important goal as The Netherlands avenged their loss in the 2012 Olympic final to take the top spot in Group B, on Friday.
Netherlands have maximum nine points from three successive wins, while Germany have just three points after suffering defeats at the hands of the Dutch. Pan-American champions Argentina, later outplayed New Zealand 3-1 to enter the semi-final race.
Both Argentina and New Zealand have six points each.
Aware of the importance winning or at least drawing the match against The Netherlands, the Germans pushed hard after falling behind, but were unable to breach the determined Dutch defense marshalled by star custodian Jaap Stockmann.
On some occasions, when Stockmann could not effect clean saves, luck favoured him as the ball trickled wide of the goal. A hat-trick of penalty corner conversions by Gonzalo Peillat lifted the Argentine challenge against New Zealand.
After a goalless first session, Peillat opened account with his first penalty corner strike in the 44th minute, only for New Zealand to equalize with a flash strike by Stephen Jenness five minutes later.
Peillat got into the scoring act again in the 51st and 69th minute to give Argentina three points from this crucial match.
Argentina had earlier shocked reigning Olympic champions Germany 1-0 to throw the pool wide open.
In another Group B match, South Africa held Asian champions South Korea to a goalless draw. Both teams earned their first point from three matches each and are at the bottom of the pool table.
Image: Jeroen Hertzberger of the Netherlands celebrates
Photograph: Michael Dodge/Getty Images