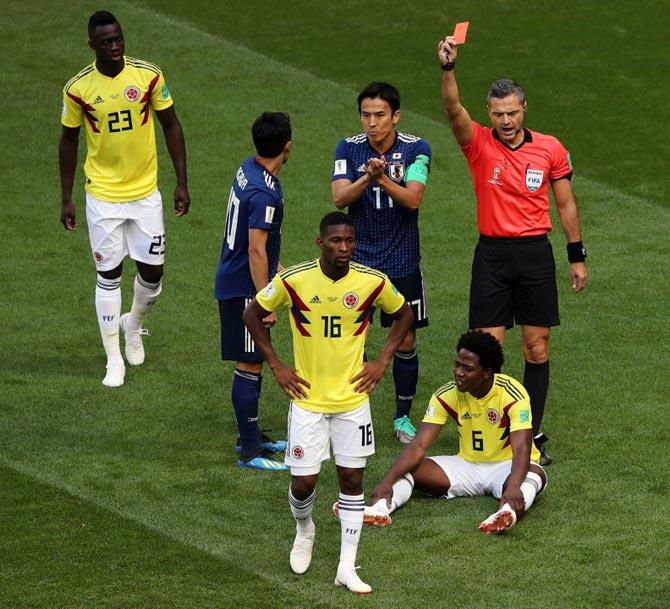 Colombia head into their World Cup clash against Poland in Group H on Sunday under pressure to get a result and with their preparations overshadowed by a police investigation into death threats made to midfielder Carlos Sanchez.
In a grisly echo of the killing of Andres Escobar, who was gunned down after scoring an own goal for Colombia at the 1994 World Cup, Sanchez received threats on social media after receiving a red card in the third minute of Tuesday's 2-1 loss against Japan.
Sanchez was sent off for a deliberate handball after trying to block a shot in the area and will miss the Poland match in Kazan on Sunday.
The Jose Pekerman-coached team closed ranks on Friday, undertaking a private training session at their ski resort base outside of Kazan and declining to comment on the Colombian police probe and their preparations for Poland, who were upset 1-0 by Senegal in their opener.
Queries remain over the fitness of talisman James Rodriguez, who was used as a 59th-minute substitute against Japan as he recovers from a calf problem.
Argentine Pekerman would prize dearly the option of starting the Golden Boot winner at the 2014 Brazil finals against eighth-ranked Poland, and alongside midfield partner Juan Quintero.
Sanchez's absence may open the door for Mateus Uribe to slot into midfield next to Jefferson Lerma.
After a stunning loss to Senegal, courtesy of a pair of howling errors, Poland might console themselves that they can only get better.
The staff have promised changes for a team that has the ability to both score and concede lots of goals.
With Senegal's well-drilled backline keeping Robert Lewandowski subdued, manager Adam Nawalka will hope for more midfield drive to boost supply to the country's record goal-scorer.
The recall of defensive stalwart Kamil Glik, who missed the Senegal opener with a shoulder injury, would be a huge boost for Poland's hopes of stopping the likes of Rodriguez and front man Radamel Falcao.
There are still doubts about Glik's fitness, however, so Thiago Cionek, his replacement against Senegal, may keep his starting place despite scoring an own goal against the Africans.
Poland, who have never reached the knockout rounds of a World Cup after losing their opening game, will need to shore up their defence in their first competitive match against Colombia if they are to defy their history.
"It will be like a final," said Colombia striker Falcao.
"Each team will battle hard to keep the ball, and will close down the space for their opponents to operate in."
Germany's Hummels unlikely to play against Sweden
Germany central defender Mats Hummels is unlikely to feature in their second World Cup Group F game against Sweden on Saturday after hurting his neck in training, Germany coach Joachim Low said.
The world champions, who suffered a shock opening loss to Mexico, must avoid another defeat which could see them crash out at a World Cup group stage for the first time in 80 years.
"Mats Hummels will most likely not be able to play because he injured his neck in training yesterday and it has not improved until today," Low told reporters in Sochi on Friday.
"He has not trained and obviously there are still a few hours but usually these things do not improve considerably overnight and tomorrow we need fit players. I think it makes no sense (for him to play)."
A likely replacement for Hummels is Antonio Rudiger but Low said he would wait until tomorrow to see Hummels' condition.
Sweden are joint top of the group after beating South Korea in their opener, and victory over Germany would almost certainly see them advance to the knockout stage. Mexico, also on three, play South Korea in the other group match.
The opening defeat has sent shockwaves back home in Germany and Low said that was understandable.
"It was no doubt a painful defeat against Mexico. We made many mistakes but we have processed them, talked about them and trained to avoid them."
"There is absolute focus and concentration and tomorrow we must deliver. There will be a reaction (to the Mexico defeat)."
Low said forward Mario Gomez was likely to start but did not clarify if he would join Timo Werner in attack or if he would operate as a lone striker against the tall Swedish defenders.
Low, however, ruled out the team overhaul which many German fans have called for, saying trust for his players, many of them 2014 World Cup winners, had not been lost.
"Why should that be the case? The fundamental trust for these players, who have played for years on a good level, will not be destroyed with one game," the 58-year-old said.
"I have fundamental trust in them and questioning everything after one game would be fatal. It is us who have to show a reaction tomorrow and I am certain there will be one."