Competing as a team for the first time, India defeated 10th seeded Colombia's Camilo Cardona, Daniel Munoz and Jose Carlos Ospina 226-221 in a one-sided final this morning.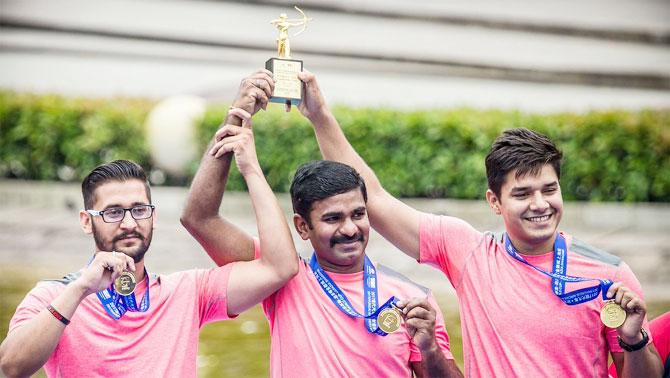 IMAGE: Debutant Amanjeet Singh, Raju Chinna Srither and Abhishek Verma on the podium after winning the gold medal in the Compound Team event at the Archery World Cup in Shanghai on Saturday. Photograph: World Archery/Twitter
India clinched a Compound Team gold medal to conclude their Archery World Cup Stage 1 campaign in Shanghai on Saturday.
In the first major competition after last year's Rio Olympics, the recurve archers failed to make much progress with Atanu Das and Deepika Kumari making quarter-final exits in their respective rounds.
But it was the non-Olympic compound section that brought back smiles in the camp with a superlative show from fourth seeded Abhishek Verma, Raju Chinna Srither and debutant Amanjeet Singh.
Competing as a team for the first time, India defeated 10th seeded Colombia's Camilo Cardona, Daniel Munoz and Jose Carlos Ospina 226-221 in a one-sided final this morning.
Earlier, the fourth seeded ousted Vietnam, World Champion Iran and top-ranked USA to make the finals against Colombia.
"Before coming here, we planned every detail to make it work. We all shot well throughout week and what we really want is to create a good impression of us in front of other teams," 27-year-old Verma said after winning his first team gold, and second overall in the World Cup.
The Asian Games Incheon-2014 silver medalist had a heartbreak in store in the afternoon session when he along with Jyoth Surekha Vennam lost the bronze playoff to Reo Wilde and Jamie van Natta by a slender 151-153.
Delhi lad, Verma has previously won an individual gold in the World Cup Stage 3 Wroclaw-2015.
He also has a mixed pair silver in the World Cup Stage 4 Wroclaw-2014, and a team bronze at the World Cup Stage 1 Shanghai-2015.
The Colombian trio of Cardona, Ospina and Munoz were no match to the Indians, who began with four perfect 10s including one closest to the centre (X) to open up a 58-57 lead in the first end.
With yet another four perfect 10s including one X from a possible six, the Indian team clinched the second end 58-56 to stretch their lead to three points (116-113).
By their own standards, Verma, Srither and Singh had the poorest display in the third end but Colombians failed to capitalise as it saw a 52-all tie which was enough to maintain their three-point lead (168-1665).
The Verma-led team put up another flawless display to cap the fourth end with four 10s including one X en route to 58 out of a possible 60 as Colombians paled in comparison with a 56 to slip to a big defeat.
"There are so many strong compound men's team around the world and, considering the worlds in Mexico later this year, we need to keep shooting as we did here to get a good result there," Verma said.
Verma is the most decorated member of the team, which has 33-year-old Services archer Srither and 23-year-old Singh, who made his World Cup debut.
"Right now, our team is made up of three men with different experience but our training is showing we're doing well. We are all the same; we all talk, make decisions together no matter how long we've been shooting for or what we've achieved," Verma added.
In the bronze play-off, Verma and Jyothi trailed 38-39 against Wilde and Jamie in the first end and failed to catch up.
They matched their opponents 38-all and 39-all in the second and third ends as they were trailing 115-116 before the final end.
Needed to win by two points, India posted 36 against USA's 37 which was enough to settle the issue.
© Copyright 2023 PTI. All rights reserved. Republication or redistribution of PTI content, including by framing or similar means, is expressly prohibited without the prior written consent.