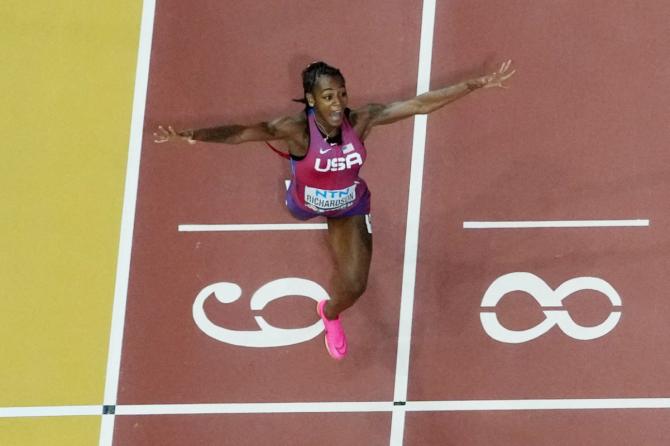 United States sprinter Sha'Carri Richardson said winning the world 100 metres final from lane nine on Monday was fitting after a lifetime of being in her own world.
Richardson was given the outside lane as a consequence of coming through the semi-finals as a fastest loser, but turned it into an advantage as she focused on her own race to run down Jamaican Shericka Jackson and take her first global title in a championship record 10.65 seconds
"I just felt that I executed an amazing race for myself not even knowing where the other ladies were. I was by myself in my own world which honestly has been like that all my life," she said.
"I've always been in my own world, my own element, so lane nine was perfect for me to do what it is that I know to do and focus on myself."
In the post-race press conference the 23-year-old certainly did that -- berating foreign journalists for mispronouncing her name or for daring to question her performance in the semis, when she was left sitting in the blocks and came so close to blowing her big chance.
It would not have been the first time, Budapest representing her maiden global championships despite being at the very sharp end of women's sprinting for four years.
She won the US trials for the Tokyo Olympics but was then banned after testing positive for cannabis.
Last year she failed to qualify in the 100m or 200m in the worlds and had to watch as Shelly-Ann Fraser-Pryce, Jackson and Elaine Thompson-Herah took a Jamaican clean sweep in the 100, as well as silver and gold in the 200 on American soil in Eugene.
Social media exchanges added to the rivalry, with Usain Bolt suggesting Richardson should "talk less and train more", though her flamboyant appearance and provocative postings helped build one of the biggest followings in the sport, with 2.4 million followers on Instagram.
So, finally getting to a worlds, surviving the semi-final scare and then chasing down the fastest woman in the world this year - Jackson - over the last 20 metres certainly felt like a major achievement.
"Never give up, never allow media or outsiders to define who you are. Always fight, no matter, fight," she said when, inevitably, she was asked about her "journey."
"Going into the final, surviving each round, knowing the heavy hitters would be there and that I knew I had to come with them. I'm just happy to sit here knowing it all paid off."
American Holloway wins third straight world 110m hurdles title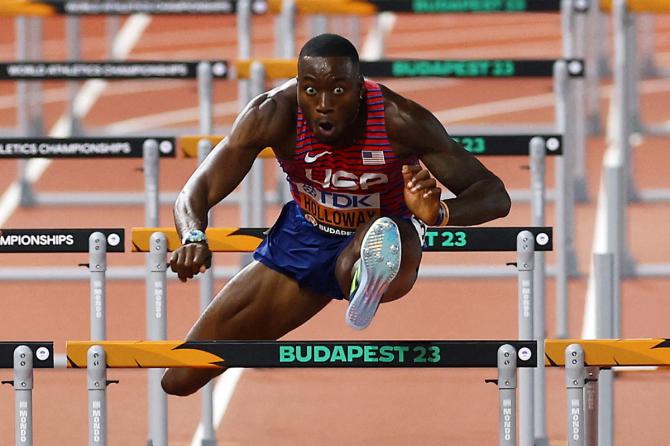 American Grant Holloway raced to his third consecutive World Athletics Championships 110 metres hurdles gold medal in dominant fashion on Monday.
The 25-year-old, who won in 2019 in Doha and last year in Eugene, led by the first hurdle and was in a virtual race of his own by the third, cruising to victory in a season's best 12.96 seconds.
Holloway held up three fingers after crossing the finish line, hollering "One-two-three!" to the delighted crowd at the National Athletics Centre.
"I'm speechless right now," he said. "Nothing feels like the first one, but this one I'm definitely going to cherish in my heart."
Hansle Parchment of Jamaica closed well to take the silver in 13.07, while Daniel Roberts of the United States crossed in 13.09 for bronze.
"To come back out here and do it with my brother (Roberts), we started running in college together, having battles, now we're able to have these battles on the world stage.
"Consistency is my biggest attribute. The biggest thing is I come out there and I know what I'm going to run before I'm on track."
The final was missing the world's fastest man this season, Rasheed Broadbell of Jamaica (12.94) who crashed out in the preliminary round.
Holloway, the second-fastest hurdler in history, finished second at the Tokyo Olympics in 2021 and said he was using the sour taste of silver as motivation to go one better next year in Paris.
Sweden's Stahl takes discus gold with final throw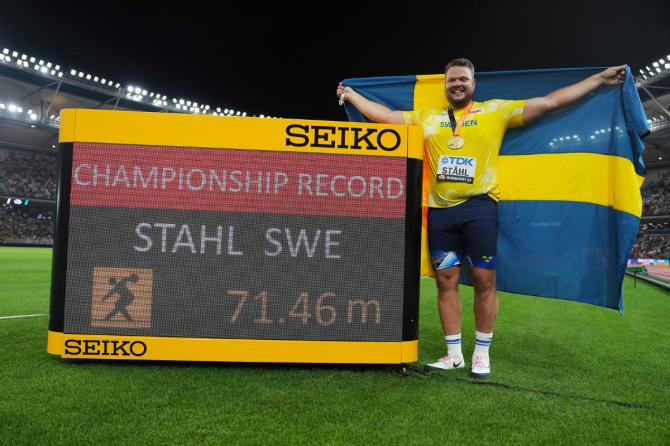 Olympic champion Daniel Stahl won a dramatic World Championship discus gold with the final throw on Monday just minutes after Kristjan Ceh thought he had done enough to retain his title when his final throw edged him in front of the Swede.
Five men had gone beyond 70 metres this year but none of the field looked able to threaten it for most of Monday's contest.
On a hot, sultry night Slovenian Ceh led with 69.27 in the second round before Stahl went 10cm further in the fourth.
With only two throwers left to go, Ceh finally crossed the 70 mark with 70.02 but showed only a muted celebration, knowing just what a competitor his big rival is.
Sure enough, Stahl launched the disc 71.46 – the second-longest throw of the year and a championship record – to take gold.
Lithuania's 20-year-old Mykolas Alekna, whose father won the world title twice, took bronze with 68.85.