A round-up of results from the Athletics World Championships in London on Saturday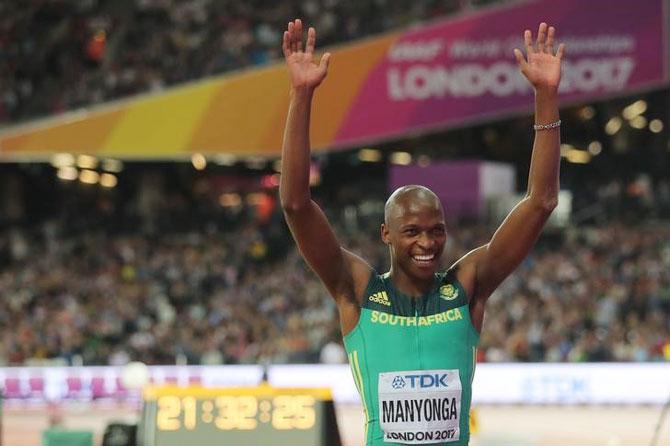 IMAGE: Luvo Manyonga of South Africa reacts after winning gold in the men's long jump final at the World Athletics Championships in London on Saturday. Photograph: Eddie Keogh/Reuters
South Africa's Luvo Manyonga said he was "over the moon" after winning the World Championship long jump title on Saturday, making up for the disappointment of missing out on an Olympic gold in Rio.
Manyonga, who only returned to formal competition last year after overcoming a drug addiction, led the final from the second round with a leap of 8.48 metres -- the third best mark of 2017.
The 26-year-old held off the challenge of American Jarrion Lawson, who in his first senior championships jumped a season-best 8.44 in the final round to claim silver.
The bronze was taken by Manyonga's compatriot Ruswahl Samaai, the leader in the Diamond League standings, who jumped 8.32.
"This gold medal makes me feel over the moon. I have been praying to get this gold medal," Manyonga said.
"The world record is my next goal. Ruswahl and me are pushing each other through the events. I am the best in the world - this sounds great."
Manyonga, a junior champion in 2010, suffered numerous personal setbacks in recent years.
Coming from a township just outside of Cape Town, he was given an 18-month suspension in 2012 for testing positive for the recreational drug tik -- the local variant of crystal methamphetamine.
The South African admitted previously that at one point he felt about "five percent away" from death.
After missing out on gold in Rio with his final effort ruled a no-jump, the relief at his win in London was evident as he fell backwards into the sandpit and made an angel imprint.
"I do not feel like thinking about the last attempt in 2016, this brings back bad memories. It does not matter anymore because I have the gold medal now."
Olympic champion Ayana destroys field to win 10,000 metres
Ethiopian Almaz Ayana destroyed the field to win the 10,000 metres at the World Championships on Saturday, finishing around 300 metres clear of her rivals in her first race of an injury-plagued season.
The Olympic champion began pulling away from the field after 10 laps, sweeping past back markers who were made to look sluggish in comparison.
She finished in 30:16.32 seconds, well outside the world record she set when she won in Rio last year but still enough to win by an astonishing 46.37 seconds, by far the biggest margin in championship history.
Ayana's compatriot Tirunesh Dibaba, the former world and Olympic champion, added to her impressive collection of medals when he took the silver with Kenya's Agnes Tirop in third.
"I am very happy to win this title, much more than when I won the Olympic gold because I have been sick this year and didn't expect it. In fact, this was my first race of 2017," Ayana told reporters.
A repeat of her world record-breaking performance in Rio was never on the cards after a slow, tactical start to the race in which the field crawled around the first lap in 81 seconds.
But the last two thirds of the race was reminiscent of Ayana's extraordinary run last year where she also blew away the field.
Ayana began pulling away after 10 laps and by the 12th had opened up a gap of 30 metres.
The 25-year-old ran the next three kilometres in 8:33 minutes as she continued to increase her advantage and began overhauling the backmarkers with eight laps to go.
Remarkably, Ayana's prospects had been in doubt because injuries forced her to cancel a number of appearances at European meetings this season.
The battle for second turned into a three-horse race between Kenyans Tirop and Alice Nawowuna and the 32-year-old Dibaba.
Almost unnoticed, Dibaba, who is now focusing on running marathons, won the sprint to claim silver to sit alongside the five world championship and three Olympic golds she has won.
Schafer leads heptathlon narrowly from favourite Thiam
IMAGE: Carolin Schafer of Germany reacts during the Women's Heptathlon Shot Put event. Photograph: Dylan Martinez/Reuters
Germany's Carolin Schafer led the heptathlon standings after four events at the World Championships on Saturday after achieving a personal best in the shot put.
Schafer, who has never won a medal at senior level, tops the standings on 4,036 points with last year's Olympic champion and favourite Nafi Thiam not far behind on 4,014.
Schafer's 13.09 seconds in the 100 metres hurdles gave her an early advantage over her Belgian rival, but Thiam finished first in the high jump and the shot put to accrue valuable points.
"I'm very happy with my first day especially as I came into this in bad shape. I'm looking forward to the next three events," the 25-year-old Schafer said.
Thiam remained confident.
"The challenge is hard but you have to be able to be solid but have a big performance on a few events," she said. "It is easy to make a mistake in seven events."
There was disappointment for home favourite Katarina Johnson-Thompson, who is bidding to emulate her compatriot and three-times world champion Jessica Ennis-Hill.
She came sixth in her favourite event, the high jump, but brought herself back into contention in the 200m, winning her heat in 22.86 seconds to finish the day fourth on 3,838 points, behind Cuba's Yorgelis Rodriguez on 3,905.
The heptathlon concludes on Sunday with the long jump, javelin and 800 metres.
Gudzius earns stunning discus triumph for Lithuania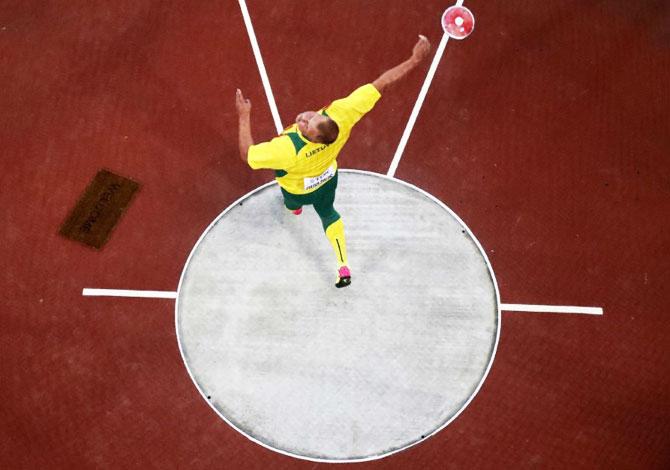 IMAGE: Andrius Gudžius of Lithuania in action before winning Gold in the Discus Throw final. Photograph: Fabrizio Bensch/Reuters
Lithuanian Andrius Gudzius, a one-time junior prodigy, finally fulfilled expectations to shock the big names in the discus and take gold at the World Athletics Championships on Saturday.
The 26-year-old, who had won the world junior title back in 2010 but had never since come close to threatening the elite in his event, prevailed with a second-round throw of 69.21 metres, the best of his life.
His winning effort came immediately after Sweden's Daniel Stahl, the event favourite as the only man to throw over 70 metres this season, had launched a 69.19m throw.
Stahl ended up with the silver and American Mason Finley took the bronze with a personal best 68.03m.
"Every athlete must be dreaming about the world title and I managed it tonight. I still cannot believe it and I think I need some time to understand what has just happened," a stunned Gudzius said afterwards.
Gudzius, whose previous best performance in the senior ranks was a European Under-23 triumph in 2013, showed little emotion as he became only the second Lithuanian man ever to win a world title following his great discus throwing predecessor Virgilijus Alekna.
Alekna, who won in 2003 and 2005, was also double Olympic champion and his feats had led Lithuanians to heap expectations on his potential successor, even though Gudzius had only finished 12th in last year's Olympics.
"I was thinking about a medal but I did not expect gold. Everybody in my country was expecting a medal from me and I am happy to bring one home," he said.
Still, it had seemed a tall order for Gudzius to emulate Alekna with a couple of the event's greats in the field.
Yet neither Germany's Robert Harting, who won the Olympic title in the London Stadium in 2012, nor Poland's reigning champion Piotr Malachowski, who had captured the last four world titles between them, could find their range.
Harting ended up sixth with his first-round throw of 65.10m while Malachowski was fifth with a fifth-round effort of 65.24m.
Jamaican Fedrick Dacres, another former world junior champion, produced a fourth round throw of 65.83m to earn fourth place.
Bahrain's former Kenyan Chelimo wins women's marathon
Rose Chelimo, a Bahraini who switched allegiance from her Kenyan homeland, sprinted away from her former compatriot Edna Kiplagat to win the women's marathon at the World Athletics Championships after a tactical battle and an exciting finish.
Chelimo, who had looked beaten, fought back over the last few hundred metres approaching the Tower Bridge finish after Kiplagat struck for home too soon with two kilometres left.
Forging away to victory, the 28-year-old, who acquired Bahraini citizenship two years ago and was cleared by the IAAF last year to run for her adopted country, denied Kiplagat what would have been an unprecedented third world marathon gold.
Chelimo finished strongly in 2 hours 27 minutes 11 seconds, seven seconds clear of Kiplagat.
Amy Cragg, of the United States, made a tremendous final burst to overhaul another Kenyan Flomena Cheyech Daniel, who had looked set for the bronze medal.
The American also closed in swiftly on the tiring 37-year-old Kiplagat but had to settle for third place in the same time of 2:27:18.
Chelimo had enough energy to spare to wave to the crowd as she approached the line and took the Bahraini flag offered by her team officials.
Kirui wins world marathon title after duel with Tola
Kenya's Geoffrey Kipkorir Kirui prevailed in a compelling east African duel with Ethiopian Tamirat Tola on the streets of London to win the men's marathon at the World Athletics Championships.
Kirui, victor at the Boston Marathon in April, finally broke Tola, the fastest man in the field, with five miles (8.05 km) of the 26.2-mile course left after they had gone head-to-head over the second half of the race.
At the 19-mile mark, Tola, the fastest man in the field, had made his decisive effort and sped away from the 24-year-old Kenyan but within two miles Kirui had hauled back the lead before surging away immediately and emphatically.
Kirui forged on so powerfully that by the end of the race as he came towards the line at Tower Bridge, he even had time to tap the hands of some of the hundreds of fans lining the finish.
Kenya's fifth men's world champion at the distance eventually clocked 2 hours 8 minutes 27 seconds, finishing one minute and 22 seconds ahead of Tola (2:09:49).
The Ethiopian, who had tired rapidly after Kirui's second wind, just held on for silver by two seconds from the fast-finishing Alphonce Simbu, who won Tanzania's second medal ever at a World Championships.
Britain's Callum Hawkins then earned the biggest cheers from the big crowds lining the streets when he came home in a remarkable fourth place in a lifetime best 2:10:17 amid familiar African domination.